Seattle Historical Arts for Kids present Handel's Serse
Event Navigation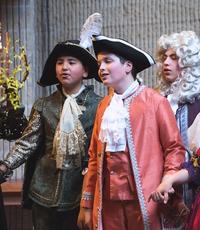 Handel's Serse is a tale of cleverness and bravery, as imagined in the ancient imperial court of King Xerxes. Schemes are hatched, letters go astray, servants and nobles collude in deception, and a mysterious visitor in disguise takes treacherous action — all for the sake of justice and honor.
Like our beloved Alcina (Seattle 2014 and Boston 2015), this year's opera adaptation is an hour-long spoken play interspersed with the best musical numbers from the original work, all acted and sung by our student cast aged 6 to teen. SHAK students bring to life the glories of the Baroque age, with costume, dance, and fencing from the time, accompanied by an all-star period-instrument chamber orchestra.
Two multi-generational performances, at 3pm and 7pm, appropriate for all ages — presented with the Early Music Guild.
These performances celebrate Early Music America's Early Music Month.
Related Events
Please note: All event submissions are reviewed by Classical KING FM before posting to our website.
Please allow 3-5 business days for your event to appear on the KING FM NW Focus Arts Calendar.