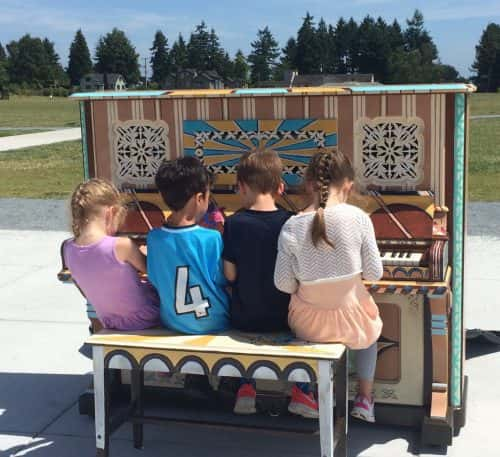 Spending time with children can, of course, be rewarding,  but hectic comes to mind as well!  Classical KING FM is a soundtrack for home, the car or at work, with music that helps you find your center and helps you relax.  You also know it's music you can share with all the children in your life.  What a gift for all of you.  Join us on the radio, but we also recommend these on-demand classical music options.
Young Artist Awards
The KING FM Young Artist Awards, presented in partnership with the Seattle Chamber Music Society and now in its sixth season, strives to give talented young musicians a bigger stage. This competition is one element of our promise to the community of more support for arts education, community partnerships with the arts, and more live broadcasts. The competition is open to musicians (solo instrumental, vocal, or chamber groups) ages 6-20 in two age divisions – 1) ages 6-15 and 2) ages 16-20. Through a combination of world-class judges and listener votes, 10 finalists are chosen and perform live on the air before a winner in each of two age divisions is crowned. Click here for more information.
The 2017 Young Artist Awards competition is presented by Classical KING FM 98.1 in partnership with BECU and the Seattle Chamber Music Society. 
Kid Friendly Classical Music for the Car

What better way to acclimate young ears to the glorious strains of classical music than by tuning in to KING FM? Lay the foundation gently: put classical music on in the background as you make dinner. Play it in the car as you're driving to soccer practice. It'll simply become a part of their lives, a daily soundtrack. If you're interested in classical music, they're apt to appreciate it, too.
Make it a Bedtime Lullaby

Tired of standard fare when putting your children to bed? Have them fall asleep, instead, to classical music. Good tunes to make that happen? Beethoven's "Moonlight" Sonata, Erik Satie's Gymnopedie No. 1, Clair De Lune by Claude Debussy, and Mozart's Piano Concerto No. 21 in C Major.  You'll find all those works, and more, on our on-demand classical music relaxation centered Classical KING FM Evergreen Channel. Turn on the night light AND the Evergreen Channel. They'll be snoozing in no time. (Plus you'll be opening their ears and minds to the wonderful world of classical music.  A gift for a lifetime!)
Enjoy this Family Friendly Playlist as Chosen by the Hosts of KING FM


Don't start with Charles Ives for a 3-year-old. Don't even start with Beethoven's 9th. They need to grow into those things. Start with the classics we know they'll like, for example, Prokofiev's Peter and the Wolf, Camille Saint-Saens' Carnival of the Animals, and Georges Bizet's Carmen Suite #1: Les Toreadors.  Our always updating playlist above should do the trick.  It will do wonders for you, too.
Music for Dinner, including Explore Music with Lisa Bergman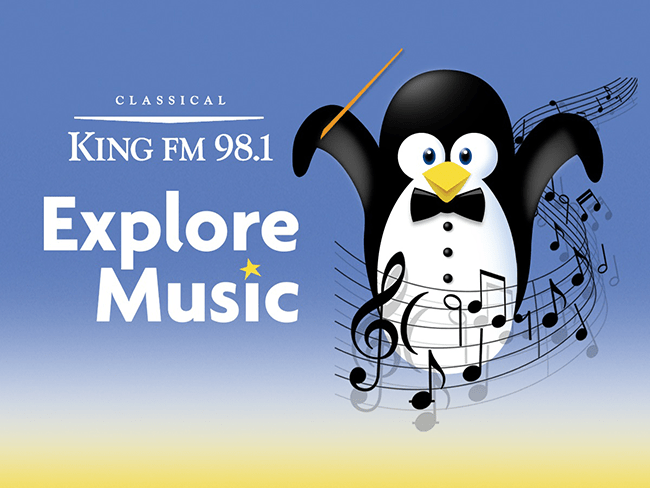 Tune in every night during dinner, then, at 6 they'll hear Explore Music,  a two-minute listening adventure packed with fun facts and stories about great classical music!
Browse our Explore Music archive to hear all of the episodes on-demand, anytime!
Have the Kids Play Along


The little ones want to bang pots and pans to Aaron Copland's Fanfare for the Common Man? Tell them to knock themselves out! They want to dance to Johann Strauss's polkas? Okay! Do they want to play-act after hearing Mendelssohn's Wedding March? Make it so. When kids are allowed to play along to the music, they'll begin to see that music as an ice cream-like treat rather than a broccoli-like prescription.
Listener Supported Classical Music
Preserving the legacy of classical music for future generations takes support from the community. Over 79% of KING FM's funding comes from listeners like you and that means ongoing programs such as Explore Music with Lisa Bergman and providing 17 instrument petting zoos in 2016-2017 that reached 2,701 children and their family members. Classical music matters. Arts education matters. Build a legacy for generations today and tomorrow by becoming a KING FM member today.

---
What's your preference? Family friendly classical music? Relaxing music? Intellectually stimulating music? Modern classical? Classical music in the Northwest? Click one of these links for content curated for you.
---