By Geoffrey Larson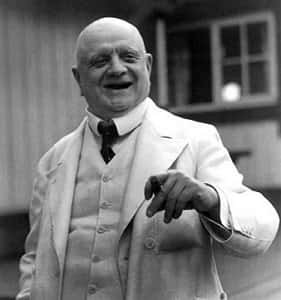 Join us for a weekend of the music of Nordic and Scandinavian composers on Classical KING FM, now through Sunday the 11th. Listen now.
Jean Sibelius is remembered as a Finnish national hero, the composer whose music stood as an anthem for a defiant Finland under Russian rule. He staunchly remained true to his music's tonal, quasi-romantic aesthetic, laughing in the face of European avant-garde forces. His works include tone poems that evoke the legends of his native country along with its breathtaking natural landscapes, and symphonies that wrote an important chapter of the classical symphonic tradition in the 20th century. He also REALLY liked cigars, alcohol, and food.
Sibelius' tastes in alcohol were wide-ranging, and it's possible that his senses had synaesthetic qualities, tying his tastes for light or dark flavors to music of similar robustness. He apparently thought that the golden Frascati wine of Rome was like "an ode of Horace" and that red wine sauce on roast fowl was at its best only after the "joyful red C major color" had slowly cooked and become "melancholy" enough.
His favorite beverage selections included Aalborg Taffel (aquavit), Amontillado sherry, Johnny Walker Black Label, Cinzano rosso vermouth, Bordeaux, and dessert wines such as port and madeira. Check out his own (somewhat non-specific) punch recipe below, from a party he hosted on April 9, 1943.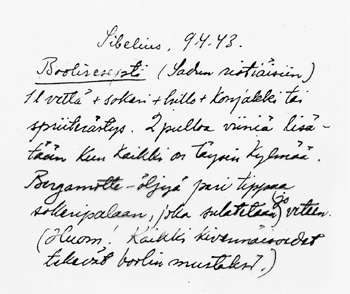 Booliresepti:
1L water + sugar + jam + brandy or spirit.
Add 2 bottles of wine when everything is completely cold.
Add a few drops of Bergamot oil in a lump of sugar, which must be melted in the water.
(N.B. All mineral waters make the punch black.)
Sibelius' love of cigars is thought to stem in part from the memories of his father that their scent brought (the composer's father, who died when Sibelius was three years old, was also an aficionado). Constant cigar smoking took its toll on Sibelius, and he was diagnosed with throat cancer in his 40s, undergoing a successful operation to remove it. Apparently, this did not stop him from demanding a box on the way home from the hospital. His favorite brands included Africana, Bürgermeister, Havana, Los Paulos, Matador, and Rosa Aromatica. (Here's the full list.)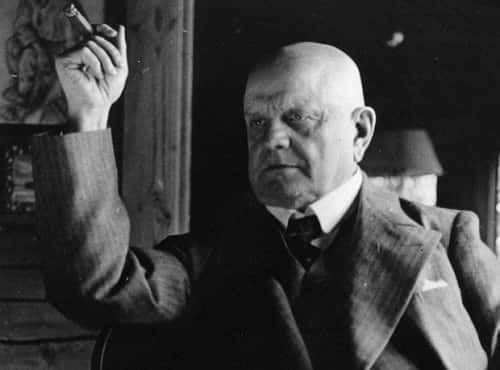 "All the doctors who wanted to forbid me to smoke and to drink are dead. But I am quietly going on living. It's not every man of my age who can unhesitatingly eat and drink as I do."
-Jean Sibelius