Missed one of our Seattle Symphony Spotlights? Listen to Dave Beck's most recent interviews on-demand below!
Cristian Macelaru:  Finding the Soul of Rachmaninoff through Penmanship
Thursday, February 1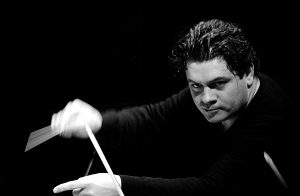 Cristian Macelaru, recently appointed music director and conductor of the Cabrillo Festival of Contemporary Music, spent several seasons as a resident conductor with the Philadelphia Orchestra. It was there that he gained access to scores that Rachmaninoff himself used over the course of the composer-pianist's long association with the Philadelphia Orchestra. We'll hear about how studying those scores shape Cristian's approach to Rachmaninoff. In a return appearance as SSO guest conductor, Cristian leads performances of the Rachmaninoff 3rd Symphony in Benaroya Hall, February 1-3, 2018. Cristian Macelaru speaks with KING FM's Dave Beck on our Seattle Symphony Spotlight.
Violinist Yesong Sophie Lee:  "Sophie Sauce" With a Dash of Heifetz and Grumiaux
Thursday, January 18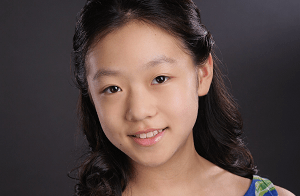 Yesong Sophie Lee is one of the 5 rising stars in the music world who performed with the Seattle Symphony in Benaroya Hall during
the orchestra's recent Prokofiev Concerto Festival. The 14 year-old violinist from the Seattle area talks with KING FM's Dave Beck about her prize winning performances at the 2016 Menuhin International Junior Violin Competition in London. She describes how her breath was taken away when she first looked out into the opulent concert hall where she performed in competition. She also shares her admiration for violinists of previous generations like Grumiaux, Heifetz and Kreisler.
Augustin Hadelich on the Ligeti Sound: "Music From Some Mysterious, Long Lost Culture"
Thursday, January 4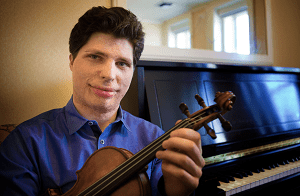 In February 2016 violinist Augustin Hadelich in collaboration with the Seattle Symphony and Music Director Ludovic Morlot, won a Grammy Award for Best Classical Instrumental Solo for his recording of the Henri Dutilleux Violin Concerto, "The Tree of Dreams." This recording was part of a three-disc, multi-year recording project on Seattle Symphony Media, the orchestra's in-house record label. Augustin Hadelich is well known and beloved by Seattle audiences for his Seattle Symphony solo appearances and for his performances at Winter and Summer Festivals of the Seattle Chamber Music Society. Among the many honors for this German-born artist, one of the great violinists of the day, is Musical America's 2018 Instrumentalist of the Year. Augustin plays the Gyorgi Ligeti Violin Concerto, composed between 1984 and 1992, with the Seattle Symphony led by Music Director Ludovic Morlot in Benaroya Hall this week. Augustin spoke with KING FM's Dave Beck about this demanding, innovative, mysterious and emotionally compelling concerto.
Alastair Willis on Beethoven 9:  Music of Personal and Universal Resonance
Thursday, December 28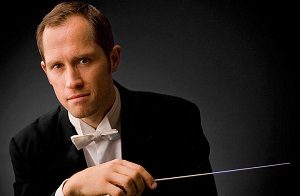 On our latest Seattle Symphony Spotlight this week we meet a conductor who has made his home in Seattle for several years now. Alastair Willis became an assistant conductor at SSO in 2000. Since leaving that post in 2003, he's been engaged by orchestras throughout the United States and around the world. Alastair currently serves as music director of the South Bend Symphony in Indiana. He is back in Benaroya Hall to lead the Beethoven Symphony Number 9 with the Seattle Symphony, SSO Chorale and vocal soloists. The performances are Thursday through Saturday evenings, December 28 through 30th. Alastair Willis joins us to talk about his earliest introduction to the 9th Symphony and how hearing rehearsals and performances of the piece by the Berlin Philharmonic left such a strong impression on him. Alastair was simultaneously preparing his first-ever performance of the Beethoven 9th Symphony while awaiting the birth of his daughter in 2015. And Alastair's sister, Sarah Willis, is one of the horn players in the Berlin Philharmonic who often performs the famous 4th horn solo in the symphony's 3rd movement. The piece has great personal and universal resonance for Alastair and many who encounter the music. Alastair Willis talks about Beethoven 9 with Dave Beck in the Classical KING FM studios.
Gidon Kremer: Making the Case for Neglected Masterpieces
Thursday, October 12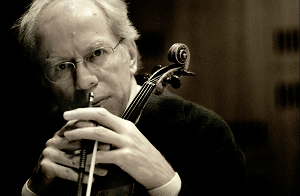 For a composition  not performed until 80 years after it was written, and a piece ignored by most violinists, Gidon Kremer has a deep passion and fascination for the Robert Schumann Violin Concerto in D minor.  On this edition of our Classical KING FM Seattle Symphony Podcast we'll hear one of two recordings Gidon Kremer has made over the years of the Schumann Concerto.  He'll share how the piece was introduced to him and offer insights into why Schumann's wife Clara and his young composer friend Brahms sought to keep the violin concerto hidden from the public for decades.  The Schumann D minor Violin Concerto is the centerpiece of the program when Gidon Kremer solos with Music Director Ludovic Morlot and the Seattle Symphony Thursday night, October 12th at 7:30 and Saturday night October 14th at 8 in Benaroya Hall. The program opens with another rarely performed work, a string symphony written in his early teen years by Felix Mendelssohn.  Mendelssohn also closes the program as the SSO performs his colorful musical travelogue, the Italian Symphony Number 4.  Gidon Kremer joined Dave Beck this week in the Classical KING FM studios.

Giancarlo Guerrero: On Life in the "American Music City"
Thursday, September 21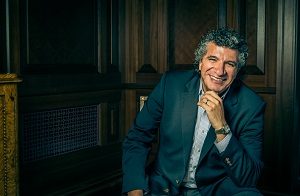 Giancarlo Guerrero loves the city of Nashville and takes great pride in his role in the life of what he calls the nation's "American Music City." Maestro Guerrero notes that in Nashville "you can hear the latest in contemporary classical music in our concert hall, then walk two blocks and listen to the greatest Bluegrass players in the world." Maestro Guerrero is the music director of the Nashville Symphony and the guest conductor this week of the Seattle Symphony's season opening Masterworks Concerts in Benaroya Hall. He speaks with KING FM's Dave Beck in this week's Seattle Symphony Podcast. Giancarlo Guerrero leads performances on Thursday, September 21 through Sunday, September 24th. Maestro Guerrero was approached on very short notice to conduct the Mahler and the Hector Berlioz "Death of Cleopatra."this week. SSO Music Director Ludovic Morlot is recovering from recent leg injury and is unable to conduct. Giancarlo Guerrero talks about his fascination and appreciation for the emotional depths that Mahler explores in the second symphony. And we begin our conversation with a discussion about Maestro Guerrero's deep roots he's setting down in the city of Nashville. He began his tenure as Music Director there in 2009 and has signed a contract taking him through the 2024-25 season.

 
SSO President and CEO Simon Woods Promises "Epic" 17-18 Season Ahead
Wednesday, September 13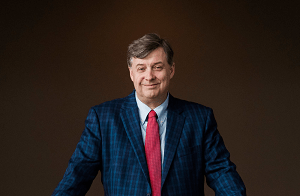 Welcome to a new season of Seattle Symphony Podcasts from Listener Supported Classical KING FM. The Seattle Symphony opens its new season this coming Saturday, September 16 at 5PM in Benaroya Hall. Renee Fleming, soprano, heard here in music by Samuel Barber, is the guest soloist in a varied program running from Barber's "Knoxville Summer of 1915" to opera arias, to songs by the Icelandic composer, performance artist and singer Bjork. Pablo Rus Broseta conducts the program in which the SSO plays instrumental works by Barber and Verdi. Seattle Symphony President and CEO Simon Woods joins us on our weekly podcast for his look ahead to the SSO 2017-18 season. In conversation with KING FM's Dave Beck, Simon Woods describes an "epic" season, chock full of big events.
Ludo in Berlin:  "Chamber Music with 100 People"
Wednesday, June 21st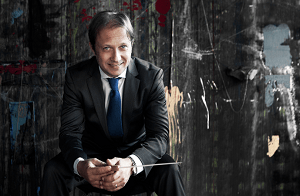 On this week's Classical KING FM/Seattle Symphony Podcast, SSO Music Director Ludovic Morlot is back in Seattle after an eventful week in which he made his conducting debut with the Berlin Philharmonic.  He'll reflect on his three performances with the venerable Berlin orchestra with KING FM's Dave Beck.
Plus, this week Ludovic dives right into the concluding Masterworks concerts of this Seattle Symphony season.  On June 22-24 at Benaroya Hall, he leads vocal soloists and members of the Seattle Symphony and Chorale in the 1965 Requiem by György Ligeti.  Ligeti's sound world, described as containing "sonorities of almost palpable physicality" is music you'll remember from Stanley Kubrick's film 2001: A Space Odyssey.  Gustav Mahler's 5th Symphony will conclude these Seattle Symphony Masterworks  programs.
Richard Strauss: His Creative Life In Songs and Tone Poem
Wednesday, June 14th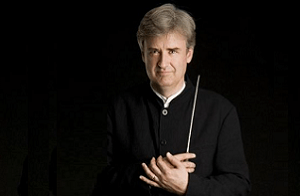 Seattle Symphony Principal guest conductor Thomas Dausgaard returns to lead the orchestra in this week's Masterworks concerts in Benaroya Hall. On June 15 and 17, Thomas Dausgaard conducts the SSO in two works of Richard Strauss.  An Alpine Symphony from 1915 is a musical portrait of a harrowing hike up an Alpine peak that young Strauss experienced as a teenager. And the opening work on the program is the final work of Strauss, written at age 84: The Four Last Songs. In an interview with Dave Beck in the Classical KING FM studios, Thomas Dausgaard talks about the complex emotional, spiritual, and philosophical background of both pieces.
SSO, Dausgaard and Nielsen:  Owning the Music
Wednesday, June 7th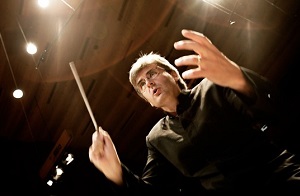 Seattle Symphony Principal Guest Conductor Thomas Dausgaard returns to lead the orchestra in the next two weekends of Masterworks concerts in Benaroya Hall. This weekend, Dausgaard conducts the SSO in music of his Danish countryman, Carl Nielsen.  The "Sinfonia Espansiva" follows on successful collaborations by Dausgaard and the SSO in Nielsen's "Inextingushable" Symphony No. 4 during last year's Seattle Symphony season.
As he tells KING FM's Dave Beck  in a recent interview in our studios, Dausgaard was excited to revisit another Nielsen Symphony with the SSO as soon as possible.  He writes in this week's Seattle Symphony program book:  "I was bowled over by the connection between Nielsen's music and the fantastic musicians in the Seattle Symphony—they owned it! We quickly rearranged this concert to include another favorite symphony by Nielsen, his Third."
Under the Spell of the Sounds of Ravel
Wednesday, June 1st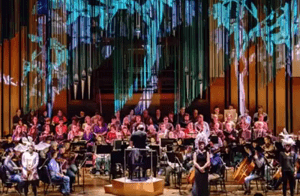 Ever since the 2016-2017 Seattle Symphony season was announced over a year and a half ago, SSO music director Ludovic Morlot has been looking especially forward to this week's Masterworks concerts in Benaroya Hall. The featured work on the program is the one-act Maurice Ravel opera from the mid-1920s called L'Enfant Et Les Sortilege (or "The Child and the Magic Spells"). It's not only a work reflecting Ludo's French heritage, but it's also music that connects him to his early years as a conductor and to his love of the subtleties of French language, literature and culture.
In a conversation this week in the KING FM studios, Ludovic spoke with KING FM's Dave Beck about the remarkable sound world Ravel creates in this opera. The excerpts from the opera that we'll hear as we chat are from a 2010 recording conducted by one of Ludo's great mentors, the long-time Boston Symphony Music director Seiji Ozawa.
New Ives from the SSO and A Primer on Classical Recording History
Wednesday, May 24th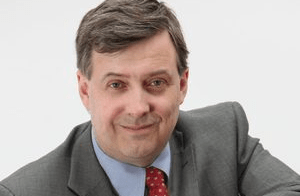 This week on our Classical KING FM Seattle Symphony Podcast, a first listen to the latest recording in the Seattle Symphony's exploration of the music of Charles Ives. Released on the orchestra's Grammy Award-winning Seattle Symphony Media label, the new disc features Three Places in New England, Orchestral Set No. 2, and New England Holidays by Ives. With the release of the new recording, we thought we'd take the opportunity to speak to the orchestra's president and CEO Simon Woods about a topic he knows well—the economics, history and transformation of the classical recording industry since the 1980s. Click here to read more.
Broadway Rocks:  Seattle Symphony and Seattle Men's Chorus
Wednesday, May 17th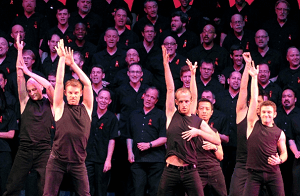 The first-ever collaboration between the Seattle Symphony and Seattle Men's Chorus takes place in Benaroya Hall this weekend when music from shows like Jersey Boys, Hairspray, Rent, The Wiz, and Phantom of the Opera is performed by the SSO, the Seattle Men's Chorus, and a cast of soloists with impressive Broadway credits.  The program called "Broadway Rocks" is on stage Friday, May 19 through Sunday May 21st.
Together with Seattle Women's Chorus, the Seattle Men's Chorus and its partner organizations comprise the largest community chorus organization in North America, and stand out as the largest LGBT-identified men's and women's choruses in the world. KING FM's Dave Beck talks to Steve Smith, Executive Director of SMC, about the special sense of community and mission that these singers bring to their music-making. We'll also hear the Seattle Men's Chorus in performance at the University of Washington's Meany Theatre (led by conductor Emeritus Dennis Coleman) and Aaron Copland's setting of "Ching-A-Ring Chaw."
Lullaby Project:  Finding Shelter in a Simple Song
Wednesday, May 10th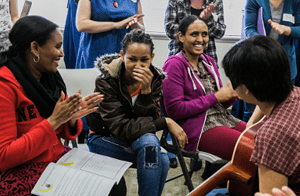 With Mother's Day ahead this weekend, the Seattle Symphony will celebrate the fifth season of its participation in the Lullaby Project.  The program works with Mary's Place in Seattle to assist mothers and their families who are facing homelessness and other distressed situations.  The project helps the moms create a personal lullaby for their babies and children. These lullabies are then recorded with the assistance of teaching artists and musicians in the Seattle Symphony.
On this week's KING FM Seattle Symphony podcast, Laura Reynolds, Seattle Symphony Director of Education and Community Engagement, gives us an update on the Lullaby Project and shares a taste of the music that springs from the program.  She speaks with KING FM's Dave Beck. The Lullaby Project Celebration concert happens this Saturday, May 13 at 3pm in Soundbridge at Benaroya Hall.
He conducts! He sings! He plays the violin! The Baroque Triple Threat Dmitry Sinkovsky
Wednesday, May 3rd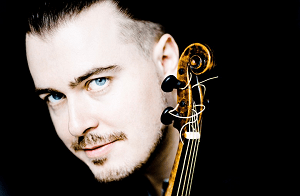 A Russian-born violinist, conductor, and singer who impressed Seattle Symphony audiences with his 2016 appearance in Benaroya Hall returns this weekend for the next concerts in the orchestra's Baroque and Wine Series. The program called "Italian Masters" features the singing, violin playing, and conducting of Dmitry Sinkovsky. Several members of the Seattle Symphony will have solo opportunities as well in a program that features Vivaldi, Corelli, Geminiani, and more. The triple-threat artist tells KING FM's Dave Beck the story of how Dmitry's countertenor voice was discovered by accident when Dmitry was using his violin, and his voice, to coach a young singer in the art of baroque style, phrasing, and interpretation.
The concert times in Benaroya Hall this weekend are May 5 and 6 at 8pm and May 7 at 2pm. We'll speak with Dmitiry Sinkovsky on this week's podcast, and we'll also hear him soloing and leading the Ensemble Il Pomo D'Oro in the Vivaldi Double Violin Concerto in C Major, RV 508.
Pianist George Li:  Nail-Biting Moments at the 2015 Tchaikvosky Competition
Wednesday, April 27th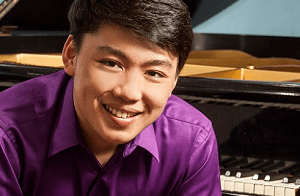 This week on our Seattle Symphony Podcast, Dave Beck speaks with the young pianist who first appeared in front of Seattle audiences in the summer of 2016 as one of the performers in the Seattle Chamber Music Society Summer Festival. George Li is a 21-year-old college student who's been appearing in front of international concert audiences since he was 10 years old. These days George balances studies at Harvard University and the New England Conservatory of music with his professional orchestral and recital engagements. He walks us through some of his nail-biting experiences as a top competitor in the 2015 International Tchaikovsky Competition in Moscow. He was the Silver Medalist in the competition that year.
This week George Li plays the Tchaikovsky Piano Concerto No. 1 with the Seattle Symphony, led by guest conductor Christoph Konig. Also on the program is Alexander Zemlinsky's The Mermaid: Symphonic Fantasy After Hans Christian Andersen. These Seattle Symphony Masterworks performances this week are April 27 and April 29 at 8pm in Benaroya Hall.
Ludovic on Bruckner 5: "Comforting and Powerful in the Search for Inner Truth"
Wednesday, April 19th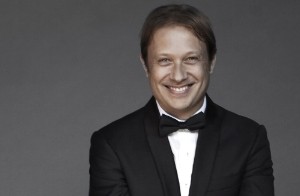 Our Classical KING FM Seattle Symphony Podcast this week features host Dave Beck in conversation with Music Director Ludovic Morlot about Ludo's first ever exploration with the SSO of the music of Anton Bruckner.  The Bruckner Symphony No. 5 in B flat Major is the only work on this week's Seattle Symphony Masterworks concerts, with performances on April 20 at 7:30pm and April 22 at 8pm in Benaroya Hall.
We go backstage to the conductor's suite at Benaroya for this podcast, as Ludo talks about how Bruckner's massive symphony brilliantly brings together an improvisatory feel with the composer's highly disciplined use of materials spanning the length of the piece.  We'll explore that idea through the 5th symphony's scherzo movement.
"Reaching Beyond the Everyday": The Artistic Pursuits of Pianist Stephen Hough
Wednesday, April 12th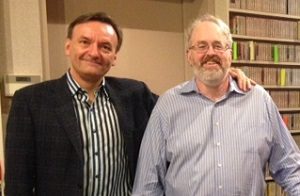 On our latest Seattle Symphony Podcast, Classical KING FM's Dave Beck visits with this week's SSO guest artist, the multi-talented British pianist, composer, and concert and recording artist Stephen Hough. He's made more than 50 recordings during his career, he was the first ever classical artist to win a MacArthur Foundation Genius Award, and he is also a painter, author, and lecturer.
We'll sample a recording of and hear the story behind a Mass written by Stephen Hough in the wake of a serious automobile accident a decade ago. And he speaks about his admiration for the work of another gifted pianist composer, Sergei Rachmaninoff, whose Rhapsody on a Theme of Paganini Stephen Hough plays with the Seattle Symphony in Benaroya Hall this week. His performances with the Seattle Symphony, led this week by guest conductor Olari Elts, are April 13 through 15.
SSO Celebrate Asia:  Bringing New Composers to the International Stage
Wednesday, April 5th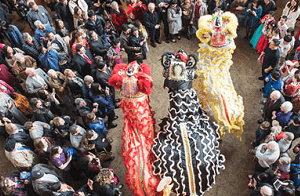 Celebrate Asia is an annual concert presented by the Seattle Symphony which is both global and local in its orientation.  The concert, celebrating its 10th anniversary this year, reflects the vibrant Asian community around Seattle, and over the past decade has brought new music to the stage written by composers of Japanese, Chinese, Filipino, Indian, and Vietnamese backgrounds, among others. Celebrate Asia happens on May 12 of this year with pre-concert music and activities in the Grand Lobby of Benaroya Hall.  The concert on the Benaroya main stage begins that evening at 7pm and includes music by the Indian composer A.R. Rahman, best known for his work on the 2008 film Slumdog Millionaire.
Elena Dubinets is the Vice President for Artistic Planning at the Seattle Symphony. She joins us to talk about how Celebrate Asia has played a role in launching the careers of a number of internationally-acclaimed young composers.  One of them is the Iranian Alireza Motevaseli, whose concerto for the plucked string instrument called the Santoor was featured by the SSO at the 2016 Celebrate Asia concert. We'll hear some of that music in this week's podcast.
Thomas Dausgaard:  On the Russian Orthodox Roots of Rachmaninoff
Wednesday, March 29th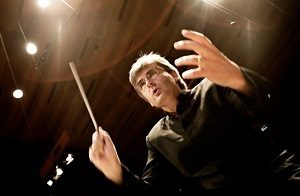 On this week's KING FM Seattle Symphony Podcast we visit in the KING FM studios with the Principal Guest Conductor of the Seattle Symphony, Thomas Dausgaard.  He's on the podium in Benaroya Hall this week for an unusual presentation of Rachmaninoff's music.  Along with the First Piano Concerto with soloist Alexander Melnikov and the Second Symphony of Rachmaninoff, these concerts also feature the Portland-based vocal ensemble Capella Romana.  The choir will sing before each of the Rachmaninoff pieces, demonstrating how the chant tradition of the Russian Orthodox Church so strongly colors the music of Sergei Rachmaninoff.
Dave Beck talks with Thomas Dausgaard about how Capella Romana will  collaborate with the SSO use chant to explore the roots of Rachmaninoff's sound and style.  These all-Rachmaninoff programs are March 30 through April 1 in Benaroya Hall.
Ludovic Morlot on Beethoven: The Journey From Darkness to Light
Wednesday, March 22nd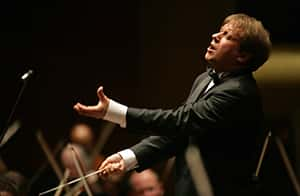 Dave Beck visits backstage at Benaroya Hall with music director Ludovic Morlot, who reflects on the SSO's latest Grammy Award-winning recording and other recent highlights in the life of the orchestra.  Plus, Ludovic shares his thoughts on the conclusion this week of the SSO's two-year cycle of Beethoven symphonies and concertos.  The cycle concludes with SSO performing Beethoven 5th Symphony  March 23 and 25.  Also on the program, "Memorial to Lidice" by Bohuslav Martinu , Beethoven's "Creatures of Prometheus" Overture, and Betrand Chamayou appearing as soloist in Bartok's Second Piano Concerto.
In his notes for the Masterworks Concerts Ludovic Morlot says: "The program is an exploration of ideas surrounding music in the time of war, the journey from darkness to light and how each of us addresses that journey."  It is the Beethoven 5th Symphony with its strife-torn first movement and exultant finale that gives this journey its most vivid musical expression.
The Kernis/Ehnes Collaboration: New Music a Decade in the Making
Wednesday, March 15th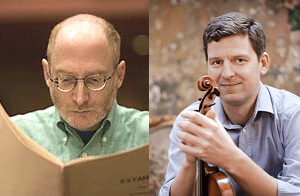 This week on our Classical KING FM Seattle Symphony podcast we talk to the artists whose long time collaboration brings a newly created violin concerto to Benaroya Hall.  The Seattle Symphony gives the U.S. premiere of Pulitzer Prize-winning American composer Aaron Jay Kernis's new violin concerto, which he wrote for his friend violinist James Ehnes, the artistic director of the Seattle Chamber Music Society.
Performances of the new concerto are March 16-18 at Benaroya Hall, when music director Ludovic Morlot conducts the orchestra in the latest series of SSO Masterworks concerts.  We visit with James Ehnes and Aaron Jay Kernis to learn more.
Countertenor Reginald Mobley: The Barry Gibb of Baroque
Wednesday, February 22nd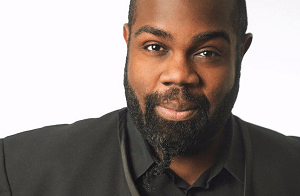 On our latest Seattle Symphony Podcast, Dave Beck visits with  American countertenor Reginald Mobley. Reggie, as he prefers, grew up in the state of Florida where his naturally high, nuanced, elegant, and extremely rare voice was discovered by accident by one of his sharp-eared music professors.
Reggie sings arias by Bach and Handel in Benaroya Hall on February 24 and 25 at 8pm as part of the next Seattle Symphony Baroque and Wine concerts. Associate Conductor Pablo Rus Broseta conducts the program also featuring the Seattle Symphony Chorale, soprano Christina Siemens and baritone Martin Rothwell. French Baroque music by Lully and Rameau is also on the concerts.
Reggie Mobley shares the story with Dave of how Reggie's original plan to pursue a career as a visual artist took a most unexpected turn. And we hear Reginald Mobley sing Bach with the ensemble Agave Baroque.
Reunited with Joshua Bell and Dvorak with a Czech Accent
Wednesday, February 15th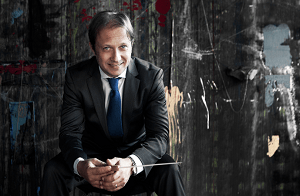 Music Director Ludovic Morlot talks with KING FM's Dave Beck about his experiences performing with this week's guest artist at the Seattle Symphony: the superstar violinist Joshua Bell. Joshua was named Music Director of the Academy of St. Martin in the Fields in 2011, the first person to hold the title since the late Sir Neville Marriner formed the orchestra in 1958.
The Seattle Symphony and Joshua Bell are Grammy Award-winning artists. Joshua has recorded more than 40 CDs including the Oscar-winning soundtrack for The Red Violin. Joshua Bell plays the Tchaikovsky Violin Concerto with Ludovic and the Seattle Symphony in performances throughout the weekend. Also on the program this week: Bedrich Smetana's "Dance of the Comedians" and Antonin Dvorak's 8th Symphony brings the program to a close.
On Building Musical Community: Violinist Hilary Hahn
Wednesday, February 8th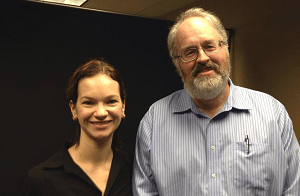 This week on our Classical KING FM Seattle Symphony podcast host Dave Beck visits backstage at Benaroya Hall with violinist Hilary Hahn. She's guest artist at the Seattle Symphony this week and one of the superstars of the classical music world. Hilary has won three Grammy Awards, made 16 recordings and has been soloing with the world's great orchestras since she was a teenager. Hilary Hahn is this season's featured artist at the Seattle Symphony, making an extended stay in the city this week.
Hilary Hahn talks with Dave Beck about her outreach work and her passion for building musical community in Seattle and around the world. Our conversation also turns to Hilary's love for languages, writing and interviewing artists she encounters in her travels.
Listening to Every Voice: Ives, Art, Poetry, and the Homeless
Wednesday, February 1st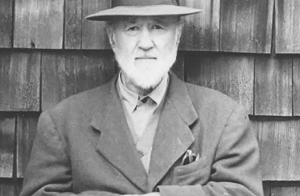 In November 2016 Seattle declared a state of emergency around the issue of homelessness in our region. Since 2013 the Seattle Symphony has been involved in efforts to respond artistically to that crisis through their Simple Gifts Initiative.
The latest chapter in the SSO's Simple Gifts effort is a program of music, poetry and visual arts called "All of Us Belong." Working with community partners like Catholic Housing Services, Compass Housing Alliance, and Mary's Place, people experiencing homelessness in our region work with the SSO, its community partners, and teaching artists in a series of gatherings and workshops providing tools with which they reflect on their lives through music and art.
Dave Beck talks with SSO Music Director Ludovic Morlot and Seattle Civic Poet Claudia Castro Luna about how American composer Charles Ives' early 20th century composition "New England Holidays" is the musical rallying point for this ambitious melding of SSO missions around artistic excellence and community engagement.
Embracing the Old and New in Music: Russian Pianist Alexei Lubimov
Wednesday, January 25th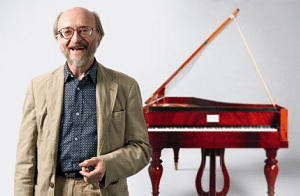 Russian pianist Alexei Lubimov holds a place of honor in the world of Russian music for his dedication to the work of contemporary Russian and Soviet era composers.  As a young artist in the Soviet Union, Alexei introduced John Cage, Karlheinz Stockhausen, and Pierre Boulez to Russian audiences—and he faced serious consequences for his daring resolve to introduce such once radical and unfamiliar styles.
This weekend he appears in SSO Masterworks concerts playing a Haydn Piano Concerto on Thursday night, January 26th and Saturday night, January 28th.  On Friday the 27th he'll be the featured artist in one of the late night "Untitled" concerts of new music, happening at 10pm in the Grand Lobby at Benaroya.  That program will feature music by contemporary Russian composers Valentin Silvestrov, Alexander Rabinovitch Barakovsky,  the late Galina Ustvolskaya—once a student of Shostakovich—and the youngest composer on the program, born in 1970, Pavel Karmanov.
Works of Wit and Weight: The Instrumental Concertos of Shostakovich
Wednesday, January 18th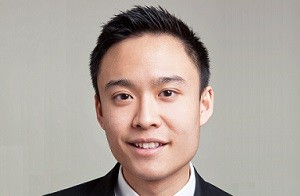 Our Classical KING FM Seattle Symphony Podcast this week features Kevin Ahfat, the Canadian-born pianist and winner of the SSO's Inaugural International Piano Competition plays the 1st and 2nd Shostakovich Piano Concertos with SSO Associate Conductor Pablo Rus Broseta leading the concerts. Kevin is one of one of three soloists in Seattle this week for performances in the Shostakovich Concerto Festival on Thursday, January 19th and Friday, January 20th in Benaroya Hall. KING FM's Dave Beck talks with the young concert artist about Kevin's excitement at returning to play again in Seattle. The pianist also discusses the witty and lighthearted nature of these piano works by Shostakovich, standing in stark contrast to the angry, brooding moments characterizing much of the composer's violin and cello concertos.
The other soloists in the festival are cellist Edgar Moreau and violinist Aleksey Semenenko.
Broadway's Megan Hilty: A Happy Homecoming
Wednesday, January 11th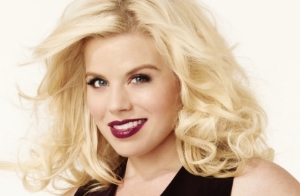 Dave Beck speaks with the featured performer in the Seattle Symphony Pops concerts happening in Benaroya Hall Friday, January 13th through Sunday, January 15th. "Luck Be a Lady: Megan Hilty Sings Sinatra and More" showcases the tunes of songwriters ranging from Cole Porter to Barry Manilow. The show's star grew up in the Puget Sound area. Megan Hilty talks about her early training as a classical singer, her collaboration with the songwriting team that gave us the smash hit Broadway musical Hairspray, and about the rewards and demands of being a mom and a busy performing artist.
Messiaen and Beethoven: Music of Hope in Times of Despair
Wednesday, January 3rd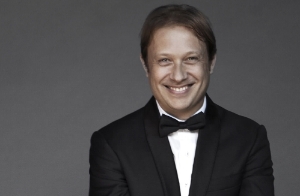 The search for purpose, hope and meaning in the face of devastating circumstances is one of the themes running through the two highly contrasting works that make up this week's Seattle Symphony Masterworks program in Benaroya Hall. Beethoven's 9th Symphony is the creation of a man whose physical deterioration left him unable to hear or speak. And Olivier Messiaen's "Three Little Liturgies of the Divine Presence" springs from the imagination of an artist recently liberated from a World War II German prison camp. SSO Music Director Ludovic Morlot  joins KING FM's Dave Beck with thoughts on why this pairing of diverse works, separated in time by about 120 years, makes for such a compelling presentation.