by Dave Beck
This week on our Classical KING FM Seattle Symphony Podcast, a first listen to the latest recording in the Seattle Symphony's exploration of the music of Charles Ives. Released on the orchestra's Grammy Award-winning Seattle Symphony Media label, the new disc features Three Places in New England, Orchestral Set No. 2, and New England Holidays by Ives.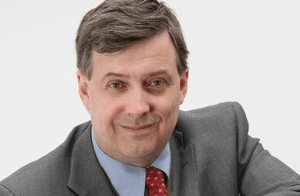 With the release of the new recording, we thought we'd take the opportunity to speak to the orchestra's president and CEO Simon Woods about a topic he knows well—the economics, history and transformation of the classical recording industry since the 1980s. From that time until the late 1990s, Simon worked as a record producer with EMI Classical in London where he initiated and produced recordings with the world's leading classical artists and ensembles.
At about the same time his producing career was launching, the orchestra with which Simon would eventually take the administrative leadership helm, the Seattle Symphony, was making important first steps toward its role as one of the leading players in the classical recording industry.
Prior to coming to Seattle, Simon was Chief Executive of the Royal Scottish National Orchestra, one of the United Kingdom's leading symphony orchestras. Prior to his time at RSNO, he worked in the United States as President & CEO of the New Jersey Symphony Orchestra and Vice President of Artistic Planning and Operations at The Philadelphia Orchestra
Simon Woods joined KING FM's Dave Beck this week to review the journey that the Seattle Symphony has taken as a recording orchestra—one that has earned the organization 21 Grammy nominations, two Emmy Awards and numerous other accolades.