Classical music is about more than just the three Bs. It's also about John Williams, Ennio Morricone and Danny Elfman. Tune in to Classical KING FM every Saturday and Sunday at 4pm for a new episode of The Score with Edmund Stone, a syndicated program featuring the best music in the movie business.
---
COMING UP ON THE SCORE
A Few of Edmund's Favorites – Saturday, March 25, 4pm
Host Edmund Stone shares some of the film music he listens to again and again. We'll hear excerpts from scores including Cinema Paradiso, Wall-E, The Fellowship of the Ring, and more on the next edition of The Score.
Marvel Comic Book Heroes – Sunday, March 26, 4m
They were known for years to readers of comic books, but now Marvel characters are also big movie heroes. This week, music from Captain America, Iron Man, and many more—for a marvel-ous adventure!
---
ABOUT THE HOST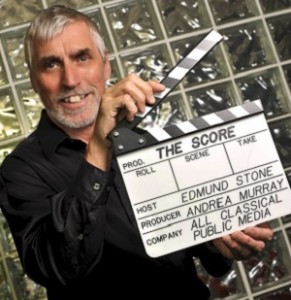 Edmund Stone grew up on an English farm. As a teenager he toured in Romeo & Juliet before moving to Scotland where he reviewed films for BBC Radio, Dundee Courier and various U.K. magazines. Relocating to Los Angeles in 1980, he covered the Academy Awards and interviewed such entertainment personalities as Alfred Hitchcock and Mel Blanc.
An Oregon resident since 1990, Edmund continues to voice commercials and emcee events. Notably, he narrated the west coast premiere of Ella Milch-Sheriff's "Can Heaven Be Void" with Salvador Brotons and the Vancouver Symphony Orchestra. Edmund voiced Vivaldi's sonnets to "The Four Seasons" with Monica Huggett and Portland Baroque Orchestra; "Peter and the Wolf" with Oregon Pro Arte Orchestra; and performed Peter Schickele's sportscast to Beethoven's "Fifth Symphony," also with Oregon Pro Arte Orchestra. Recently Edmund narrated Copland's "Lincoln Portrait" with Vancouver and Beaverton Symphony Orchestras; Tennyson's "Enoch Arden" at the Astoria Music Festival; and he hosted "Music from the Movies" with the Oregon Symphony. In April he narrates Shakespeare's "A Midsummer Night's Dream" to Mendelssohn's music with Vancouver Symphony Orchestra.
Outside of classical music and film, Edmund is passionate about the rescue and ethical treatment of animals. In 1999 he co-founded a sanctuary for orphaned chimpanzees in Cameroon, West Africa