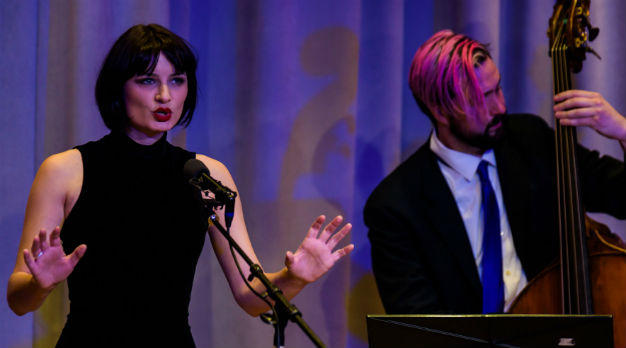 You love classical music, the entire depth and breadth of it, including much of the great classical music being composed and performed today. Our library of well over 180,000 performances can deliver with that special spark of something new and different. Steve Reich. Tin Hat. Brooklyn Rider. Bela Fleck.   Our Seattle Symphony and Seattle Opera broadcasts offer exciting new music and some hot and up and coming performers, too.
KING FM Second Inversion
Second Inversion is our online music station dedicated to rethinking classical music.  The project is built on a foundation of classical music with the intent to explore the vast range of music in and beyond the genre.  There's a focus on today's classical music, a mix for those that find inspiration in a wide variety of genres, delivering a diverse, rich, and user-centered listening experience.  It's new, unusual and rare, and available for you right now, online or in the Second Inversion smartphone app.
Enjoy our on-demand Second Inversion library of more than 80 live, local and contemporary performances through YouTube.
On-Stage with KING FM and Second Inversion 
Sometimes you just gotta hear it live, which is why we bring you our Second Inversion concerts through our local concert series On-Stage with KING FM.  The hosts of Second Inversion line up the best and serve it on the fabulous new Resonace at Soma Towers stage.  Our next concert is Second Inversion Presents: Earth Day Celebration with the Ecco Chamber Ensemble on Saturday, April 21, 7:30 pm Come hear it live, or enjoy one of our recent concerts below.
It's All About Supporting What You Believe In
You know how it is.  This music just doesn't get played as much as it should be.  More than that, it rarely finds its way into the media.   Classical KING FM is different, especially with our project Second Inversion.  There's the music library to attend to, the DJs, videographers and on and on.  The bottom line is, it takes listener support.  You listen, so have you done your part and joined our community of supporters?   Pick an amount that works for you, then stand up for what you believe in, support a rare and important resource.  You'll get busy, so take a moment right now.

---
What's your preference? Family friendly classical music? Relaxing music? Intellectually stimulating music? Modern classical? Classical music in the Northwest? Click one of these links for content curated for you.
---