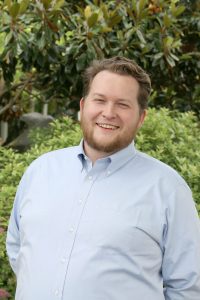 Seth Tompkins
I came to Seattle in 2009 to study music performance at the University of Washington. I started part-time at Classical KING FM in the autumn of 2011.  Over the years, I have been KING FM's Music Assistant, Assistant Music Director, and Content Manager. I was part of the group that created Second Inversion, and I designed the Second Inversion logo.  I am currently an "on-air" (streaming) host, live broadcast host, and blog contributor with Second Inversion. I was selected as Program Director in June 2017.
I am committed to preserving the success and traditions of KING FM, but I am also passionate about finding ways for KING to remain relevant in a changing media landscape.  Listening habits are changing and diversifying, so we must follow the listeners where they are leading us, while continuing to serve those who continue to consume radio in a traditional manner.  I have respect and appreciation for the traditions of classical music and KING FM, but I am also eager to consider classical music with a fresh perspective that is focused on the future. My bachelor's and master's degrees are both in tuba performance.  I remain an active freelancer in the Seattle area, performing a wide variety of musical styles in diverse contexts.  I have performed with Seattle Symphony and many other groups in the area, including Olympia Symphony, Saratoga Orchestra of Whidbey Island, Seattle Rock Orchestra, Seattle Modern Orchestra, Seattle Metropolitan Chamber Orchestra, and many others.Outside of professional activities, I am passionate about food and drink and the outdoors, and am an avid hiker.  I take pride in Seattle and the Puget Sound region, and am proud to call it home. I was born and grew up in Michigan.
Enjoy Music That Speaks To Me
Selecting "favorites" is a difficult endeavor, so here a just a few. This list reflects my love of brass instruments, 20th century music, and American music. Also present here in are some of my favorite performers, conductors, and composers, many in combination with each other. Although I am interested in every format and ensemble type of classical music, my home base is orchestral music; this list reflects that as well. Enjoy!
My Recent Blogs
Hello everyone.  It's that time of the year again. Here's what you should know about Christmas at KING FM: KING FM's ..Read more

To me, one of the most exciting things Seattle Symphony does is the [untitled] series.  looking through the upcoming season, the first [untitled] concert looks like a smash hit.  Featuring Seattle S..Read more
Let's Talk on Twitter
Why I Support Classical KING FM
KING FM is important because, unlike many classical stations, KING FM is all music! We do not have news or other talk programming; that makes us a special place. We are a refuge from the anxiety and strife that increasingly permeates modern life. Additionally, as an independent station, KING stands out from the crowd; this independence reflects our unique institutional history allows us great flexibility to be responsive to our listeners. KING FM is a special symbol of the Seattle area's rich and unique cultural landscape. That's why I am proud to support KING FM!