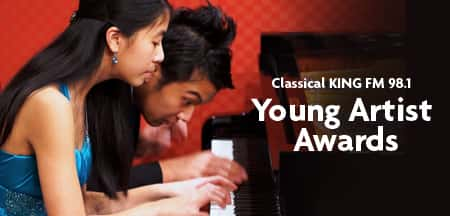 The KING FM Young Artist Awards, presented in partnership with the Seattle Chamber Music Society and now in its sixth season, strives to give talented young musicians a bigger stage. This competition is one element of our promise to the community of more support for arts education, community partnerships with the arts, and more live broadcasts. The competition is open to musicians (solo instrumental, vocal, or chamber groups) ages 6-20 in two age divisions – 1) ages 6-15 and 2) ages 16-20. Through a combination of world-class judges and listener votes, 10 finalists are chosen and perform live on the air before a winner in each of two age divisions is crowned.
The 2017 Young Artist Awards competition is presented by Classical KING FM 98.1 in partnership with BECU and the Seattle Chamber Music Society.

PRIZES
1. The top ten finalists perform in a live broadcast on either June 2 or June 9, 2017.
2. The Grand Prize Winners will perform on KING FM's NW Focus LIVE, Friday, June 23 at 8pm, and at select outdoor concerts in Summer 2017. They may also be invited to perform in community concerts through April 2018.
3. The Grand Prize Winners will each receive a $500 cash prize provided by BECU.
For the competition rules, click here.
For the entry form, click here.
JUDGES
James Ehnes
International concert violinist
Artistic Director, Seattle Chamber Music Society
David Harding
Violist
Professor of Viola and Chamber Music at Carnegie Mellon University, Pittsburgh
Seattle Chamber Music Society Artist
Sæunn Thorsteinsdóttir
Cellist
Artist-in-Residence, University of Washington, Seattle
Seattle Chamber Music Society Artist
Orion Weiss
Concert Pianist
Seattle Chamber Music Society Artist
Karen P. Thomas
Artistic/Executive Director, Seattle Pro Musica
Choral conductor and composer
Lisa Bergman
KING FM Announcer
Concert pianist
Sean MacLean
KING FM Announcer
Sarah Ioannides
Music Director, Symphony Tacoma
International conductor
Pablo Rus Broseta
Associate Conductor, Seattle Symphony
2016 WINNERS
Takumi Taguchi, violin, age 15

Alexander Lu, piano, age 16

2015 WINNERS
DANIEL RICHARDSON, piano, playing Stravinsky in the KING FM Studios
CHARLOTTE MARCKX, violin, playing Fiddle Tunes with her sister Olivia in the KING FM Studios
2017 YAA SPONSORS: