The Northwest Boychoir sings A Festival of Lessons and Carols, a regional favorite.
By Melinda Bargreen
This is the time of year when thoughts turn to the festive season ahead – and all the musical opportunities to get into the holiday spirit. From the ancient melodies of the Middle Ages through the new strains of the 21st century, Northwest concert venues offer local residents a rich assortment of great seasonal music. Spanning the sublime and the happily ridiculous, there's truly something for everyone.
First of all, if we've missed your group, our fervent apologies. The Northwest boasts so many excellent choral and instrumental ensembles that including every single one in each community would require the resources of a directory. An excellent choral website, www.seattlesings.org, has a wealth of concert details for this season and the months to come. We'll hit a few of the "high notes" below.
Let's start at Benaroya Hall, where the region's biggest concert presenter, the Seattle Symphony, has a cornucopia of holiday fare on tap – starting with "Holiday Pops with Cirque Musica" (Dec. 6-7). Pops-meister Jeff Tyzik will be on the SSO podium for orchestral concerts with Cirque Musica – acrobats, jugglers, dancers, and mimes – performing along with the music.
Immediately afterward, the SSO presents "Christmas with The King's Singers," featuring the ultra-talented British a cappella male ensemble that has won a long string of prizes and awards over the past decades. Their delicious Seattle program on Dec. 8 ranges from works of Lassus and Praetorius to international carols (from "In dulci jubilo" to Herbert Howells' celestial "A Spotless Rose"). (The orchestra does not play in this concert of close-harmony vocals.)
And then there's Handel's ever-popular "Messiah," presented annually by the Seattle Symphony Orchestra and Chorale – this time with guest conductor Cristian Macelaru (associate conductor of the Philadelphia Orchestra) on the podium, and renowned Northwest-born soprano Heidi Grant Murphy topping the soloist roster. There are three performances at Benaroya Hall, beginning Dec. 19.
The biggest choral presentation is the annual Seattle Men's Chorus holiday show – this year, the group's 35th, it's called "Our Gay Apparel" – which will be staged seven times in Benaroya Hall from Nov. 29th through Dec. 22. (If you're around for the first two performances Nov. 29-30, you'll also hear guest artist Linda Eder.) Dennis Coleman conducts the holiday celebration, which includes serious traditional fare along with hilarious new "adaptations" of Christmas classics. There's always a sing-along of traditional carols, with the audience joining in. And if you can't make it to downtown Seattle, there are two outreach performances: Dec. 4 in Tacoma's Pantages Theater, and Dec. 20 in Everett's Civic Auditorium.
Another popular favorite: "A Festival of Lessons and Carols," the traditional English holiday observance interspersing readings and carols, returns with the combined singers of the Northwest Boychoir and Vocalpoint! Seattle (Joseph Crnko, conductor), plus members of the Northwest Sinfonia. The two final 2014 performances are set for Dec. 22 in St. Mark's Cathedral, and Dec. 23 in Benaroya Hall. These are the capstone of a series of regional performances of the "Festival of Lessons and Carols" that will take the young singers all over the Northwest map.
Among this season's Northwest Girlchoir performances is the Dec. 5 "Winter Wonder" concert, at 7:30 p.m. in Phinney Ridge Lutheran Church – where you'll here not only repertoire from Latvia, Finland, and Norway, but also new works of Reginald Unterseher and Karen P. Thomas. And the Seattle Girls Choir has set Dec. 13 (1:30 p.m.) as the date for "A Gift of Song," their holiday concert in Town Hall with Jacob Winkler conducting. The same venue will host the Columbia Choirs' Yulefest concert, at 1 p.m. Dec. 6, with carols, holiday favorites, and international tunes. The Columbia Choirs family have two more holiday concerts: "Lessons and Carols" at 7 p.m. Dec. 3 in Bothell First Lutheran Church, and "Noel" at 7:30 p.m. Dec. 14 in Lake Washington United Methodist Church.
Stepping back into the Middle Ages with the Medieval Women's Choir, director Margriet Tindemans has devised a program called "Fountain of Life" in celebration of the ensemble's 25th season. The program, also featuring MWC instrumentalists, spans works of the remarkable medieval abbess Hildegard of Bingen and a brand-new commissioned work by Seattle composer/conductor Karen P. Thomas, at 8 p.m. on Dec. 20 in the sonorous environs of St. James Cathedral.
The Seattle Choral Company returns to St. Mark's Cathedral at 8 p.m. Dec. 13 and 19 for "On Christmas Night," a program of carols, new and old music, and narration. The Resonance Handbell Choir and the cathedral's Flentrop Organ will provide instrumental assistance, and the wide-ranging repertoire spans traditional carols and Dolly Parton ("Light of a Clear Blue Morning"), with the premiere of a new work by Edward Henderson. Freddie Coleman conducts, and also offers a lecture an hour before start time. A carol sing-along, accompanied by the cathedral organ, starts at 7:30 p.m., a half-hour before the concerts.
Noted for their international holiday concerts, Seattle Pro Musica – a past winner of the American Prize for choral excellence – turns to France this season for a program of Christmas motets by Poulenc and Pierre Villette. You'll also hear French Renaissance Christmas music, new works, and traditional carols. Karen P. Thomas conducts three performances: Dec. 6 at 7:30 p.m. in First Baptist Church (1111 Harvard Ave, Seattle), and 3:00 p.m. & 7:30 p.m. Dec. 13 in the Bastyr University Chapel (14500 Juanita Drive NE, Kenmore). They'll also offer a one-hour Family Holiday Concert at 3 p.m. Dec. 6, also at First Baptist Church of Seattle, with French chef Thierry Rautureau, the "Chef In The Hat," joining in.
Choral Arts, also a first-place American Prize winning chorus, presents two concerts with director Robert Bode of their signature holiday program: an hour-long, uninterrupted flow of beautiful carols and Christmas-themed choral works, with Bob McCafferty-Lent knitting everything together via guitar interludes that link the various pieces. It's an oasis of calm beauty amidst the bustling holiday season. 7:30 p.m. Dec. 13 in Seattle's Trinity Parish; Dec. 14 in Seattle's St. Joseph Parish.
This year, the Northwest Chamber Chorus is bringing back its beloved presentation of Dylan Thomas' "A Child's Christmas in Wales," with David Pichette as narrator. The program will also offer carols of Alfred Burt, Poulenc's Quatre motets pour le temps de Noël, works by several contemporary composers, and the group's traditional Christmas carol sing-along. There are two performances for this popular classic: 3 p.m. Dec. 7, and 7:30 p.m. Dec. 13, both in Seattle's Phinney Ridge Lutheran Church.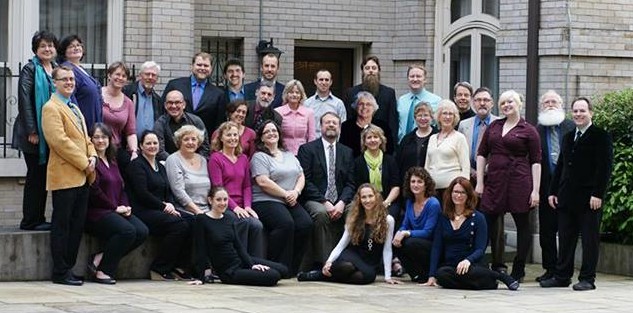 "Shining Rose of Heaven," the Opus 7 choral program set for Dec. 13 (8 p.m.) in St. James Cathedral, will focus on music written by, and about, women. Founder/director Loren Pontén, who has commissioned more than 25 new choral works, will lead his singers in contemporary and classic pieces. Opus 7 was the 2013 winner of The American Prize for community choral excellence.
The busy conductor Mark Adrian has two choruses each presenting three concerts of holiday repertoire. Cantaré presents "In the Fields Abiding" (with angel- and shepherd-themed music) in three different locations Dec. 5-7 (see http://cantarevocalensemble.org/concert-season/), and Adrian's Sacred Music Chorale offers "So Fair and So Bright" spanning Pergolesi, Mendelssohn, and carols of all kinds, also in three locations Dec. 12-14 (see http://sacredmusicchorale.org/concerts).
There's plenty more going on in the orchestral/instrumental realm, too. On Dec. 6, the Seattle Baroque Orchestra presents a "European Christmas Potpourri" at 8 p.m. in Seattle's Town Hall, with Handel's "Gloria," the Corelli Christmas Concerto, and other baroque-era holiday themed music, with Eric Milnes as director and Hélène Brunet, soprano soloist.
Internationally acclaimed Pacific MusicWorks will present Cantatas 1, 3, and 6 of one of the great seasonal classics, Bach's Christmas Oratorio, at 8 p.m. Dec. 19 in St. James Cathedral. Co-produced with Early Music Vancouver, this performance will showcase four vocal soloists: soprano Teresa Wakim, mezzo-soprano Krisztina Szabó, tenor Zachary Finkelstein, and baritone Sumner Thompson.
Orchestra Seattle, with Clinton Smith conducting, presents a Holiday Pops concert with the ever-popular Leroy Anderson "Sleighride," a Suite from "The Polar Express," selections from the Shaw/Bennett "Many Moods of Christmas," and other favorites, starting at 2 p.m. Dec. 6 in First Free Methodist Church. The orchestra's choral partner, Seattle Chamber Singers, reprise their popular "Messiah" production at 3 p.m. Dec. 21 in the same location.
If you missed all this pre-Christmas hoopla (and even if you didn't), the Tudor Choir presents a promising Dec. 27 classical holiday program called "Christmas Day" that also marks the release of the group's new all-English Christmas CD. It starts at 7:30 p.m. in Blessed Sacrament Church, preceded by the popular lighting of the church's 30-foot Christmas tree. The Tudors also get in ahead of the seasonal game by presenting the outstanding Tallis Scholars in an Advent concert of Byrd, Desprez, and Turgez on Dec. 4, at Blessed Sacrament Church.
And finally, on Dec. 28 the fifth annual series of Candlelight Concerts, organized by flutist Jeffrey Cohan, will conclude with "Jazzin' with the Classics for Christmas" at 7:30 p.m. in University Christian Church. The program unites the worlds of classical and jazz music with a holiday twist.