Seven gastronomical preferences of the greats, followed by careful analysis.
By Geoffrey Larson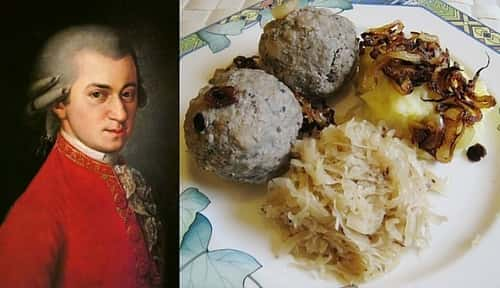 ---
1.  Wolfgang Amadeus Mozart
Mozart's letters preserve many mundane facts about his life, including his daily schedule and love of billiards and fart jokes. We know that Mozart loved his food, particularly liver dumplings with sauerkraut. If you were an Austrian in the Classical and Baroque eras, you were not a light eater. A cheap common meal in Vienna in 1786 consisted of two large meat dishes with soup, vegetables, bread, and a quarter liter of wine, while the court dinners of Viennese aristocrats rivaled those of Louis XIV. Vienna's cake game is unstoppable to this day.
What this tells us: W.A.M. was a red-blooded Austrian all the way. Though most modern performances take a light approach to his music, he is said to have enjoyed an orchestration as full-bodied as one of those Viennese feasts, even with instrumental forces that would seem unheard of today in concerts of his music. As the composer wrote to his father of a performance of the 34th Symphony in Vienna in April 1781, "The symphony was magnifique and had a great success. Forty violins played, the winds were doubled, there were 10 violas, 10 double basses, eight cellos, and six bassoons."


2.  Gioacchino Rossini
We love Rossini for the charm of his operas and his bad hair. We also know Rossini to be a huge fan of gourmet food. You know that you have a thing for eating when dishes such as Tournedos Rossini, Chicken alla Rossini, Filet of Sole alla Rossini, and Eggs Rossini are being named after you (the latter is especially appropriate, given the fact Rossini literally looks like an egg). The composer famously retired with a huge fortune in 1829 at the age of 37, and devoted the last 39 years of his life to eating. His favorite treat? A whole turkey stuffed with truffles.
What this tells us: Like Don Magnifico, the great gastronome of La Cenerentola, Rossini did not hold back. The extravagance of his orchestration and virtuosic vocal writing is a feast for the ears – and we're always ready to pig out.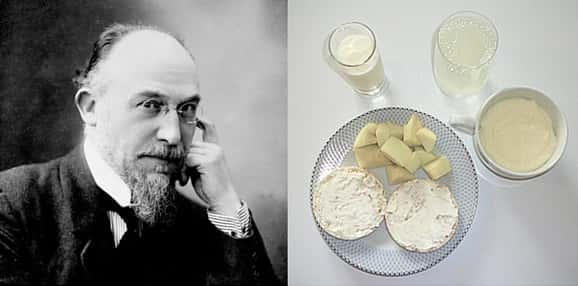 3.  Erik Satie
We know a lot about Erik Satie's eccentric, mono-chromatic lifestyle. He would only wear gray suits, and insisted on consuming food that was exclusively white. Examples included eggs, sugar, animal fat, salt, coconuts, rice, turnips, pastry, white cheese, white fish and shredded bones.
What this tells us: Being undeniably weirder than everyone else was (and is) a strong trait for a composer; Satie's enigmatic Gymnopédies and Gnossiennes are among his invaluable additions to the repertoire. And he really was out there: when friends entered his tiny one-room apartment in Arcueil after his death in 1925, they found his collection of umbrellas (over 100), a piano with strips of paper threaded through the strings (some that read "My name is Erik Satie, like everybody else"), and drawings of fantasy castles (similar to ones that someone had mysteriously advertised for rent in a Parisian newspaper).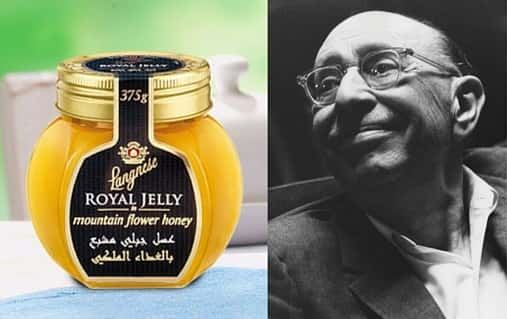 4.  Igor Stravinsky
Stravinsky was very particular about his love of honey: royal jelly honey, to be precise. He went to great lengths to ensure his access to this particular honey in his tea, even carrying jars of it with him to restaurants ("As you can imagine, honey fit for a queen bee, is best honey of all"). After running out in a visit to Tel Aviv in 1962, one of his hosts managed to procure a jar of it, causing a jubilant Stravinsky to exclaim, "You'll see. This'll bring back my youth."
What this tells us: Though Stravinsky gave us some of the thorniest moments of music in the early 20th Century, it's no wonder that the spiciest moments of his music are often contrasted by the sweetest passages of dolce melody. The lullaby that follows the Infernal Dance of King Katschei in Firebird is pure honey to the ears.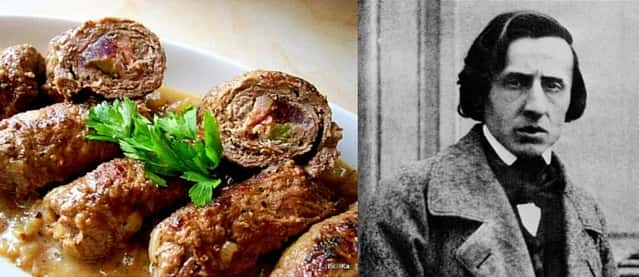 5.  Frederic Chopin
After growing up in Warsaw, Chopin moved to Paris in 1831 and would never return to his native Poland. He missed many things dearly about his childhood home, particularly Polish cuisine. Zrazy is said to be his favorite, a braised Polish roulade dish made of thin slices of beef rolled around any variety of fillings, such as vegetables and eggs.
What this tells us: Chopin's nationalism is present throughout his music, including his seminal works written as a resident of Vienna and Paris. He composed piano works that wrapped Polish folk music forms and militaristic fervor together with influences of Bach, Beethoven, Schubert and Field in a mouth-watering mix of musical innovation.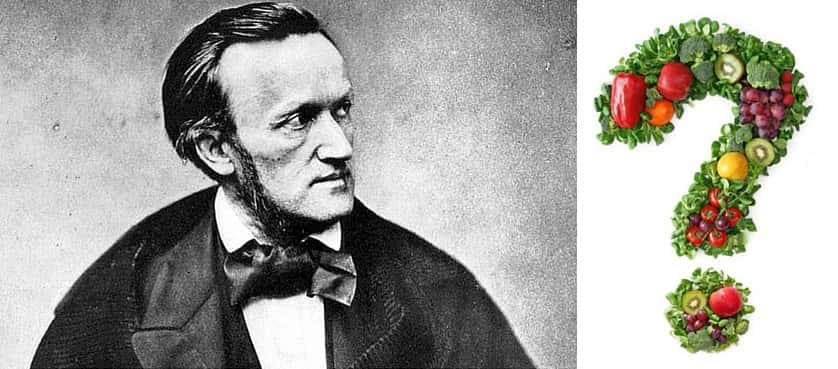 6.  Richard Wagner
Numerous writings of Richard Wagner advocate vegetarianism, and recount multiple formative occasions where the composer witnessed the suffering of animals, such as an instance where Wagner accidentally wounded the leg of a hare while firing squeamishly on a hunting trip. But carnivorous, buffet-busting low brass players everywhere can rejoice: apparently, Wagner wasn't very good at sticking to his own vegetarian principles. According to his second wife Cosima, Wagner was "in principle" a vegetarian, but "in practice, however, neither his health nor the orders of his physician allowed him to be a vegetarian."
What this tells us: Though Wagner's vegetarian proclivities manifested themselves in opinion rather than in practice, we can recognize veg influence in some of his operatic writing. In Parsifal, Gurnemanz remonstrates the titular young protagonist for shooting a swan in Act I:
So you could murder in this sacred forest,
Where gentle peace enfolded you?
The woodland beasts came close and trusted you,
Greeting you, friendly and tame.
From their branches, what warbled the birds to you?
What harm did the faithful swan?
Here, see here! You pierced him here.
All is blood, his wings are lifeless,
His snowy plumage crimson defaced.
Quite broken his glance – look at his eyes!
Now does your evil action haunt you?

7.  Gustav Mahler
The vegetarianism that Wagner hypocritically espoused had a real effect on the young Gustav Mahler, who genuinely adopted it. On an outing to a local bar in Moravia in 1883, he supposedly shocked his colleagues by rejecting the numerous meat options on the menu for an order of spinach and apples. Like every true Viennese resident, Mahler also had a significant love of sweets and pastries, which continued after health problems forced him to relinquish his vegetarianism later in life. His sister Justine apparently had a killer recipe for Marillenknödel. On hearing that a friend wasn't a fan of the Viennese apricot dumplings, Mahler exclaimed: "What! Is there a Viennese to whom Marillenknödel means nothing? You will come with me right away to eat the heavenly dish. My sister Justi has her own recipe for it, and we will see if you remain indifferent."
What this tells us: Always thinking on a broad scale, Mahler once proclaimed to a friend that as a result of his vegetarianism, "I expect nothing less than the regeneration of mankind." Similarly, with his symphonic writing, the composer expected to achieve something universal: "A symphony must be like the world," he said. "It must embrace everything." His epic symphonies represent musical creation on its largest scale, and resound with higher purpose. Echoes of vegetarianism can be found in his constant obsession with the natural world, portrayed so clearly in the first and third symphonies. But his works also hold a gooey core of tenderness and personal feeling, and moments like the soulful Adagietto of the Fifth Symphony are sweeter than any apricot filling.
Geoffrey Larson is Music Director of the Seattle Metropolitan Chamber Orchestra and a contributor to KING FM.