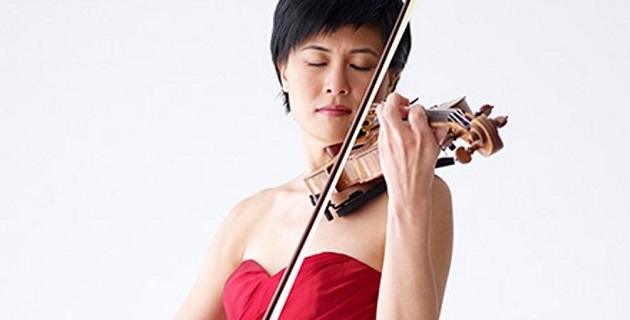 KING FM's Dave Beck (Weekdays & Saturdays 1pm – 5pm, Sundays 1pm – 4pm) chatted with violinist Jennifer Koh about her new release of Tchaikovsky's complete works for violin and orchestra with Alexander Vedernikov and the Odense Symphony.
Dave Beck: Congratulations on the new recording!
Jennifer Koh: Thank you so much.
DB: We so enjoyed your performance in Seattle with the Seattle Symphony of the Esa-Pekka Salonen concerto, just about two years ago now. What a contrast with the Tchaikovsky!
JK: Ah, I think there might be weird connections!
DB: Tell me about that.
JK: I think Esa-Pekka's very…he's still a performer, he's a conductor, and Tchaikovsky's very much a part of our musical consciousness as performers of older music and also contemporary music, so I think everything informs the other.
DB: That's a great interest of yours from a number of your recording projects and interesting commissioning projects, thinking of Tchaikovsky alongside Esa-Pekka Salonen, or Bach or Beethoven alongside a contemporary composer – that's a great area of fascination with you.
JK: Yeah, and I love working with fellow artists and fellow composers and I love being part of this community, so I feel very lucky. But I am thrilled about doing Tchaikovsky. I feel like it's a little unexpected.
DB: Yeah, exactly. One of the unexpected aspects of it is that you're just now getting around to recording the composer's music. I'm sure this a piece that has been a part of your repertory and your experience since you were very young – but [you are] just now recording it.
JK: It's kind of an interesting return to when I was younger. The conductor and the orchestra – the Odense Symphony and Alexander Vedernikov – I met them both and I worked with them both even before my career started. I met them within one month of each other I think when I was fifteen years old, and with Alexander it was really special. First of all he was very kind to me, and I was just a little kid at that time. But I think we felt this very strong musical connection [to] Tchaikovsky because we did the Tchaikovsky concerto together and then the only other time we met was twenty-something years later, which was a few years ago, and we did Tchaikovsky concerto again with NHK Symphony. And it was so fascinating because we've changed so much as musicians, and yet that musical bond was still there. Then we just said to each other, "we should record this!" And that's kind of how this project came about.
DB: So you were in your teen years, playing this international violin competition, playing it in this city where Tchaikovsky worked and taught and walked…what does that experience feel like, and how does it connect you to the composer and that tradition in a deep way?
JK: I've always had a love of Russian literature and poetry, and even now, one of my favorite novels is Anna Karenina, and one of my favorite poets is Anna Akhmatova, and at that time I was really truly obsessed with everything Russian, like Russian history, Russian literature, going all the way into Soviet satirists, and the entire history…it's such a fascinating country. I think Tchaikovsky was part of that obsession as well.
DB: I look at your career and all the work you do – even in this conversation, talking about Tchaikovsky and the [Russian] literature – you're really committed to contextualizing music, to give people a sense of why these artists matter, and why this music matters. I'm not so sure that your studies at Oberlin weren't an important step in that direction.
JK: Maybe. I loved Oberlin; I think it really gave me the space to learn all the things I was curious about at the time, and essentially by the time I left college that experience gave me the tools to teach myself in the future. I wouldn't replace that time period with anything else, for sure. The kinds of friends I made there have been lifelong friends, so that was incredibly important. Musically speaking, I think a lot of programs and ideas come out of this concept because when I was a kid, everyone was always saying classical music was dying and dead. For me, just even in terms of being a human being aside from being a musician, it's always been interesting and for some reason important to me to always shorten distances, whether it's between the present and the past, by programming contemporary music with older music, or if it's in the relationship between composers and performers in terms of performing traditions. I think the thing that really interests me about music and art in general is its ability to connect us as human beings.
DB: I love all the little interpretive touches, the slides and the rubato in this new recording. You don't only do the Tchaikovsky Violin concerto, but there's the Sérénade mélancolique, the Valse Scherzo, a piece that translates to Memory of a Dear Place. There's some Tchaikovsky violin literature that we don't hear all that much in this recording.
JK: I love all of these pieces. I open with Sérénade mélancolique, which I think is just one of the most expressive pieces ever. For me at least, the way I approach it is all about expressivity. It's not necessary about beauty, it's about expressivity. Although it is funny, because I played with Philly Orchestra and I did a Bruch concerto with them, and of course I went to school with most of that orchestra because I went to Curtis, and I remember they came up to me afterwards and they were like "You sound like this old Jewish guy put into an Asian female body." I was like that's so nice of you, thank you! When I play that kind of repertoire I'm super old-school I think.
DB: What sorts of insights does that pairing of composers of different times produce for you? If you now go out and put one of these little Tchaikovsky pieces on the program with another composer, what will that be like or what will that process yield for you?
JK: You know what's funny? I never thought of pairing Tchaikovsky with something else. I was thinking, I actually have no idea what I would pair with Tchaikovsky. It would be very normal, I guess, for people to pair Prokofiev or Shostakovich or maybe even Gubaidulina for people who listen to new music, but for some reason that wouldn't feel right to me. So I'm going to have to think about that question.
Visit KING FM on YouTube for fantastic solo violin performances.