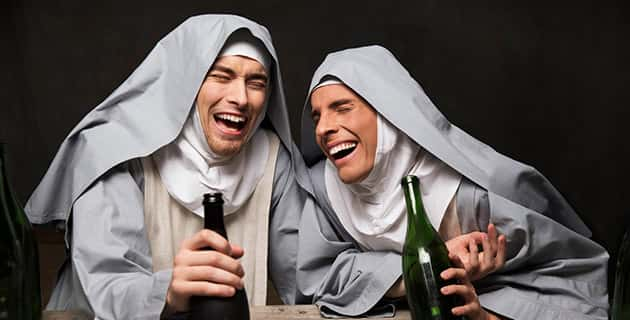 By Melinda Bargreen
The grand opening of Seattle Opera's season is always an exciting event. Scheduled for the height of summer in August, this opener slot is often used as a showcase for a "really big show" – sometimes a Wagnerian opera, or a spectacular like Puccini's "Turandot."
This year, get ready for something completely different: a rollicking Rossini rarity called The Wicked Adventures of Count Ory. The company is marketing this high-spirited piece with descriptors like "Monty Python" and "Broadway musical," neither of which you usually associate with opera.
But it's summer, and company general director Aidan Lang wanted to open the season with a work that has the breezy high spirits and sense of fun we associate with Seattle in August (Ory, more formally titled Count d'Ory, runs August 6-20; tickets start at $25). Added to this is the lure of presenting a major composer's work that has never been heard here before – certainly not in this incarnation. Because few operagoers will have any familiarity with the opera, Lang and his production team decided to add the "Wicked Adventures" to the title to "give a sense of the fun the show offers" right from the get-go – including some animation to accompany the overture.
"It's a glorious confection," says Lang of the work he has chosen to launch Seattle Opera's 2016-17 season.
"We wanted an opera that would start off the season with great word of mouth. And Ory is one of the few operas that is genuinely funny, not just 'opera funny.' It's not slapstick, but it has a sort of mad energy that is there in the score. I'd call it 'Monty Python meets Blackadder meets the Love Guru'."
But Lang didn't choose this Rossini rarity just because it's one of his own favorites. He focuses on the likely audience reaction: "What sort of an evening do I want the audience to have? What is the desired impact of the piece? It's summer, and I want people to have a good laugh with some glorious music."
Although Lang feels "it's the impact of this opera that is the driver, not who is in it," it doesn't hurt that this season-opener will present Seattle favorite and reigning international bel canto star Lawrence Brownlee as the naughty Count. Brownlee will alternate with the well-known tenor Barry Banks in that role; Sarah Coburn, another popular Seattle Opera guest, will share the role of Adele with company-debuting artist Lauren Snouffer. Hanna Hipp and Stephanie Lauricella will sing the "pants role" of Isolier.
Giacomo Sagripanti (who led the company's La Cenerentola in 2013) will conduct. Stage director Lindy Hume and production designer Dan Potra have created what the company calls "a mashup of medieval France and psychedelic '70s flower power."
The plot is set in the 1200s in France, where the men are off fighting in the Crusades – except for Count Ory, a party boy who wants to seduce the wives left at home. His attempts, and those of his adolescent page Isolier, lead to strange disguises and stratagems (first Ory appears as a "love guru" dispensing advice to the wives whose husbands are away, and finally he and his men appear at the castle of the beauteous Adele in nuns' habits).
Choosing this upbeat opener was only part of the challenge of assembling an opera season. Opera directors consider many angles – including the desirability of a popular opera in May, when it's subscription time and they want large audiences and lots of positive buzz. So in May of 2017 we'll get Mozart's The Magic Flute, in a revival of a spectacular production featuring the colorful work of designer Zandra Rhodes. Julia Jones will conduct, in her Seattle Opera debut.
"Then we ask ourselves, 'What haven't we done recently … or at all?'" Lang observes. "Hansel and Gretel was definitely due.
"And we have never presented Janacek's Katya Kabanova before. For people today who are going to the opera for the first time, and who are maybe a bit opera-wary, the last thing they should go to is a big costume drama. Katya Kabanova is so immediate and so realistic. It's sort of a 'Breaking Bad' opera, with so much raw emotion."
In January, another crucial period for audience development, the company will present a well-loved classic: Verdi's La Traviata, in Peter Konwitschny's "five star" (Sunday Telegraph) production. Corinne Winters and Angel Blue will share the role of Violetta, the courtesan with the heart of gold; Stefano Secca and Zach Borichevsky will appear as her Alfredo.
For the season as a whole, Lang says, he is aiming for "a variety of experiences, thought-provoking and intense. These pieces entertain but they also ask people to think, and they encourage discussion. You may not agree with every production, but it will be put on with artistry and with thought."
---
Every Saturday night on KING FM, experience the best opera recordings in the world with hosts Aidan Lang and Jonathan Dean of Seattle Opera. Plus, hear LIVE broadcasts of Seattle Opera productions straight from McCaw Hall throughout the season.
The Seattle Opera Channel is back! Click here to stream The Seattle Opera Channel now.