by Maggie Molloy

Hector Berlioz was famous for pushing the envelope. From his enormous orchestral forces to his revolutionary use of color, space, and orchestration, his compositions secured a place in history some of the most innovative music of the Romantic era.
The Grande Messe des morts is among his most famous works. Composed in 1837, the piece is a Requiem Mass scored for an enormous orchestra and choir of over 250 musicians, with four offstage brass ensembles stationed throughout the hall. This weekend the Seattle Symphony and Chorale perform the work under the baton of Ludovic Morlot, with the help of Seattle Pro Musica and members of Vocalpoint! Seattle.
To learn more about this weekend's performances, we talked with Ludovic Morlot about the music of Berlioz and Requiems from across the ages:
Maggie Molloy: What are some of the unique challenges of performing Berlioz's Requiem?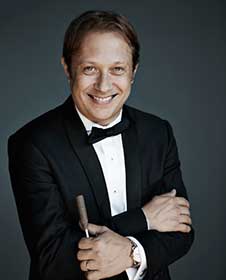 Ludovic Morlot: Ensemble is a big issue, because of the strength of the forces. You are left to make decisions last minute when you're onstage, and any given space will pose a different challenge.
The biggest challenge perhaps is for the chorale. It's the work of a young composer who wrote very much instinctively, but maybe not with the most subtle of an understanding of vocal technique. He asks from the singers a range of technical challenges that can sometimes create vocal discomfort. It's a challenge to do justice to the extremes Berlioz had in mind for this piece.
MM: Since 2013 the Seattle Symphony and Chorale has performed Requiems by Verdi, Britten, Fauré, Mozart, Ligeti, and now, Berlioz. What draws you to performing Requiems?
LM: When I was Music Director at La Monnaie in Brussels, there was a huge tradition that we would present a Requiem Mass around Armistice Day. Beyond being a very nice gesture, this gives us a chance to work on diverse repertoire which holds the Latin text in common. This allows us to focus on the vocal challenges as opposed to the delivery of language.
It's also fascinating, I think, for the audience to witness how composers go completely different directions with the same text. It gives an insight into who they are as composers. Some describing the pain and suffering of going through the end of your life, some describing an afterlife of beauty.
MM: What do you think makes Berlioz's Requiem a compelling musical production for 21st century audiences?
LM: We'll always be looking to music to find comfort in that darkest of subjects. I think there is no difference between now and 200 years ago in this regard. Music is where we turn to find answers to the big questions of this world.
---
The Seattle Symphony and Chorale perform Berlioz's Requiem on Thursday, Nov. 9 at 7:30pm and Saturday, Nov. 11 at 8pm. For tickets and additional information, click here.