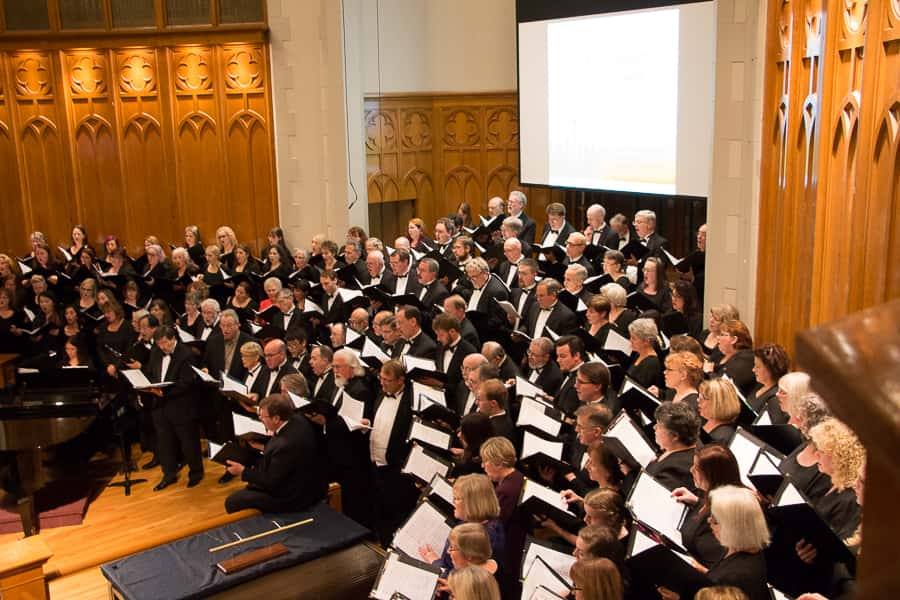 A "Festival Sing" lead by Joan Szymko during the 2017 Seattle Sings! Photo: Estephan Meza.
Want to hear some sublime choral singing? KING-FM is a proud partner of the Greater Seattle Choral Consortium, presenting the 2019 Seattle Sings! festival next week.
The festival takes place Thursday through Saturday: October 10, 11 (evenings), and 12 (all day) at Seattle First Baptist Church (in First Hill). Admission is free. "Come and go as you please," the festival's website encourages.
35 choral organizations will participate, presenting a wide range of genres and styles: from "medieval to barbershop, jazz to classical, men's and women's and SATB choirs, heritage choirs and more." Northwest composer Ethan Sperry has composed the festival anthem, which will be sung at various times throughout the festival.
Friday Oct. 11 will feature a tribute to Morten Lauridsen, who will be there (and will lead audience and choirs in his setting of "Sure on this Shining Night"). Six choirs will also perform a retrospective of Lauridsen's work.
KING-FM's own Marta Zekan will emcee the festival finale concert on Saturday evening, October 12th.
For more on Seattle Sings! and Morten Lauridsen's life, work, and connection to the Pacific Northwest, read this recent piece in The Seattle Times by reporter Thomas May.
Want to get into the choral mood early? KING-FM's Northwest Focus Live broadcasts a special episode on Friday night, October 4 at 8:00pm, featuring Seattle's Emerald Ensemble, under the direction of Gary Cannon. This professional chamber choir will perform Lauridsen's "Les Chansons Des Rose" and Benjamin Britten's "Five Flower Songs." This is KING-FM's first Northwest Focus Live at the Seattle Opera Center, the future home of the radio station!
Image at top: A "Festival Sing" lead by Joan Szymko during the 2017 Seattle Sings! Photo: Estephan Meza.