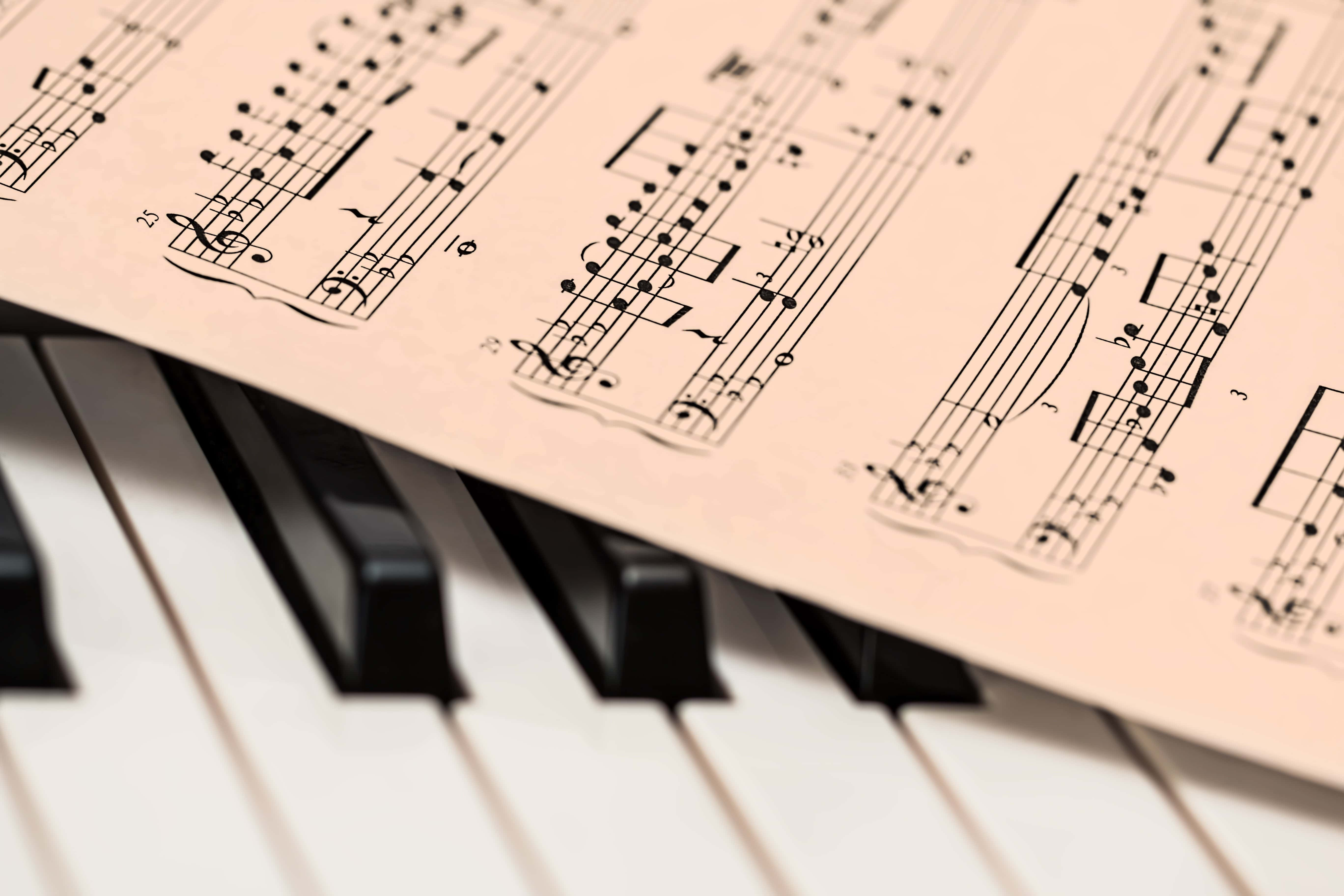 Image: public domain, via Pixabay.
About the Countdown
From April 23 to May 10, KING FM collected your votes for your favorite songs, symphonies, sonatas, string quartets, and everything in-between.
From May 18 to 22, 2020, we're counting down your choices, from number 98 all the way to number 1, on KING FM 98.1 and via our online stream right here on king.org (or wherever you listen to KING FM).
---
The Great 98(.1!)
Here are your choices for your all-time favorite pieces of classical music.
Each day, from May 19-22, this list will be updated with the pieces of the Countdown that have played that day or the day previously.
Stay tuned through Friday, May 22, 2020, for all 98(.1!) of your selections.
---
This list last updated: May 22, 2020, 3:06pm
Dvorak, Antonin — Symphony No.9 in E minor, Op.95 "From the New World": votes: 186
Copland, Aaron — Appalachian Spring: votes: 185
Gershwin, George — Rhapsody in Blue: votes: 180
Mussorgsky, Modest — Pictures at an Exhibition: votes: 164
Beethoven, Ludwig van — Symphony No.9: votes: 156
Sibelius, Jean — Finlandia, Op.26: votes: 152
Vivaldi, Antonio — Violin Concerto in E, Op.8/1, RV 269 "Spring": votes: 144
Rimsky-Korsakov, Nicolai — Scheherazade: votes: 141
Holst, Gustav — The Planets, Op.32: IV. Jupiter, The Bringer of Jollity: votes: 140
Handel, George Frideric — Messiah: votes: 136
Smetana, Bedrich — The Moldau: votes: 136
Copland, Aaron — Fanfare for the Common Man: votes: 134
Vivaldi, Antonio — Violin Concerto in F minor, Op.8/4, RV 297 "Winter": votes: 134
Rachmaninoff, Sergei — Piano Concerto No.2 in C minor, Op.18: votes: 132
Vivaldi, Antonio — Violin Concerto in G minor, Op.8/2, RV 315 "Summer": votes: 130
Beethoven, Ludwig van — Symphony No.6 in F, Op.68 "Pastoral": votes: 129
Beethoven, Ludwig van — Symphony No.7 in A, Op.92: votes: 128
Vivaldi, Antonio — Violin Concerto in F, Op.8/3, RV 293 "Autumn": votes: 127
Stravinsky, Igor — The Rite of Spring: votes: 125
Pachelbel, Johann — Canon in D: votes: 124
Beethoven, Ludwig van — Piano Concerto No.5 in E-flat, Op.73 "Emperor": votes: 122
Stravinsky, Igor — Firebird Suite: votes: 121
Barber, Samuel — Adagio for Strings, Op.11: votes: 120
Tchaikovsky, Pyotr Ilyich — 1812 Overture, Op.49: votes: 118
Orff, Carl — Carmina Burana: O Fortuna: votes: 114
Vaughan Williams, Ralph — Fantasia on a Theme by Thomas Tallis: votes: 114
Beethoven, Ludwig van — Symphony No.5 in C minor, Op.67: votes: 112
Bizet, Georges — Carmen: votes: 112
Handel, George Frideric — Water Music Suite No.1: votes: 111
Mozart, Wolfgang Amadeus — Requiem in D minor, K.626: votes: 111
Rachmaninoff, Sergei — Rhapsody on a Theme of Paganini, Op.43: votes: 110
Mozart, Wolfgang Amadeus — Symphony No.41 in C, K.551 "Jupiter": votes: 107
Beethoven, Ludwig van — Piano Sonata No.14 in C-sharp minor, Op.27/2 "Moonlight": votes: 105
Elgar, Edward — Enigma Variations, Op.36: votes: 105
Gershwin, George — An American in Paris: votes: 105
Ravel, Maurice — Bolero: votes: 103
Satie, Erik — Gymnopedies: votes: 103
Handel, George Frideric — Music for the Royal Fireworks: votes: 99
Copland, Aaron — Rodeo: votes: 98
Bach, Johann Sebastian — Jesu, Joy of Man's Desiring, BWV 147: votes: 97
Tchaikovsky, Pyotr Ilyich — Piano Concerto No.1 in B-flat minor, Op.23: votes: 97
Tchaikovsky, Pyotr Ilyich — Symphony No.6 in B minor, Op.74 "Pathétique": votes: 97
Bach, Johann Sebastian — Toccata and Fugue in D minor, BWV 565: votes: 96
Debussy, Claude — La Mer: votes: 94
Prokofiev, Sergei — Romeo and Juliet: votes: 94
Vaughan Williams, Ralph — The Lark Ascending: votes: 94
Grieg, Edvard — Piano Concerto in A minor, Op.16: votes: 93
Beethoven, Ludwig van — Symphony No.3 in E-flat, Op.55 "Eroica": votes: 92
Holst, Gustav — The Planets, Op.32: I. Mars, The Bringer of War: votes: 92
Mozart, Wolfgang Amadeus — Serenade No.13 in G, K.525 "Eine Kleine Nachtmusik": votes: 92
Respighi, Ottorino — The Pines of Rome: votes: 92
Saint-Saëns, Camille — Symphony No.3 in C minor, Op.78 "Organ": votes: 92
Wagner, Richard — Die Walküre: Ride of the Valkyries: votes: 91
Bernstein, Leonard — West Side Story: Symphonic Dances: votes: 90
Mahler, Gustav — Symphony No.1 in D "Titan": votes: 89
Rossini, Gioachino — William Tell: Overture: votes: 89
Tchaikovsky, Pyotr Ilyich — Capriccio Italien, Op.45: votes: 89
Handel, George Frideric — Water Music Suite No.2: votes: 88
Joplin, Scott — Maple Leaf Rag: votes: 88
Mendelssohn, Felix — The Hebrides Overture, Op.26 "Fingal's Cave": votes: 88
Fauré, Gabriel — Requiem, Op.48: votes: 87
Prokofiev, Sergei — Peter and the Wolf, Op.67: votes: 87
Dvorak, Antonin — Cello Concerto in B minor, Op.104: votes: 86
Puccini, Giacomo — Turandot: Nessun dorma: votes: 85
Rachmaninoff, Sergei — Piano Concerto No.3 in D minor, Op.30: votes: 85
Bach, Johann Sebastian — Brandenburg Concerto No.3 in G, BWV 1048: votes: 84
Ravel, Maurice — Pavane for a Dead Princess: votes: 84
Rossini, Gioachino — The Barber of Seville: Overture: votes: 84
Handel, George Frideric — Water Music Suite No.3: votes: 83
Mozart, Wolfgang Amadeus — The Magic Flute, K.620: Overture: votes: 83
Shostakovich, Dmitri — Symphony No.5: votes: 82
Strauss, Johann Jr. — On the Beautiful Blue Danube: votes: 82
Tchaikovsky, Pyotr Ilyich — Swan Lake Suite, Op.20: votes: 82
Bach, Johann Sebastian — Brandenburg Concerto No.2 in F, BWV 1047: votes: 81
Bach, Johann Sebastian — Brandenburg Concerto No.6 in B-flat, BWV 1051: votes: 81
Beethoven, Ludwig van — Piano Sonata No. 8 in C minor, Op.13 "Pathétique": votes: 81
Mozart, Wolfgang Amadeus — The Marriage of Figaro, K.492: Overture: votes: 81
Rodrigo, Joaquín — Concierto de Aranjuez: votes: 81
Mendelssohn, Felix — Symphony No.4 in A, Op.90 "Italian": votes: 80
Sibelius, Jean — Symphony No.2 in D, Op.43: votes: 80
Bach, Johann Sebastian — Cello Suite No.1 in G, BWV 1007: votes: 79
Bach, Johann Sebastian — Brandenburg Concerto No.4 in G, BWV 1049: votes: 78
Grofé, Ferdie — Grand Canyon Suite: votes: 78
Mendelssohn, Felix — A Midsummer Night's Dream: Overture, Op.21: votes: 78
Tchaikovsky, Pyotr Ilyich — Violin Concerto in D, Op.35: votes: 78
Bach, Johann Sebastian — Brandenburg Concerto No.5 in D, BWV 1050: votes: 77
Debussy, Claude — Prelude to the Afternoon of a Faun: votes: 77
Saint-Saëns, Camille — Carnival of the Animals: votes: 77
Mozart, Wolfgang Amadeus — The Magic Flute, K.620: Queen of the Night's Aria: votes: 76
Schubert, Franz — Piano Quintet in A, Op.114, D.667 "The Trout": votes: 76
Joplin, Scott — The Entertainer: votes: 75
Mozart, Wolfgang Amadeus — Symphony No.40 in G minor, K.550: votes: 75
Borodin, Alexander — Prince Igor: Polovtsian Dances: votes: 74
Mendelssohn, Felix — Violin Concerto in E minor, Op.64: votes: 74
Mozart, Wolfgang Amadeus — Clarinet Concerto in A, K.622: votes: 74
Prokofiev, Sergei — Lieutenant Kijé Suite, Op.60: votes: 74
Bach, Johann Sebastian — Brandenburg Concerto No.1 in F, BWV 1046: votes: 73
Brahms, Johannes — Symphony No.4 in E minor, Op.98: votes: 73
Schubert, Franz — Symphony No.8 in B minor, D.759 "Unfinished": votes: 72