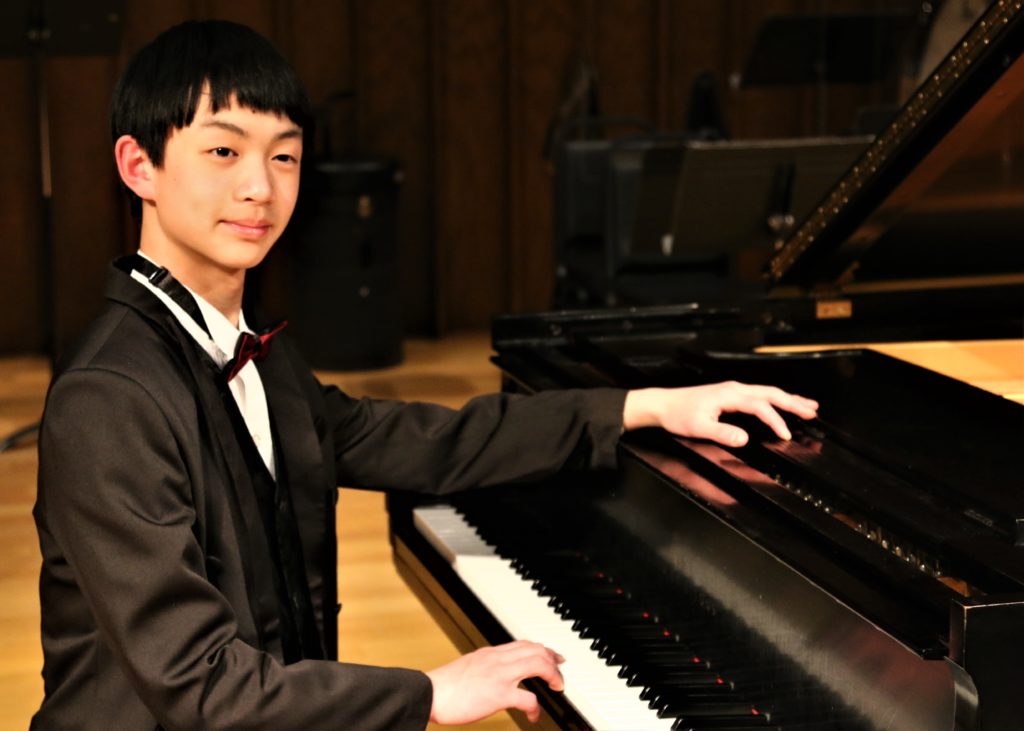 We recently asked Edward Zhang, one of the winners of the 2020 Young Artist Awards, if he would share with us his thoughts on the importance of music education.
Why study music?
Here's Edward, in his own words:
I began studying piano at the age of five on a mahogany-colored upright. It had thick layer of polish over its dark wood, and at times, I was deeply unnerved by it. The reason for this was that whenever I looked away from the score, I could see the empty fireplace and living room reflected behind me. Especially in autumn, when the sun set early and the shadows were long, I was extremely reluctant to practice after 8 o'clock, feeling that I was in the midst of watching some terrifying TV show.

Now, I've never actually owned a TV set. But I never once minded. While my friends were watching Cartoon Network and Nickelodeon, SpongeBob and Pokémon, I had Liszt and Beethoven, Chopin and Schumann. Which brings me to my first reason why you should study music: it's simply great fun. Someone once said that reading a novel was like taking an adventure. Well, that's also true for music. Every piece of music is an emotional journey, a ride along the tracks of the composer's superb composition skills and invaluable cultural and personal experiences.

It's impossible not to be enraged while hearing Chopin's Etude Op. 10 No. 12 — nicknamed the "Revolutionary Etude" — which Chopin wrote in a single night following the Warsaw Uprising, during which Russian occupation forces brutally crushed a Polish rebellion. It's impossible not to be entranced during a performance of Rachmaninoff's 2nd piano concerto, written by Rachmaninoff following months of hypnotherapy, or to be scared and unsettled by Ravel's Gaspard de la Nuit (a 3-piece suite that depicts, in order, a water nymph that wants to seduce and eat you, a gibbet, and fiendish demon that haunts your room). Or to be left wide-eyed in exhilaration after a performance of Franz Liszt's virtuosic Hungarian Rhapsody No. 6.

One of the things I've enjoyed most these past years is sharing my love of music with others. Every time I see people becoming excited (or even enjoying a nice nap) during my performance, I'm reminded of the power of music. Music isn't only great entertainment, but also an outlet for emotions (I once watched a friend break 3 strings in a single performance, bashing out the Liszt Transcendental Etudes). You'll be amazed at how valuable your music is and how many people you can touch and uplift. What's better than having a skill that's not only impressive, but one that people everywhere find useful and important?

And finally, music is a fantastic way to meet great people.  When I traveled to Arizona to compete in the International Yamaha and Bosendorfer Piano Competition, I stayed with a host family that went out of their way to show us kindness. They not only gave us a comfortable place to stay, they attended every single one of my performances, encouraged me and cheered me on before and after each, and even invited their friends over so I could perform for them. That was over 3 years ago, and we're still close to this day. I've also met my best friends during music festivals, competitions, and other social events.  Join your school or community orchestra, attend summer festivals, even form a band with your buddies — I'm sure you'll be surprised at just how much you can do with music and how much music can do for you.