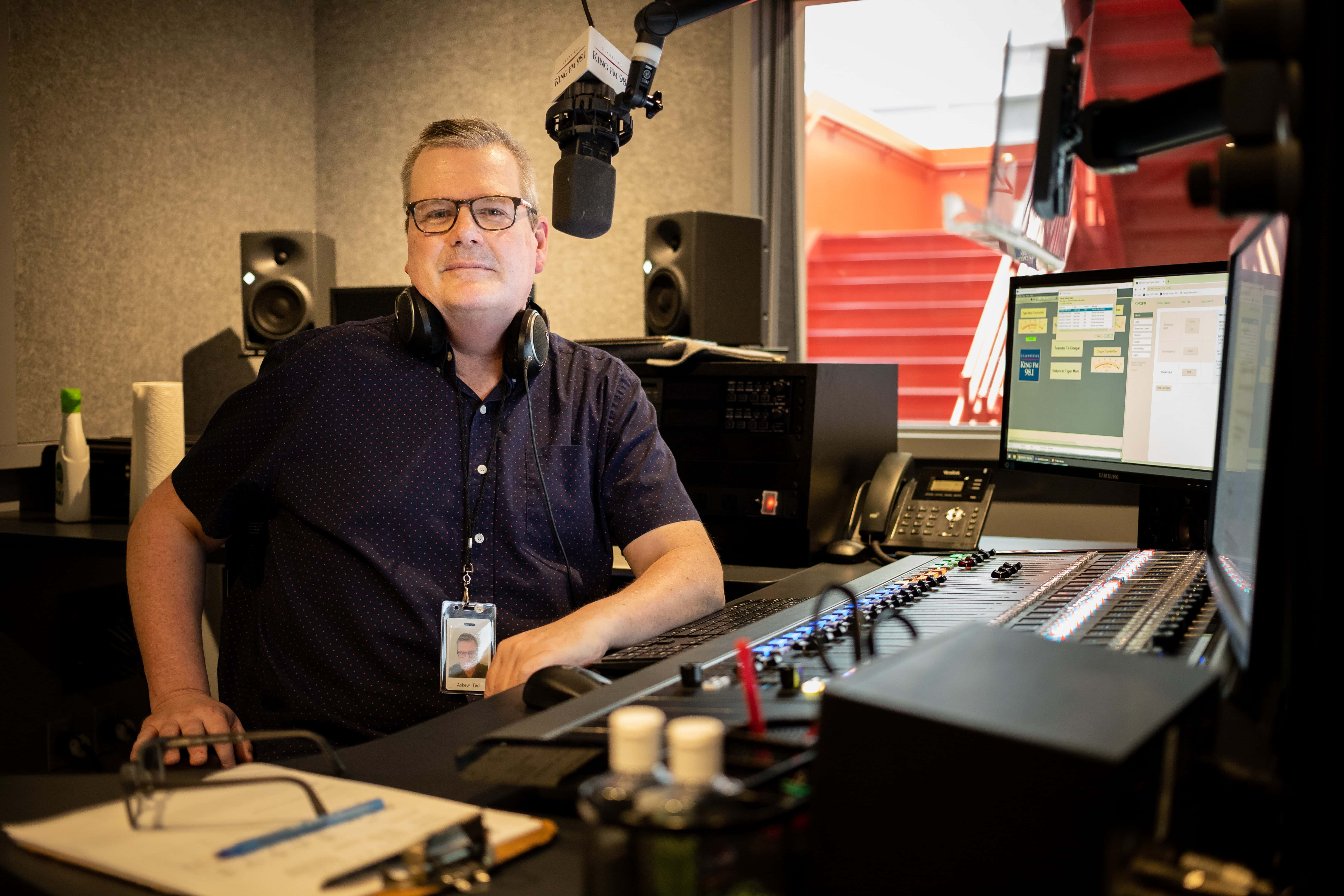 KING FM announcer Ted Askew knows quality: from his baseball team (don't call us biased), to his incredible range of not only good but exceptional music choices. Enjoying a long career on the radio for classical music stations in the Northwest and beyond, Ted has been heard from the neighborhoods of Bellingham to the streets of St. Paul, Minnesota. He's a lover of live theatre, once played keyboard in an '80s band and remains an unapologetically proud cat dad: all very important facts to note that you won't find on this host's resumé.
Learn more about how Ted likes to march to the beat of his own drum by joining him on 98.1 weekdays from 1pm to 4pm — and read our full Q&A below.
---
KING FM: Let's say you have a free day to spend somewhere beautiful (and, of course, you're following all the suggested social-distancing guidelines!). Are you heading to the beach or the mountains? In the Pacific Northwest, of course, we have easy access to both.
Ted: I've lived within a mile or two of some kind of beach or coastline for most of my life, so, the mountains would be better for me. BUT… please zap me to a concert hall or theater in the middle of London or Manhattan before beach or mountains!
KING FM: Favorite type of food (or favorite type of take-out, these days)?
Ted: Isn't it obvious? Pasta. And please pass the bread.
KING FM: It's game night (perhaps via Zoom)! Are you hoping for a board/tabletop game, a video game, or a sporting event?
Ted: I'm a big baseball fan, especially the Mariners. I was at their first-ever game at the Kingdome in 1977 and have been a huge fan ever since.
KING FM: Beatles or Rolling Stones? (Or Bach or Beethoven?)
Ted: Sorry to go off the board again but… The Kinks and Brahms.
KING FM: What music might people be surprised to learn you listen to — when you're not at KING FM, that is?
Ted: I love soul and gospel music nearly as much as classical. I hosted a soul music show at my college station (KUGS-FM @ WWU) for years. My favorites are Otis Redding, Sister Rosetta Tharpe, Aretha Franklin, James Carr, Sam Cooke, and Nina Simone.
KING FM: What classical composers, living or dead, haven't gotten their fair dose of attention — which composers aren't "household names" but should be?
Ted: More people should know the music of Bohuslav Martinu. Also, Lili Boulanger, Frank Bridge, and Gerald Finzi should be better known.
KING FM: If your classical music collection was entirely vinyl records, which of those records would be nearly worn-out from being played dozens of times? In other words, what music do you come back to, over and over again?
Ted: Beethoven Symphony no. 6 (arranged by Liszt and played by Glenn Gould), Edward Elgar's Violin Concerto (with soloist Yehudi Menuhin and Elgar conducting), Stevie Wonder's "Talking Book."
KING FM: What pieces of music do you turn to when you need comfort, solace, or relaxation?
Ted: "Song of the Birds" by Pablo Casals, "You Send Me" by Aretha Franklin, and Brahms' Piano Trio, Op. 8.
KING FM: Let's say you're hosting a musical dinner party or cocktail party, and you can invite three composers or performers, living or dead. Whom do you invite?
Ted: Laurie Anderson, Maria Callas, Leonard Cohen.
---
To learn even more about Ted Askew, check out his host bio page. You can hear Ted on KING FM weekdays, 1pm–4pm.