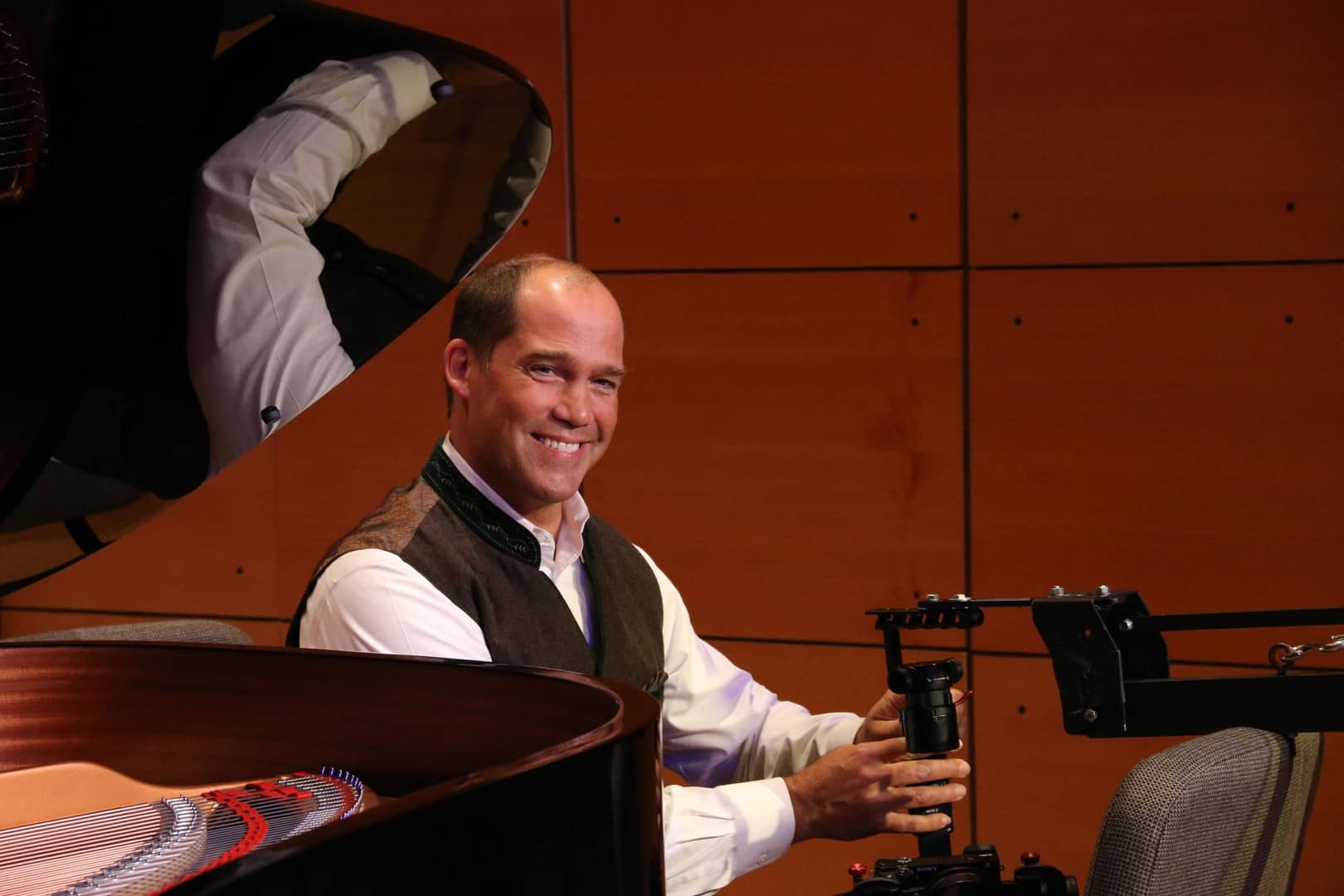 KING FM's NW Focus LIVE host Sean MacLean is a man who likes to live. With skiing to kitesurfing in one day as a dream scenario, to forming a recording business called Standing Wave Audio while living in Paris, it's safe to say he not only likes to live, but is very good at it.
This San Francisco native took his passion for life and the art of classical music to Yale School of Music, where he received his masters, before heading to Paris and eventually Boston to work in radio production for WGBH. Sean made the PNW his current residence in 2005. He enjoys what Seattle has to offer in the great outdoors (he made it to the top of Mt. Rainier!) and in music by playing guitar, flugelhorn, and his own invention, an electroacoustic harp-guitar called Remora.
Learn more about all the ways this KING FM host has lived it up with our Q&A below, and listen to Sean MacLean weeknights from 7-11pm.
---
KING FM: Let's say you have a free day to spend somewhere beautiful (and, of course, you're following all the suggested social-distancing guidelines!). Are you heading to the beach or the mountains? In the Pacific Northwest, of course, we have easy access to both.
Sean: Ski in the morning before it gets slushy, then down to water, to kitesurf.
KING FM: Favorite type of food (or favorite type of take-out, these days)?
Sean: Bow-hunted game, Kusshi oysters, Cascades slope mushrooms in French butter, glass of Washington State Mourvèdre.
KING FM: It's game night (perhaps via Zoom)! Are you hoping for a board/tabletop game, a video game, or a sporting event?
Sean: What's game night?
KING FM: Beatles or Rolling Stones? (Or Bach or Beethoven?)
Sean: Pink Floyd. Production values matter!
KING FM: What music might people be surprised to learn you listen to — when you're not at KING FM, that is?
Sean: Audiobooks of great novels read by stellar actors while I cook. Better than reading locked in a chair any day.
KING FM: What classical composers, living or dead, haven't gotten their fair dose of attention — which composers aren't "household names" but should be?
Sean: Monteverdi, Rebecca Clarke, Scriabin, Duruflé, Frank Ferko.
KING FM: If your classical music collection was entirely vinyl records, which of those records would be nearly worn-out from being played dozens of times? In other words, what music do you come back to, over and over again?
Sean: Rite of Spring, Brahms Op. 8 Trio, Mahler 2, Prokofiev piano concertos 2 & 3, Thomas Newman soundtracks, Djivan Gasparyan, Mompou's Musica Callada.
KING FM: What pieces of music do you turn to when you need comfort, solace, or relaxation?
Sean: Gerald Finzi's Introit, Ian Bostridge singing Schubert's "Nacht und Träume," Duruflé's Requiem, and Baltic choral music.
KING FM: Let's say you're hosting a musical dinner party or cocktail party, and you can invite three composers or performers, living or dead. Whom do you invite?
Sean: Martha Argerich, Leonard Bernstein, George Gershwin.
---
To learn even more about Sean MacLean, check out his host bio page. You can hear Sean on KING FM weeknights, 7pm–11pm.