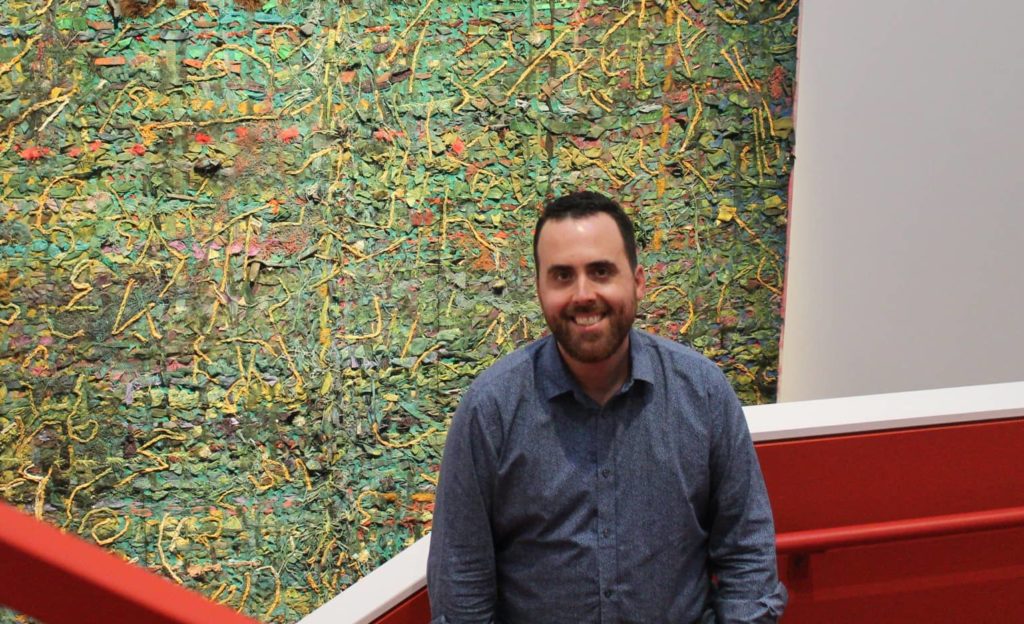 As one of our newest hosts, digging for information about David Dodman was not such an easy task, but with every question answered it was like finding a nugget of gold. This East Coaster grew up in Rahway, New Jersey, a hop, skip and jump away from New York City. Music has always been special to David, and graduating with his bachelor's from Harvard College, where he studied music and sang with the Harvard Glee Club, was just the beginning.
After spending 2006 to 2015 in a small town in northwestern Alaska, working for the nonprofit radio station KNOM, he made his way to Seattle and ultimately KING FM as our Assistant Program Director. Like most of our hosts, this music aficionado dabbles in a wide range of composers, genres, and a few surprise indie bands, as well. Learn what other gold mines we found getting to know David by reading our full Q&A below.
Tune in to hear him in action Sunday mornings from 5-8am, including the beautiful choral music on Sunday Sunrise from 6-8am.
---
KING FM: Let's say you have a free day to spend somewhere beautiful (and, of course, you're following all the suggested social-distancing guidelines!). Are you heading to the beach or the mountains? In the Pacific Northwest, of course, we have easy access to both.
David: This is a tough one, but as much as I enjoy places like Alki Beach and Golden Gardens, I think I've gotta give the edge to our nearby mountains. There are majestic mountains in almost every direction from Seattle, between the Olympics and the Cascades. They're such a defining characteristic of this special place. I'm not a big hiker, but our mountains are wonderful to drive through or admire from a lookout or national park.
KING FM: Favorite type of food (or favorite type of take-out, these days)?
David: That's a toss-up for me between Thai, Indian, and Mexican, all of which have become staples of my take-out routine this year. And you can find great restaurants of all three cuisines (still thriving, even in these unusual times) within just a few minutes' drive of Seattle Center.
KING FM: It's game night (perhaps via Zoom)! Are you hoping for a board/tabletop game, a video game, or a sporting event?
David: While we're still practicing social distancing, I'd say a night of classic Nintendo (original NES) games from the '80s would be a lot of fun — it's hard to top Super Mario 3 — and perhaps my friends and I could trade notes via text or a video chat or something. But once we can gather in public safely, a Mariners game would be my first choice. I'm not a big sports fan, but there's something classic and relaxing about attending a baseball game in person that I enjoy and strongly associate with the warmer months — even if I don't know the names of most of the players! Haha.
KING FM: Beatles or Rolling Stones? (Or Bach or Beethoven?)
David: Great musicians, all, but I've gotta say Beatles. And Bach! The "Goldberg Variations" would definitely be a "desert-island disc" for me. There's something eternal about them.
KING FM: What music might people be surprised to learn you listen to — when you're not at KING FM, that is?
David: I love jazz — my first album ever was Miles Davis' "Kind of Blue," which I still think is a flawless recording, and I've never met an Oscar Peterson or Ella Fitzgerald or Vince Guaraldi recording I didn't like. Early jazz is also wonderful: musicians like Art Tatum or Django Reinhardt or Stéphane Grappelli. I like jazz bossa nova quite a bit, too, such as by João Gilberto and Antônio Carlos Jobim; their collaborations with Stan Getz (and Jobim's with Frank Sinatra) made for some delightful recordings.
I also have to include indie bands on this list, especially some from our own Pacific Northwest backyard: Fleet Foxes and The Decemberists are two of my favorites. Fleet Foxes have a choral element to their sound that I find really interesting and unique. As a New Jersey native, my list wouldn't be complete without Bruce Springsteen or longtime Hoboken indie rock act Yo La Tengo. While we're talking rock and singer-songwriters, I've never regretted listening to The Black Keys, Billy Joel, Bob Dylan, or Joni Mitchell. And ditto the Buena Vista Social Club, or really any Cuban music in general.
KING FM: What classical composers, living or dead, haven't gotten their fair dose of attention — which composers aren't "household names" but should be?
David: The first name that comes to mind is John Adams — not our second president, but the living composer. Adams was really the first contemporary composer whose music I came to know and enjoy, with pieces like his "Short Ride in a Fast Machine" — which my high school marching band performed for a halftime show! — and his piano music like "Hallelujah Junction" and "Phrygian Gates." And recently, I've been getting into the music of Ola Gjeilo and Meredith Monk, both living composers with great choral and instrumental music. I also really enjoy Monk's solo piano music. And speaking of solo piano: William Grant Still's works for that instrument are wonderful.
Finally, there are so many composers from the Middle Ages and Renaissance that deserve to be more well known. Many listeners likely know the name of Giovanni Pierluigi da Palestrina — and I like Palestrina's music just fine — but there's so much more to the music from those centuries. I have a soft spot in my heart for composers like Hildegard von Bingen, Josquin des Prez, William Byrd, Thomas Tallis, and Tomás Luis de Victoria.
KING FM: If your classical music collection was entirely vinyl records, which of those records would be nearly worn-out from being played dozens of times? In other words, what music do you come back to, over and over again?
David: There are a few recordings by the Renaissance choral ensemble The Tallis Scholars that, if pressed on vinyl rather than encoded in .mp3 files, would probably be quite worn down by now. Ditto any recording of Bach's "Goldberg Variations," especially Glenn Gould's, Murray Perahia's, or Jeremy Denk's. And the same for almost any good version of Camille Saint-Saëns' Symphony no. 3 (his "Organ Symphony").
KING FM: What pieces of music do you turn to when you need comfort, solace, or relaxation?
David: I find Aaron Copland's music, especially his "Appalachian Spring" and the lesser-known but still wonderful "Quiet City," to be especially comforting and uplifting. "Quiet City" I could just listen to again and again. And if I can slip in a non-classical selection: the 1975 jazz recording "The Tony Bennett / Bill Evans Album" is lovely.
KING FM: Let's say you're hosting a musical dinner party or cocktail party, and you can invite three composers or performers, living or dead. Whom do you invite?
David: If a translator can be present — my German is quite rusty — I'd say Johann Sebastian Bach. And Duke Ellington and Glenn Gould. Bach and Ellington can trade notes about composing and the different ways they incorporated improvisation/ornamentation into their music; Ellington and Gould can talk about piano performance; and Bach can critique Gould's recordings of his compositions. I'll pour drinks.
---
You can hear David on KING FM Sunday mornings, 5am-8am.