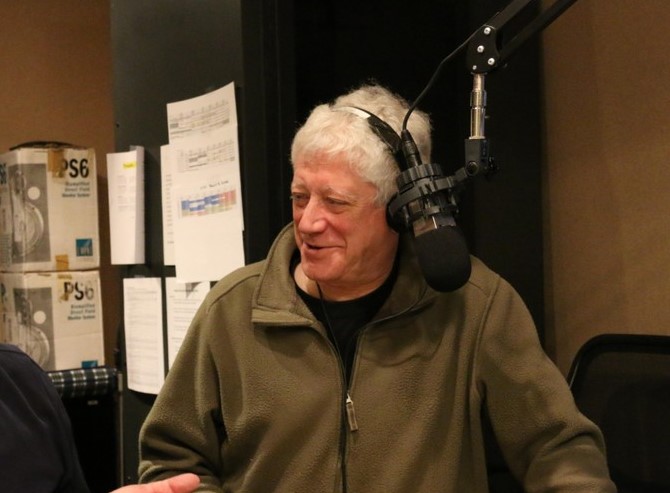 Peter Newman in studio
Classical KING FM is no stranger to hosts who have played various roles at the station, but no one has taken on quite as much as our pride and joy Peter Newman. Seattle native and University of Washington alum Peter has served as Morning Show host, Operations Director, Program Director, General Manager, and currently hosts the live concert broadcasts for KING FM. Nearly turning his attention to law school and international studies, it was hosting an eclectic, late-night college radio show that solidified his love for radio and production. Sit down with us as we learn all about Peter's love for Stephen Sondheim (no surprise here!), the comfort the Mahler symphonies bring him, and his no-hesitation appreciation of The Beatles. Read the full Q&A below.
Tune in to hear Peter Saturday and Sunday evenings on 98.1 and learn even more about the man, the myth, the legend with our full host bio here.
---
KING FM: Let's say you have a free day to spend somewhere beautiful (and, of course, you're following all the suggested social-distancing guidelines!). Are you heading to the beach or the mountains? In the Pacific Northwest, of course, we have easy access to both.
Peter: That's a tough one. Growing up here my parents used to alternate summer vacations. One summer it would be the Olympic Peninsula, the next it would be someplace like the North Cascades. I'm fortunate to be able to spend a lot of time at the ocean so a day at Rainier might be just about perfect.
KING FM: Favorite type of food (or favorite type of take-out, these days)?
Peter: I'm partial to various Asian cuisines. Up to Grade 6 I was in a public school that was largely Japanese and Chinese so I was trading my sandwiches for sushi, etc. at age 8. I wish I could say that sushi makes for good take-out but… so Chinese it is!
KING FM: It's game night (perhaps via Zoom)! Are you hoping for a board/tabletop game, a video game, or a sporting event?
Peter: I haven't done this yet but I'd be up for a knock-down online game of Monopoly.
KING FM: Beatles or Rolling Stones? (Or Bach or Beethoven?)
Peter: Beatles definitely. Growing up I had no idea how good they really were. I predict a bright future for the lads.
KING FM: What music might people be surprised to learn you listen to — when you're not at KING FM, that is?
Peter: It's no surprise to my friends but I'm total Stephen Sondheim fanatic. If I had to take one show to desert island it would probably be "Follies." Or maybe "Pacific Overtures." Or maybe "Into the Woods." Or maybe… .
KING FM: What classical composers, living or dead, haven't gotten their fair dose of attention — which composers aren't "household names" but should be?
Peter: You could argue that Sondheim hasn't gotten his due as a composer, even though he studied under Milton Babbitt. John Zorn is somewhat known but could have a wider audience. In the past year we've been playing more of the music of William Grant Still. I'm appreciating his music more and more these days.
KING FM: If your classical music collection was entirely vinyl records, which of those records would be nearly worn-out from being played dozens of times? In other words, what music do you come back to, over and over again?
Peter: Dvorak. Whether it's the symphonies, especially the last three, the chamber music, the Cello Concerto, even the Slavonic Dances, they are so well crafted, so full of tunes, so joyous – with a touch of sadness – I can't get enough.
KING FM: What pieces of music do you turn to when you need comfort, solace, or relaxation?
Peter: The Mahler symphonies and song cycles. They've been there for me at some of the most important moments in my life. The 3rd Symphony turns me into a puddle.
KING FM: Let's say you're hosting a musical dinner party or cocktail party, and you can invite three composers or performers, living or dead. Whom do you invite?
Peter: I'd be too intimidated to invite Sondheim or Mahler. I think you could have a rollickingly good party with Leonard Bernstein, Felix Mendelssohn and George Gershwin. There better be a piano handy.
---
You can hear Peter on KING FM Saturdays 5–7pm, 8–10pm, and 11pm–12am. And join him on Sundays 5–9:30pm and 11pm–12am.