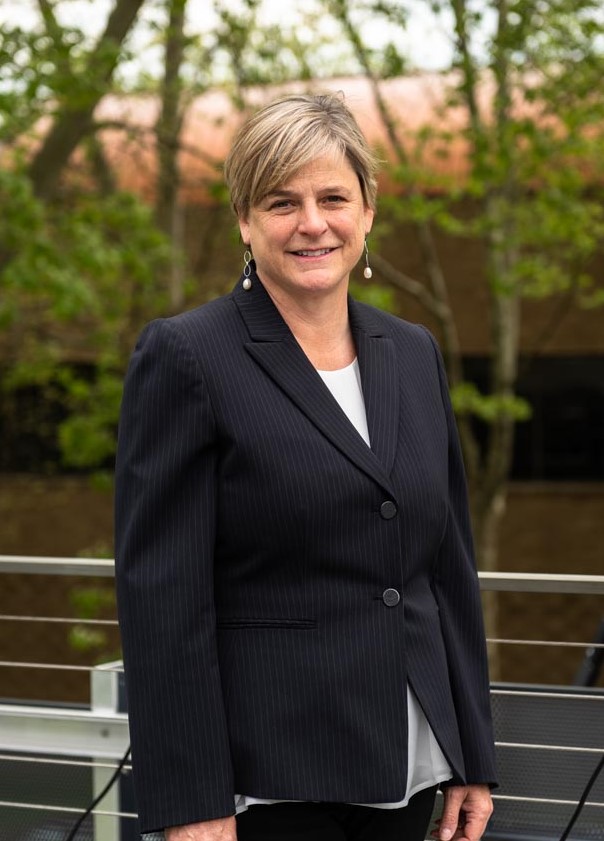 After graduating from the Edward R Murrow School of Communications at Washington State University in 1983, Blaine Shepherd started her career in media in 1986 with the cable television world when growth was at its all time high. From there, she joined Entercom radio and then CBS radio, where she managed sales teams for several commercial radio stations. Since becoming part of the KING FM family in September 2016, Blaine says she has grown an even larger appreciation for the public radio model: "It truly is a format that is supported by the listeners, and that means a lot!"
Although born in Baltimore, where she lived for just 2 short years, Blaine truly grew up in Washington. Raised on Bainbridge Island and now living again on Bainbridge Island — for her, it's the perfect spot to live and relax. Her true love outside of her career are her two boys, Ryan and Mitchell, about whom she says, "They both have enjoyed my love of music and working in the industry." Oh, and then there's Luna, her new, 5-month-old Labradoodle!
---
KING FM: Let's say you have a free day to spend somewhere beautiful. Are you heading to the beach or the mountains? In the Pacific Northwest, of course, we have easy access to both.
Blaine: That is a tough one, but my heart is in the mountains. I spent much of my youth hiking and was fortunate to climb amongst some of the greats -the Himalayas, throughout New Zealand and of course here in the United States I climbed the middle sister of the Three Sisters in Oregon and several peaks and trails in Crater Lake National Park where I worked throughout college.
KING FM: Favorite type of food?
Blaine: I'm a big fan of Thai Food.  Ever since I travelled to Thailand in the 80's I came home with a craving for that taste and still have it.  Although I am a bit picky on what tastes most authentic.
KING FM: It's game night! Are you hoping for a board/tabletop game, a video game, or a sporting event?
Blaine: Really? To know me is to know that a game will be played if you spend much time at my house. A couple glasses of wine and I'm ready to play Scrabble, Boggle, Yahtzee, Pictionary and so many more.  It wasn't the reason I had kids…but, it sure helped having constant companions for playing whatever came out of the game cupboard.
KING FM: Beatles or Rolling Stones? (Or Bach or Beethoven?)
Blaine: Both really.  I'm a crank up the music kind of gal when I am at home.  It's good thing I don't live in the city. But the Beatles did have one of my favorites "Help" which some friends of mine performed but changed to "Nelp" (which was my maiden name) and sang it at a middle school talent show to surprise me. 
KING FM: What music might people be surprised to learn you listen to — when you're not at KING FM, that is?
Blaine: I listen to so much but my favorites throughout life Counting Crows, Crash Test Dummies, Jackson Browne, Jesse Colin Young, Ben Folds and John Hiatt just to name a few. I've worked in every genre of music, so I've found appreciation for all kinds of music.
KING FM: What classical composers, living or dead, haven't gotten their fair dose of attention — which composers aren't "household names" but should be?
Blaine: This all blends in with our job at KING FM with the work that Quinton Morris is doing with Unmute the Voices.  There are so many composers from the BIPOC community that we are discovering and sharing.  I think this list could come from so many diverse groups and be endless – I look forward to hearing more and more of the new discoveries.
KING FM: If your classical music collection was entirely vinyl records, which of those records would be nearly worn-out from being played dozens of times? In other words, what music do you come back to, over and over again?
Blaine: Funny story.  My first classical record was Pavarotti.  My Dad gave me the album and told me I would enjoy it.  I don't know if I enjoyed it as much as I could of because my Dad was a singer and I could never fully appreciate just Pavarotti through my Dad's voice belting through the house.  I also have a love for Scott Joplin – not only did I love his work, but I played piano as a child and was able to play some Joplin at my first recital.
KING FM: What pieces of music do you turn to when you need comfort, solace, or relaxation?
Blaine: Not because I work here – but I do turn to classical music – specifically to KING FM! I always enjoyed Tim Weisberg as well because I love the flute – he had a great album called Twin Sons from Different Mothers with Dan Fogelberg that I often relaxed to as a young adult.  Erik Satie would also make my list.
KING FM: Let's say you're hosting a musical dinner party or cocktail party, and you can invite three composers or performers, living or dead. Whom do you invite?
Blaine: Byron Schenkman, Clara Schumann and Johannes Brahams – just to clear up a few things. 
---
Listen to Classical KING FM on 98.1 or streaming HERE 24/7.