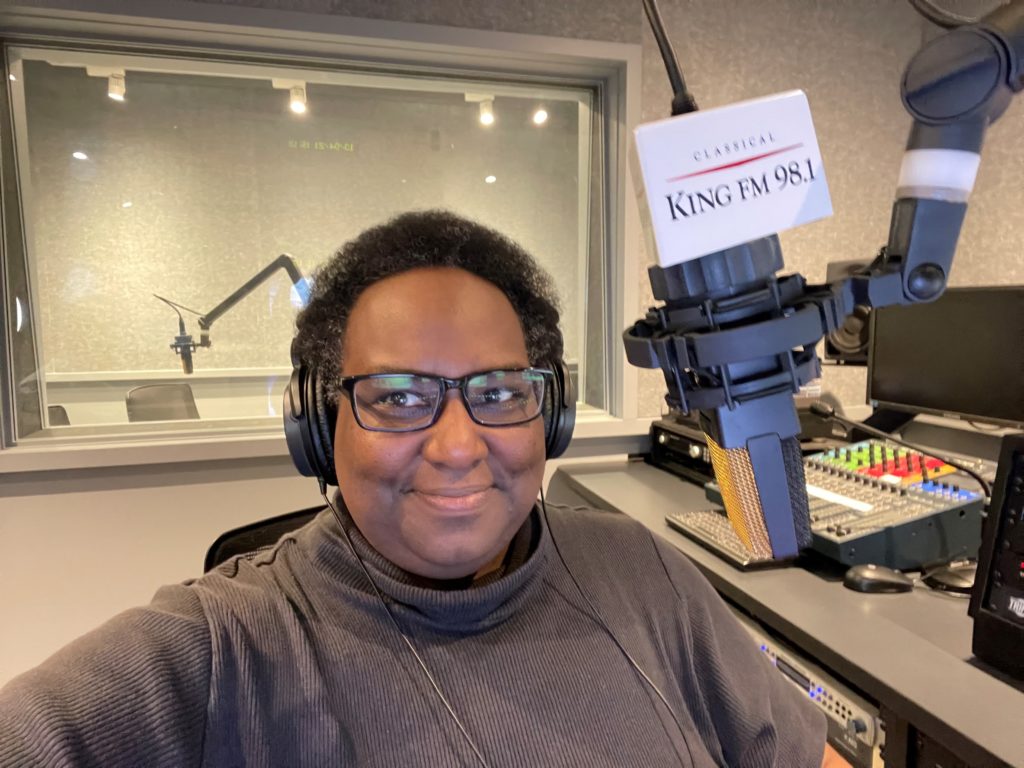 Jamala joined KING FM as our newest staff member this summer but has been listening to the station since they attended Eckstein Middle School here in the PNW. As they put it, "In a way, working at KING feels like finally coming home." They previously worked in communications at the Washington Low Income Housing Alliance and in radio as a producer, reporter, and news anchor for KUOW public radio.
Jamala is a self-proclaimed science fiction nerd who loves movies, books, and anime and grew up watching Star Trek. They truly believe in the concept of infinite diversity in infinite combinations. They studied at The Evergreen State College, The Eastman School of Music, and The University of Washington, and some of their top interests include writing sci-fi and fantasy, fountain pen collecting, drawing Zentangle mandalas, reading, and binging MasterChef with their mother and two cats Jothee and Crighton. Learn more about how Jamala feels in regard to Bach, Beethoven, Prince, and more below.

---
KING FM: Let's say you have a free day to spend somewhere beautiful. Are you heading to the beach or the mountains? In the Pacific Northwest, of course, we have easy access to both.
Jamala: Beach
KING FM: Favorite type of food?
Jamala: Sushi, Ramen, Soul food
KING FM: It's game night! Are you hoping for a board/tabletop game, a video game, or a sporting event?
Jamala: As an introvert, I prefer movie or reading night.
KING FM: Beatles or Rolling Stones? (Or Bach or Beethoven?)
Jamala: Prince.
KING FM: What music might people be surprised to learn you listen to — when you're not at KING FM, that is?
Jamala: Portishead. Massive Attack. Radiohead. Bjork. Movie and Anime Soundtracks.
KING FM: What classical composers, living or dead, haven't gotten their fair dose of attention — which composers aren't "household names" but should be?
Jamala: Chevalier de Saint-Georges (1745-1799), Florence Price (1887-1953), William Grant Still (1895-1978).
KING FM: If your classical music collection was entirely vinyl records, which of those records would be nearly worn-out from being played dozens of times? In other words, what music do you come back to, over and over again?
Jamala: 1. Schumann / Herzogenberg / Brahms: Paul Coletti and Friedemann Rieger
2. Bella Domna The Medieval Woman: Lover, Poet, Patroness and Saint – Sinfonye
3. Holst: The Planets – Charles Dutoit and the Montreal Symphony
4. Love's Illusion – Anonymous 4
5. Dvorak: Symphony #7 – Christoph Von Dohnanyi and the Cleveland Orchestra
6. Mendelssohn: String quartet #2, Cleveland Quartet
7. Schubert: String Quintet in C – Emerson Quartet, Mstislav Rostropovich
8. Bartok: 6 String Quartets – Emerson String Quartet
9. Dmitri Shostakovich: 24 Preludes & Fugues, op. 87 – Keith Jarret
10. Hindemith: Sonatas for Viola; Piano & Viola Alone – Kim Kashkashian
11. Linda Bouchard: Pourtinade / Paul Chihara: Redwood / Dmitri Shostakovich: Viola Sonata, Op. 147 – Kim Kashkashian
12. Tchaikovsky / Suk / Dvorak Serenade for Strings – London Chamber Orchestra (LCO 5)
13. Shostakovich: String Quartets 6,7,8 – Manhattan Quartet
14. Schubert Quartet "Death and the Maiden" – Tokyo String Quartet
15. The Sound of Cellos: The Yale Cellos Play Favorites
16. Bach Violin Sonatas and Partitas: Itzhak Perlman
KING FM: What pieces of music do you turn to when you need comfort, solace, or relaxation?
Jamala: Colours of Chloe or Silent Feet by Eberhard Weber.
KING FM: Let's say you're hosting a musical dinner party or cocktail party, and you can invite three composers or performers, living or dead. Whom do you invite?
Jamala: Honestly, I never throw parties. Ever.
---
Listen to Classical KING FM on 98.1 or streaming HERE 24/7.