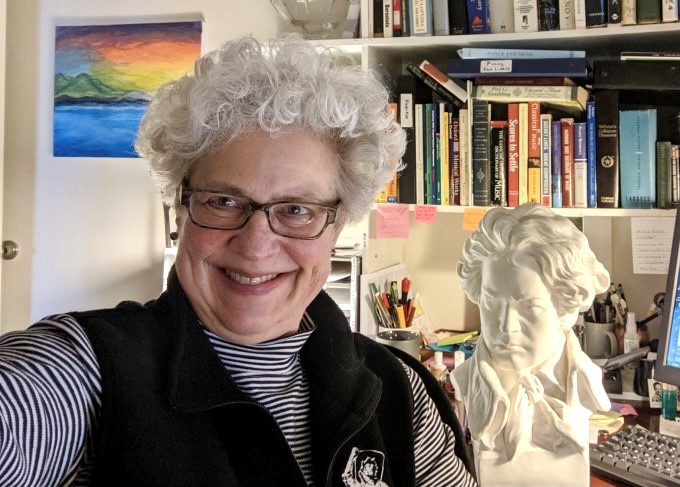 If you're a regular reader of our KING FM e-newsletter, you're well aware of how excited we've all been to welcome back host Lisa Bergman to the station. As an experienced concert pianist, graduating from the Juilliard School, the State University of New York at Stony Brook, and the University of Washington, cum laude, Lisa served as an Artist in Residence and faculty member at the University of Washington School of Music for 10 years. But it's not all work and no play. As a native to Washington State, it's no surprise that Lisa enjoys gardening, hiking (preferably followed by swimming in cold outdoor bodies of water), and getting involved with conservation projects.
 Since becoming part of the KING FM family as a full-time announcer in 2012, we thought after all these years we knew a lot about Lisa… but did you know she enjoys an amateur study of insects? That her father was a private pilot, and she grew up exploring the Pacific Northwest by air? Or that she actually likes creating spreadsheets with formulas?! We sat down to learn more about what Lisa listens to off the clock, whom she plays in times of comfort, and, if forced to choose, whom she prefers between Beethoven and Bach (her answer will surprise you…).
---
KING FM: Let's say you have a free day to spend somewhere beautiful. Are you heading to the beach or the mountains? In the Pacific Northwest, of course, we have easy access to both.
Lisa: 50/50.  What makes a difference is the weather.  Partly cloudy in either case is best.  But if it's tending toward rain — the beach.  If it's tending toward all sun — the mountains. 
KING FM: Favorite type of food?
Lisa: My ancestry is half Swedish and half Hungarian — so for special occasions I'm happy with authentic dishes from either side.  But there IS a fabulous blend of the two — it's POLISH cooking!
KING FM: It's game night! Are you hoping for a board/tabletop game, a video game, or a sporting event?
Lisa: Tabletop for me — and my all-time favs are Scrabble (quiet and intense) and Pictionary (rambunctious and loud)!
KING FM: Beatles or Rolling Stones? (Or Bach or Beethoven?)
Lisa: The Eagles and ABBA
KING FM: What music might people be surprised to learn you listen to — when you're not at KING FM, that is?
Lisa: ​Keith Jarrett, Chick Corea and Ray Charles
KING FM: What classical composers, living or dead, haven't gotten their fair dose of attention — which composers aren't "household names" but should be?
Lisa: Johan Svendsen (Norwegian); Lars-Erik Larsson (Swedish); William Bolcom (American); Kenneth Benshoof (American)
KING FM: If your classical music collection was entirely vinyl records, which of those records would be nearly worn-out from being played dozens of times? In other words, what music do you come back to, over and over again?
Lisa: Brahms Horn Trio, La boheme, Rachmaninoff Paganini Variations; Chopin Piano Concerto No. 1 in E minor
KING FM: What pieces of music do you turn to when you need comfort, solace, or relaxation?
Lisa: ANYTHING played by violinist Janine Jansen or sung by baritone Dietrich Fischer-Dieskau 
KING FM: Let's say you're hosting a musical dinner party or cocktail party, and you can invite three composers or performers, living or dead. Whom do you invite?
Lisa: Fritz Kreisler, Victor Borge and Margaret Bonds
---
Tune in for The Classical Dinner Hour with Lisa Bergman from 6-7 pm every weekday on KING FM by tuning to 98.1 or streaming HERE 24/7.