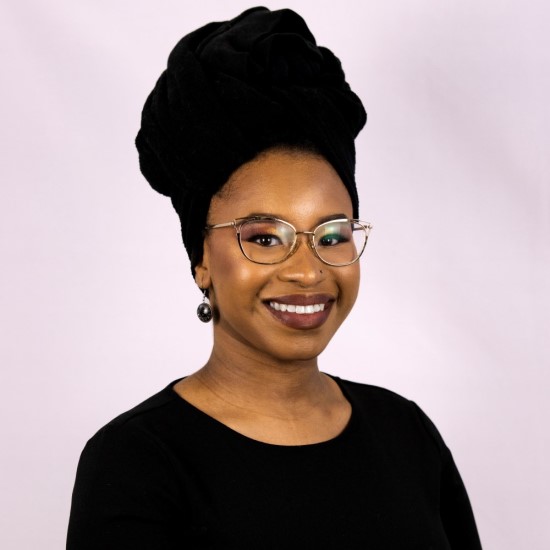 Myah Rose Paden is a classical vocalist and arts advocate from Columbus, Georgia. While she was in graduate school at the University of Michigan, Myah was the co-coordinator for the development of the online course Black Performance as Social Protest. Myah is also an accomplished performer who has sung several chamber and mainstage operatic roles with the U-M Opera and Chamber Choir. Myah also comes to KING with experience as a social media manager and podcast creator. While at The Kennedy Center, she re-launched a music and social commentary podcast, Thorn and Thistle, which she solely hosted, produced, and edited.
Myah received her Bachelor of Music in Vocal Performance from the University of Georgia. In spring 2022, she graduated from the University of Michigan with a Masters in Vocal Performance. We are thrilled that Myah relocated to Seattle in July 2022 to join Classical KING as our inaugural fellow. Learn more about what Myah likes to do and listen to when she's not dominated every field she enters with her full Q&A below.
---
KING FM: Let's say you have a free day to spend somewhere beautiful. Are you heading to the beach or the mountains? In the Pacific Northwest, of course, we have easy access to both.
MYAH: Easily it's the beach on a nice hot day!
KING FM: Favorite type of food?
MYAH: Anything as long as it's vegan. I have extra love in my heart for Korean, Nigerian, and Indian food.
KING FM: It's game night! Are you hoping for a board/tabletop game, a video game, or a sporting event?
MYAH:I live for a good board game night. When I can I love to play Settlers of Catan or even Dungeons & Dragons. Of course I love video games like Mario Kart, but I can get a little competitive.
KING FM: Beatles or Rolling Stones? (Or Bach or Beethoven?)
MYAH: Bach all day! He wrote the best Baroque party music. Baroque Bops, if you will.
KING FM: What music might people be surprised to learn you listen to — when you're not at KING FM, that is?
MYAH: ​Honestly, my Spotify playlist is probably 80% Korean music, and my favorite KPop group to listen to is SHINee (also a good bit of BTS). That said, I listen to everything: classical (of course), neo-soul, country, disco, death metal, hip-hop…you name it, I love it.
KING FM: What classical composers, living or dead, haven't gotten their fair dose of attention — which composers aren't "household names" but should be?
MYAH: If we're talking older than 1900, I love some Ottorino Respighi. His music is severely underplayed and underperformed. For the 20th century, I'd say William Grant Still and Anthony Davis. They've written everything from opera to jazz to symphony and everything in between. Really prolific and really good. New and exciting composers everyone should know are B.E. Boykin, Joel Thompson, and Anthony Green. They're new to the professional world but deliver hit after hit. Also they're all really nice people.
KING FM: If your classical music collection was entirely vinyl records, which of those records would be nearly worn-out from being played dozens of times? In other words, what music do you come back to, over and over again?
MYAH: I have an old Roberta Flack & Donny Hathaway vinyl that is already pretty well-worn. I never get tired of Roberta. I could probably listen to any of Jessye Norman's lieder albums any day and any time. I'm absolutely in love with her work and her legacy. Also, I'd be lying if I didn't say I listen to the K-Pop boy band SHINee's song "Nuna Neomu Yeppeo" at least once a month.
KING FM: What pieces of music do you turn to when you need comfort, solace, or relaxation?
MYAH: There's a Korean song by an artist named Kim Jonghyun called "The End of a Day". I listen to that song anytime I need a pick me up at the end of a long day. Also, I grew up in a Southern Baptist church, so whenever I need a bit of strength I go straight to Gospel classics by Shirley Caesar and Walter Hawkins and the more Contemporary Gospel I grew up with like Kirk Franklin's music or Mary Mary. Even though I rarely attend church these days, you can probably find me cleaning my house to a Gospel playlist on Sunday mornings.
KING FM: Let's say you're hosting a musical dinner party or cocktail party, and you can invite three composers or performers, living or dead. Whom do you invite?
MYAH: That's tough, but I gotta pick my idols: Jessye Norman, Leontyne Price, and Shirley Verrett. Those three women inspire me to continue pursuing representation of marginalized people in the arts. The success they achieved in their lifetimes is an inspiration to every young Black singer in America and around the world, including me. They were making history in real time. They looked incredible doing it, too.