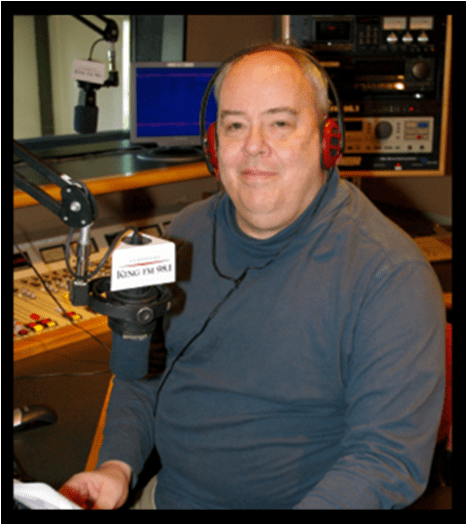 It is with much joy and heavy hearts that we announce host Brad Eaton's retirement! After 32 years of hosting The Morning Show on Classical KING, Brad has seen this station through more growing pains, gains, and losses than any other announcer and has truly earned his retirement and the beginning of this next chapter in his life.
Before starting his 32-year tenure with Classical KING in Seattle, Brad grew up as a real life Goonie in Astoria, OR. He found his love for classical music his senior year of high school, when a performance of the Helsinki Philharmonic left him, "completely blown away."
The son of a career Army Officer, Brad and his family moved often and traveled widely. This awakened in Brad a lifelong love of travel and culture. Educated in political science, history, and literature, Brad began his radio career at the age of 21 as a talk show host in Portland, OR. After several years of hosting and journalism at stations up and down the West Coast, Brad found his way to Classical KING as the Assistant Program Director in November 1989. A year after starting with the station he took on the role of The Morning Show host and, as they say, the rest is history.
The Morning Show is a grueling shift, and it is exceedingly rare for someone to love it and want to do it for as long as Brad has. We are incredibly grateful Brad decided to spend so much of his career at Classical KING, waking us up each morning with his friendly voice, unstoppable humor, and endless enthusiasm.
Please join us in celebrating Brad's legacy in radio and his incredible career at Classical KING with a tribute gift in honor of his many years with the station and impending retirement.