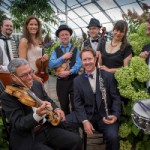 With Valse Café Orchestra
Saturday, January 2, 2016 at 7pm
Buy tickets here

Join us for a grand waltz into the New Year as we celebrate 2016 with an evening of dance with the Valse Café Orchestra. Come for a one-hour introductory waltz lesson (included in admission price!) and cocktail hour with dance instructor Dean Paton, before the ten-piece orchestra takes the stage at 8pm for a sparkling evening of dance, drink, and days gone by.