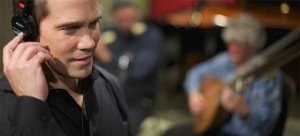 My picks for September center on the freshness of new season offerings. The French call this time "la rentrée," the re-entry to work and school after summer vacation, when sun-kissed energy reserves find their creative outlet.
Saturday 24 through Monday 26 September: Vancouver Symphony's big bang season opener, with Stravinsky's Rite of Spring, Tchaikovsky's famous Piano Concerto No. 1, and a piece by the orchestra's composer-in-residence, whose name I find rather epic: Jocelyn Morlock. Her piece is Oiseaux bleus et sauvages. Wild and blue birds, thunderous piano virtuosity, the cracking open of the earth: it's springtime energy to spring into … Fall!
Sunday 25 September, 3pm: our regular Northwest Focus LIVE guests Choral Arts Northwest perform my favorite choral Requiem ever, the timeless and warm offering by Maurice Duruflé. At Seattle's Plymouth Church, it's also a chance to inaugurate their beautiful new French-style organ, the kind the composer would have played, and to honor the late and much missed Seattle choral composer Bern Herbolsheimer, who passed away in January.
Sunday 18 September, 7pm: Bach and the Mendelssohns. 'To think that it took an actor and a Jew to revive the greatest Christian music for the world!' That rare reference Felix Mendelssohn made to his own religious heritage was apposite in a Romantic Music era when Bach's great St. Matthew Passion, relegated to obscurity, was revived by Mendelssohn, who conducted its first performance since Bach's death. Felix and Fanny Mendelssohn's music show allegiance to the master with masterful performances guaranteed by Byron Schenkman & Friends.
Friday 30 September, 8pm: More new season freshness called EARTH/SEA/SKY: Music of our Natural World from the wonderful Vancouver Chamber Choir. From conductor Jon Washburn's own Bird-Rain-Sky to Bob Chilcott's Weather Report, through Samuel Barber's gorgeous To be Sung on the Water, you'll connect freshly to the elemental through humanity's first instrument.
And my personal pick:
Sunday 18 September, 5pm: Highlands Chapel Series welcomes back for a lucky seventh time an Othello, Washington native, the American pianist who took our breath away when he played at King FM for a live audience, Stephen Beus. The Fort Worth Star Telegram wrote "We had just about given up hope that America would ever again produce a great native-born pianist. Then … Stephen Beus stepped onto stage with Rachmaninoff's Third Piano Concerto…" I don't know what he's playing at Highlands' beautiful chapel, but just go! If you want to hear the amazing hour we spent with him, it's here.
You could even make this concert and then head over to catch Byron Schenkman & Friends afterwards. Spend that summer reserve well: it's a new season!