Beethoven's Kreutzer Sonata Was Dedicated to the Wrong Person

Reviving the name of George Bridgetower, the virtuoso violinist who sightread the premiere of Beethoven's great "unplayable" sonata
By Geoffrey Larson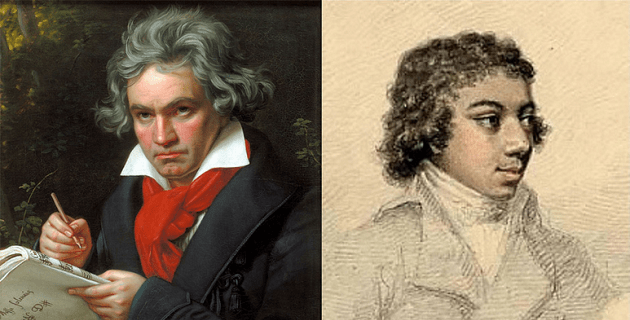 Violinist Erin Keefe and pianist Max Levinson perform Beethoven's Violin Sonata No. 9 in A major, Op. 47, "Kreutzer" on Wednesday, July 19 at 8:00pm at Nordstrom Recital Hall, part of Seattle Chamber Music Society's 2017 Summer Festival.
He was one of the most talented violin soloists in Europe, a child prodigy who toured England and France giving concerts at the age of 11 who would come to be known as the "African Prince" in London. George Bridgetower was Afro-European, was born to a father of West Indian or Barbadian heritage and a mother of German heritage. He would later be elected to the Royal Society of Musicians and attain a degree from Trinity Hall, Cambridge.
A performance of Beethoven's Violin Sonata No. 9 "Kreutzer" with Anne-Sophie Mutter and Lambert Orkis.
Bridgetower was introduced to Beethoven in Vienna in 1803 at the age of 25, where the two collaborated and the great composer was supremely impressed by the young black violinist's skill. Beethoven wrote two of the three movements of Violin Sonata No. 9 in A major with Bridgetower's artistry in mind, using an earlier unpublished violin work for the third movement. The sonata had been composed and a performance arranged with tremendous haste: Beethoven supposedly completed the piece at 4:30 AM on the day of the premiere, and the copyist failed to complete the solo violin part before the performance's unusually early 8:00 AM start time. Bridgetower proceeded to sightread most of the piece, and was forced to read the second movement by looking over Beethoven's shoulder at the piano score.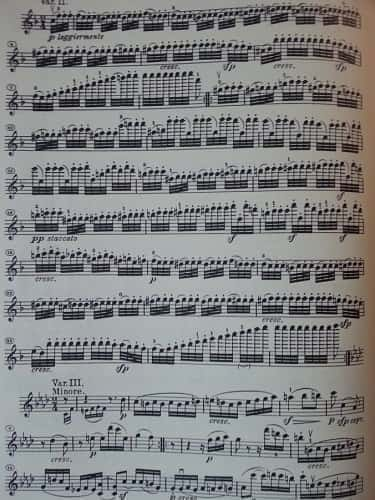 Beethoven's playful ribbing in the work's original dedication seemed to sum up the bromance between the two artists:
Sonata mulattica composta per il mulatto Brischdauer, gran pazzo e compositore mulattico. (Mulatto sonata composed for the mulatto Bridgetower, great fool and mulatto composer.)
It's incredibly unfortunate that this historic dedication and such a great relationship would fall victim to Beethoven's notoriously short temper. The composer took offense to a back-handed comment made by Bridgetower about a woman who Beethoven apparently held in high regard, and that was the end of that: the dedication was unceremoniously changed to Rodolphe Kreutzer, a renowned French soloist of the day, shortly before the sonata's publication. Beethoven was no stranger to angrily altering dedications at the last minute; he famously removed his third symphony's dedication to Napoleon Bonaparte before its premiere, scratching it out so violently that he tore through the page of the manuscript. The symphony became his enigmatic "Eroica."
The most frustrating irony here is that the French violin virtuoso mostly abhorred Beethoven's music, and declared the violin sonata in question "outrageously unintelligible." Kreutzer never performed the work in his life. Bridgetower, meanwhile, returned to England and continued a successful career under the patronage of the Prince Regent, later King George IV. He kept Beethoven's gift of a tuning fork, which now resides in the British Library.
It's good to see that Bridgetower's story is beginning to be told more often, and some of his works unearthed for concert performances. He made an (historically inaccurate) appearance in the 1994 film Immortal Beloved, and his life has inspired a large variety of artistic work. The "Kreutzer" Sonata has similarly inspired many: Tolstoy wrote his dark novella Kreutzer Sonata in 1889, which in turn inspired Leoš Janáček's String Quartet No. 1, "Kreutzer Sonata." Beethoven's virtuosic masterpiece lives on as one of the most celebrated and enduring solo violin works.
Geoffrey Larson is the Music Director of Seattle Metropolitan Chamber Orchestra, and Saturday and Sunday morning host on 98.1 Classical KING FM.