Brave the Heat, Crave the Beat: August Concerts
by Sean MacLean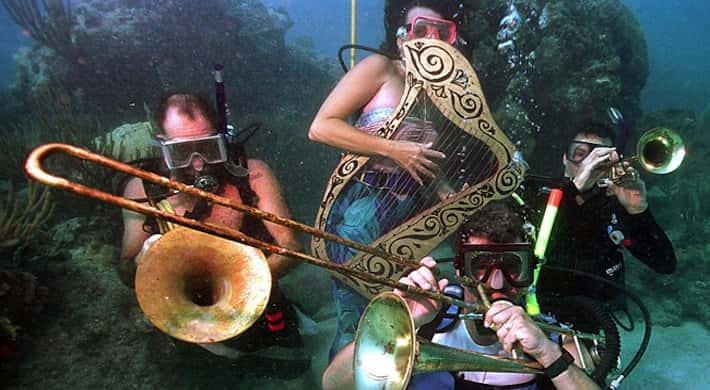 As you read this, we're probably at our high temp for the week.  The British Columbian wildfires blowing in that grayish haze are actually mercifully lowering the temp just a bit, as the smoke blocks the sun's full frying force.  So with that handicap on the Excessive Heat Warning, time to brave the furnace: my first choice of not-to-miss concerts is in Eastern Washington!
Until August 5: The 22nd season of the Methow Valley Chamber Music Festival has been underway already a week, and cellist/inventor/Artistic Director Kevin Krentz has once again programmed a winner.  What does Methow offer your senses?
1. Smell: your sniffer is treated to all the evaporating volatile phenols you only get east of the Cascades: pines, sages, and all their cousins which secrete the stuff to keep the bugs off, and of course to enrich the spa and aromatherapy industries!
2. Sight: the drive from Seattle is stunning.  Arriving in Winthrop is a spiritual reset.  The terrain along the way is jagged, uneroded, and breathtaking.  Wildfires have ravaged a few summers there, so the land has a perpetual regenerative energy.
3. Touch: Feel the dry heat loosening your sinews, relaxing your shoulders, opening your ears.
4. Taste: does lemonade ever taste better than at the end of an uphill hike between concerts, or mountain bike ride downhill, or intermission?  The festival has licenses for less innocent stuff too, don't worry.
5. Hearing: well, that's what this is all about, isn't it?  The big surprise for me every time is the loveliness of the Signal Hill Ranch's acoustic, perfect for chamber music.  They have serious local engineering talent behind the repurposing of that building, and it holds Brahms the way Brahms holds you: tenderly. And wouldn't you know it?  Brahms is the finale on Saturday: the luscious Piano Quartet No. 2 in A major.  King FM's own Dave Beck will be your host.  Dave and Lisa Bergman and I all connect back a ways to this magical festival (another story for another time) and corner any of us if you want unrestrained enthusiasm…you know, for a change. 😉
---
August 6: To beautiful Bellingham next, why not on your swing back from the East? The Marrowstone Music Festival, the summer honing ground of Seattle Youth Symphony Orchestra's talent, going since World War 2, and a model for most American youth orchestra programs, finishes with a Romantic rich program of Romeo & Juliet music by Tchaikovsky, Wagner's Meistersinger, Rachmaninoff's Symphonic Dances (gleefully and vengefully recycling material that had failed to reach audience ears due to a drunken first conductor of his First Symphony), and the element of swing to jump start the last concert of their short, sweet season into dance mode: Gershwin's Cuban Overture!
This video gives you an idea what the kids are up to, and you may recognize their associate conductor from a video he made with his lovely wife right in our studios recently:
---
Until August 20: Marine air to cool you off on the bow of the ferry sound good?  Orca sightings along the way?  For its 20th glorious year, the Orcas Island Chamber Music Festival has been perfectly balancing local charm with a tony, international spirit of Dolce Vita, island style.
The concerts are all so great, I can't just recommend one, but don't miss their Know the Score Lectures for something few summer music festivals offer anywhere in the world: a truly deep, pack-your-brain-so-you-can-let-it-go-during-concert half day romancing of the repertoire.  You can see from the list that there are some seriously qualified musicians to take you through rehearsal and repertoire.
For example, I just can't help noticing 😉 that KING FM's own Lisa Bergman will be giving the first one this weekend.  Lisa told me today that she'll be exploring Mendelssohn's use of melody versus theme. Lisa does all her commentary while illustrating from the piano.  Best way to get total immersion, and certainly the most entertaining!
---
August 25-27: Speaking of great women…the third Women in Music Festival that Island Consort has produced in the name of Luise Greger, one of the great song composers of the Romantic period who died mysteriously in Nazi dominated Berlin in 1944.I can vouch for the performers, since many have been my guests on Northwest Focus LIVE.  And of the women composers still being discovered, let the music speak for itself:
---
August 20-Sep 3: The longest season in music festivals around here is the venerable Olympic Music Festival, running into September. Tune in Friday, August 4 at 7pm, to hear artistic director Julio Elizalde talk about the festival and share some of his favorites on KING FM's Musical Chairs.
Then, attend something quite different when the back-by-demand Garden Music take on Gershwin's American in Paris. But expect it to swing hard.  These are the same musicians who dropped some serious groove in our library last year (video evidence below).  Then if you are looking for some exquisite contrasting weekends, my two picks would be Bach, Brahms, and Ravel and Poulenc, Debussy, and Fauré. The heat will come, the heat will go, and then summer is over.  Catch it!