Chamber Music to Read By


It's nearly summertime and the weather is glorious this year! Feel like reading on the porch or a park bench, in bed for a lazy Sunday morning? We have just the right background music to let your imagination soar! Here is our new "Chamber Music to Read by" playlist. Over time, we'll keep adding musical gems that lend themselves to immersive reading experiences. Here are the first 5:
Corelli: Violin Sonata in D, Op.5/1, Ingrid Matthews, violin; Byron Schenkman, harpsichord
Clara Schumann: Piano Trio in G minor, Op. 17: I. Allegro moderto, Icicle Creek Piano Trio
Stephen Foster: Beautiful Dreamer, Evan Drachman, cello; Lisa Bergman, piano
Pelecis: Flowering Jasmine, Natasha Bazhanov, Stephen Bryant and Artur Girsky, violins, Allison Farkas, viola, Page Smith, cello, Joseph Kaufman, double bass, Michael A. Werner, vibraphone
Michio Miyagi: Haru no umi/The Sea in Springtime, Icicle Creek Chamber Players: Jennifer Rhyne, flute; Catherine Barrett, harp.
---
Classical News Feed


Met Chooses Yannick Nezet-Seguin as its Next Music Director. The Metropolitan Opera has chosen music director of the Philadelphia Orchestra and V-neck enthusiast Yannick Nezet-Seguin to become their music director and principal conductor, stepping into the massive, un-fillable shoes of James Levine. Levine retired (for real) in April, leaving a towering artistic legacy that spans 40 years, a storied tenure that was nearly the age of his 41-year-old successor. Our consensus? Get our more in depth news here.
The Most Embarassing Tweets from the Cleveland Orchestra and San Francisco Symphony during the NBA Finals. Starting Thursday, June 2, the Cleveland Cavaliers and the Golden State Warriors met in the NBA Finals for the second year in a row. The Cleveland Orchestra and San Francisco Symphony took to Twitter, the natural home of every great rivalry, unleashing a fusillade of aggressive pun-filled trash talk. Here are the worst of the groaners.
Composer and Visual Artist Create Immersive Electropop Experience from Vivaldi's Four Seasons. "It's not a mashup or a mix. We're not trying to make Vivaldi super 'down with the kids' or anything," says Anna Meredith, a diversely talented composer of contemporary classical and electronic music. She's speaking about Anno, a multi-sensory experience inspired by Vivaldi's "The Four Seasons" Details here.
---
Stretch Your Donations Even Further

Do you work for an employer who matches gifts? As a registered 501(c)(3) non-profit organization, KING FM makes you eligible to double the impact of your gift. After you become a member, check to see if your company matches gifts. If so, let your human resources department know how much you contributed. That's it! Most matching gift companies match dollar for dollar, but some even double or triple the amount of your contribution. Find out more about our matching gift program here.
---
 Geoffrey in Prague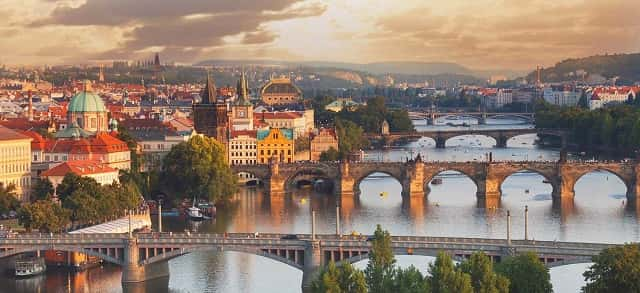 KING FM Producer and Host Geoffrey Larson is currently on short-term leave from the station to serve as Assistant Conductor of the "Prague Summer Nights Young Artists Music Festival." We are happy to support Geoffrey as part of KING FM's commitment to nurturing the next generation of classical music lovers, and to share his journey with you.
Geoffrey will be sharing this experience with the KING FM family. Like us on Facebook to catch all of the fun and exciting insights while he's in Prague.
---
Arts Picks 


The 5th Ave Theatre presents Paint Your Wagon on June 2-25.

Enjoy 25% off tickets to the June 16 performances of 5th Ave's Paint Your Wagon when you use the code "KINGFM" at checkout! KING FM'S Marta Zekan will be hosting a FREE Show Talk before the June 16 performances at 7pm in Studio E. Click here for more information

LET'S PLAY BALL! Join ArtsFund and KING FM for Arts Night at Safeco Field on Tuesday, June 28 as the Seattle Mariners host the Pittsburgh Pirates. Enjoy performances at the gates, a special Arts Zone ni the main concourse featuring KING FM, and arts on the field pre-game! For tickets and more information, visit www.mariners.com/arts.
The Seattle Symphony presents the Tuning Up! Festival: Two Weeks of American Musical Creativity running June 17-July 2.
ACT Theatre presents The Mystery of Love and Sex, running now through June 26.
Check the KING FM Arts Calendar at KING.org for literally hundreds of upcoming NW arts events and concerts.