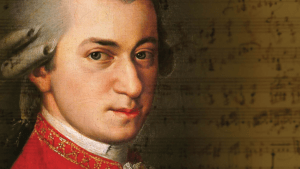 Enter to win Classical KING FM 98.1's Mozart Birthday Bash Ticket Giveaway with your gift of $10 per month or more!
Four lucky winners and a guest will join KING FM's Bryan Lowe at his reserved table for On Stage with KING FM: Mozart Birthday Bash with Early Music Seattle on January 27, 2018. Held at Resonance at SOMA Towers in Bellevue, this special evening features regional period instrumentalists performing some of the composer's most inspired chamber music.
While no contribution is necessary, all gifts support not only providing the great classical works you love from composers like Mozart, but also a voice for the arts in Seattle. KING FM is proud to partner with numerous local arts organizations in marketing, community outreach, and live broadcasts, reaching more than 250,000 listeners each week on air and online.
Join KING FM's Sustainers program with your donation of $10 per month or more today!


Gifts can also be made by calling Member Services at 206-691-2981, Monday through Friday 9-5pm PST.
Entries accepted until 11:59pm on January 21.
Click here for rules and regulations.