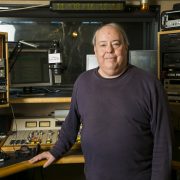 The Morning Show, weekdays: 6–10am
overnights/early mornings:
Monday: 12 midnight–6am
Tuesday-Friday: 4–6am
Brad Eaton has hosted the Morning Show on KING-FM since November of 1989. His goal has always been to awaken the Northwest with great music presented with a touch of humor.
If Brad grew up at all, it was on the Oregon Coast, where he was born in Astoria. The son of a career Army officer, Brad and his family moved often and traveled widely. This awakened in Brad a lifelong love of travel and culture. Educated in political science, history and literature, Brad began his radio career, at the age of 21, as a talk show host in Portland.
After several years of talk show hosting and journalism, at radio stations up and down the West Coast, Brad came to KING-AM (then a news and talk station) as Assistant Program Director. He quickly fell in love with KING-FM and, a year later, became the host of The Morning Show. Having been "blown away" by a performance of the Helsinki Philharmonic in Astoria during his senior year of high school, Brad has been a lover of classical music ever since (particularly Baroque and early music). He says of hosting the Morning Show:"Being able to share this music with our listeners in one of the most beautiful, artistically active regions in the world is a dream come true!" Brad loves travel (he has hosted nearly 20 trips with KING-FM listeners all over the world), film, reading (especially sci-fi and nonfiction) and exploring great new restaurants.
Email Brad at brade@king.org.
Enjoy Music That Speaks To Me
Settling on an absolute Top 10 list of musical favorites is simply impossible for me. I love such a wide variety of music, and my favorites would slide up and down this list depending on my mood. That said, though, here is a list of ten pieces that never fail to touch my heart and soul!