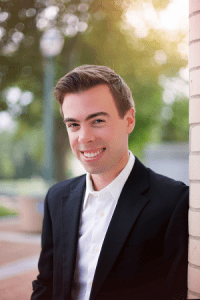 Geoffrey Larson
Geoffrey Larson is passionate about telling the story of great music onstage and on-air. He serves on the conducting staff of Berkshire Opera Festival, Drugaya Opera of St. Petersburg, Russia, and is the music director of the Seattle Metropolitan Chamber Orchestra.
In the summer of 2016, he served as assistant conductor for two young artists opera productions in Prague, Czech Republic, including Mozart's Don Giovanni at the Estates Theatre, where he collaborated with Sherrill Milnes. In 2014, he presented a lecture and complete performance of Schoenberg's Pierrot Lunaire at Pittsburgh Opera Studio. He has demonstrated a passion for new music, collaborating with composers such as Gabriel Prokofiev, Reza Vali, Erberk Eryılmaz, Nancy Galbraith, and Leonardo Balada.
Geoffrey was a student of two-time GRAMMY Award winner Robert Page at Carnegie Mellon University. He studied opera conducting with Wolfgang Harrer during a five-month residency in Vienna, Austria, and he also counts studies with George Hurst in England and Peter Erös in Seattle as a major foundation of his musical life. He has assisted conductors such as Uriel Segal, Ronald Zollman, Gerard Schwarz, and Brian Garman.
Apart from discovering the beauty and power that the endless world of classical music has to offer, Geoffrey enjoys exploring the wilderness of the Olympic and Cascade mountain ranges.
Email Geoffrey at geoffreyl@king.org.
Enjoy Music That Speaks To Me
My musical taste has always been omnivorous; I honestly believe that there are great, timeless creations of musical art in every genre. However, since we're focusing on classical, I've chosen a variety of works from different corners of the classical landscape – life-changing works from every era and sub-genre of this priceless art form. A number of these pieces have played a significant role in my development as a clarinetist and a conductor. I might say that the world of the symphony is my home base – we'll start with the piece that shattered all conceptions of what a symphony could be and kicked the genre into high gear, followed by a fairly unknown work that thrust the genre powerfully into the 20th century.
Let's Talk on Twitter
Why I Support Classical KING FM
Classical KING FM is a vital public resource for Western Washington and the world. KING FM gives literally any person with an internet connection easy access to the richness of classical music at any time. This tremendously wide range of music allows people to explore their lives in new ways, to rejuvenate and to uplift their psyche. Countless performing organizations are supported by KING FM, with classical radio serving as a conduit to bring new listeners to life-changing concert experiences. I'm grateful for the special influence that KING FM had on my life as a young musician growing up in Seattle: classical radio opened my mind and ears to the huge power and variety of the world of classical music, an experience that I wish more people of all walks of life could benefit from.
Please donate now, gifts of any size make a difference.