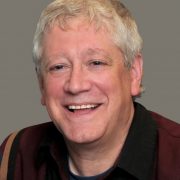 Seattle native Peter Newman has been with KING-FM since 1977, serving as Morning Show host, Operations Director, Program Director and General Manager. A graduate of the University of Washington with degrees in Speech and History, Peter was drawn to radio by the campus radio station where he hosted an eclectic late-night radio show mixing comedy, interviews and even the odd musical selection. Stints at KUOW and KXA turned his head from thoughts of law school and international studies.
His Austrian-born parents shaped Peter's musical tastes. Mahler and Dvorak are personal favorites, but 1930's English dance bands and musicals can also be found in his library. The college radio experience probably accounts for his collection of novelty recordings.
Peter's current work at KING FM is the production and broadcast of live concert broadcasts. Bringing the sound of live music to the radio is deeply rewarding for Peter, an experience you can't get from a commercial or studio recording. As listener-supported station, Peter believes that this programming is a vital part of the mission and DNA of KING FM.
Peter divides his time between Seattle and the Oregon coast. Travel, world cuisines and all-things electronic compete for his time. He is married to well-known stage actor Megan Cole and is supervised by two cats, Rico and Giulietta.
Email Peter at petern@king.org.
Enjoy Music That Speaks To Me
Thinking about this list, I'm reminded how vast our musical landscape is. Instrumentation, style, era, there is so much great music to explore.
My Recent Blogs
Let's Talk on Twitter
Why I Support Classical KING FM
For many years I've had the privilege of working with this great thing we call classical music. Of course this wouldn't be possible without the music itself, but it also requires all of us working together to keep it alive, thriving and available to all. One of my earliest memories of KING FM is listening to the Russian Easter Festival Overture as I was driving over Steven's Pass in the snow. That music and that moment will always be with me. I want to keep passing those kinds of moments on to others. It's the best kind of "paying it forward."
Please donate now, gifts of any size make a difference.