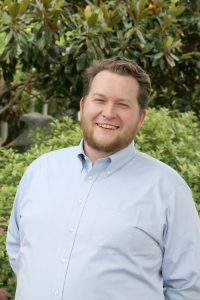 Seth Tompkins
Program Director since June 2017, Seth Tompkins arrived in Seattle from Michigan in 2009 to study music performance at the University of Washington. Part of the KING FM since 2011, he has been successively KING FM's Music Assistant, Assistant Music Director, and Content Manager. Seth was part of the group that created Second Inversion, and continues as an "on-air" (streaming) Second Inversion host, live broadcast host, and blog contributor for this project.
Seth is committed to preserving the success and traditions of KING FM, but is also passionate about seeking new relevance for KING FM in a changing media landscape.  Listening habits are changing and diversifying, he is convinced that we must follow the listeners where they are leading us, while continuing to serve those listeners who listen to radio in a traditional manner.
Seth holds a bachelor's and master's degrees in tuba performance.  He remains an active freelancer in the Seattle area, performing a wide variety of musical styles in diverse contexts.  He has performed with the Seattle Symphony and many other groups in the area, including Olympia Symphony, Saratoga Orchestra of Whidbey Island, Seattle Rock Orchestra, Seattle Modern Orchestra, Seattle Metropolitan Chamber Orchestra, and many others. Outside of professional activities, he is passionate about food and drink and the outdoors, and is an avid hiker.
Enjoy Music That Speaks To Me
Selecting "favorites" is a difficult endeavor, so here a just a few. This list reflects my love of brass instruments, 20th century music, and American music. Also present here in are some of my favorite performers, conductors, and composers, many in combination with each other. Although I am interested in every format and ensemble type of classical music, my home base is orchestral music; this list reflects that as well. Enjoy!
My Recent Blogs
Let's Talk on Twitter
Why I Support Classical KING FM
KING FM is important because, unlike many classical stations, KING FM is all music! We do not have news or other talk programming; that makes us a special place. We are a refuge from the anxiety and strife that increasingly permeates modern life. Additionally, as an independent station, KING stands out from the crowd; this independence reflects our unique institutional history allows us great flexibility to be responsive to our listeners. KING FM is a special symbol of the Seattle area's rich and unique cultural landscape. That's why I am proud to support KING FM!