The Metropolitan Opera on Classical KING FM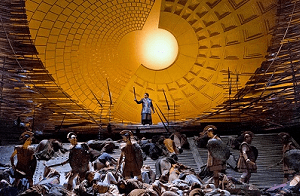 Saturday Matinee Broadcasts
Throughout the season, join us every Saturday morning on Classical KING FM for a full performance from the Metropolitan Opera at Lincoln Center in New York City. Most broadcasts are live, most begin at 10:00am Pacific Time, and feature special commentary and exclusive intermission interviews. Launched in 1931, the Metropolitan Opera's Saturday matinee broadcasts are the longest-running continuous classical music program in radio history.
A behemoth in its genre, the Metropolitan Opera has featured many of the greatest singers, conductors, composers, stage directors, designers, and visual artists since its founding in 1883.
---
Click here for the full schedule of upcoming Met Opera Broadcasts.
Note – the times given on the Met Opera website are in Eastern Time.
The contents of the Metropolitan Opera Broadcast are copyrighted by the Metropolitan Opera, all rights are reserved, and any use or reproduction of any of the material therein without permission of The Metropolitan Opera is strictly prohibited and will be prosecuted.
---