Support KING FM during our December fund drive and select a gift of your choice.
From December 11-15, KING FM is on the air raising vital funds to end 2017 on a high note and keep the music you love playing all throughout 2018.
As a token of our appreciation for your support, you can score one of these great KING FM-branded thank you gifts along with your favorite CDs.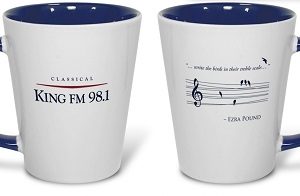 KING FM Bistro Mug
Enjoy your morning coffee as you listen to "Mozart at 8" with Brad. This two-tone bistro mug can be yours with a gift of $7.50 per month or $90 one-time. Give $12 per month or $144 one-time to receive a pair!
---
KING FM Ballcap
Show your KING FM pride around Seattle or wherever you go with this adjustable ballcap. You can receive this selection with a one-time gift of $120 or Sustaining Membership at $10 per month.
---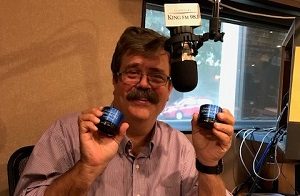 KING FM Bluetooth Speaker
Bryan Lowe loves using his Bluetooth speaker when he's cooking up dinner. KING FM provides the perfect soundtrack to your life … from creating a culinary masterpiece to re-reading your favorite novel. This speaker is available to you with your gift of $240 or $20 per month.
---
Donate online or call 1-888-598-9810 to make your gift now!