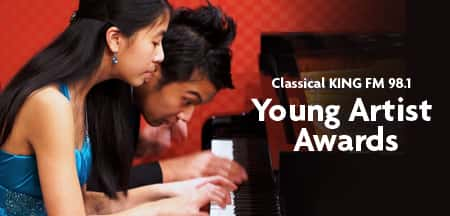 The KING FM Young Artist Awards, presented in partnership with Seattle Chamber Music Society and now in its seventh season, strives to give talented young musicians a bigger stage. This competition is one element of our promise to the community of more support for arts education, community partnerships with the arts, and more live broadcasts. The competition is open to solo musicians (instrumental or vocal) ages 6-20 in two age divisions – 1) ages 6-15 and 2) ages 16-20.
Through a combination of world-class judges and listener votes, 4 finalists in each age division are chosen and perform live on the air before a winner in each of the two age divisions is crowned.
KNIG FM and the Seattle Chamber Music Society are proud to announce the winners of the 2018 Young Artist Awards competition and congratulate all the participants.
2018 Winners
Lower Age Division: Julin Cheung, flute

Upper Age Division: Takumi Taguchi, violin

---
2018 YAA Judges
Edward Arron – cellist, faculty at University of Massachusetts Amherst, SCMS Festival Musician
Lisa Bergman – concert pianist, KING FM Host
Judith Cohen – local concert pianist
James Ehnes – violinist, SCMS Artistic Director
David Harding – violist, Carnegie Mellon Faculty member, SCMS Festival musician
Sarah Ioannides – Music Director, Symphony Tacoma
Seth Krimsky – Seattle Symphony Principal Bassoon and SCMS Festival musician
Adam Neiman – international concert pianist and SCMS Festival musician
Victoria Parker, violinist, co-founder of the North Corner Chamber Orchestra (NOCCO)
---
The 2018 Young Artist Award Competition is made possible in part through the generosity of the SOMA Towers Resonance Master's Series.