The Young Artist Awards (YAA), presented in partnership with Seattle Chamber Music Society and now in its tenth season, strives to give talented young musicians a bigger stage.
---
Grand-Prize Winners Announced:
Congratulations, Jeslyn and Yvette!
updated: Friday, May 28, 2021
It's with great excitement that Classical KING FM and the Seattle Chamber Music Society announce the grand-prize winners of the 2021 Young Artist Awards: pianist Jeslyn Cai and violinist Yvette Kraft!
Jeslyn set herself apart and took top honors in the younger division (ages 6-15) with her virtuosic performance of Sergei Rachmaninoff's Sonata in B flat minor, Op. 36, No. 2: I. Allegro agitato.
---
Grand-prize honors in the older division (ages 16-20) go to Yvette Kraft, thanks to her stunning rendition of the "Chaconne" movement from the Partita no. 2 by Johann Sebastian Bach.
---
We encourage you to appreciate the incredible artistry of all of this year's Young Artist Award finalists through the video galleries below.
Again, many congratulations to Jeslyn, Yvette, and all of the young performers whose musicianship, as expressed in their outstanding contest submissions for YAA 2021, are a source of inspiration to so many. Bravo!
---
YAA 2021 Finalist Video Galleries
YAA 2021 Finalists: Ages 6-15  YAA 2021 Finalists: Ages 16-20
Online voting closed for YAA 2021 at 11:59pm on Monday, May 24, 2021.
---
About the Young Artist Awards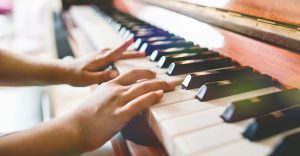 YAA is a competition for young musicians in Washington State, open to soloists (instrumental or vocal) ages 6-20 in two age divisions: 1) ages 6-15 and 2) ages 16-20. A panel of world-class judges decide the finalists; the judges join with listeners (through votes submitted online) to pick the grand-prize winners in each age division.
Grand-prize winners will win a $500 cash prize provided by BECU. Finalists and grand-prize winners in each category may also perform live on KING FM's NW Focus LIVE.*
*note: Due to current public health considerations, it is unknown at this time whether the traditional late spring/early summer broadcasts of NW Focus LIVE, featuring finalists and grand-prize winners of the Young Artist Awards, will be possible. For more details, see the Contest Rules, downloadable at the links below.
---
Contest Rules Downloads
Download the 2021 YAA contest rules:
---
Addendum to Contest Rules re:
Accompanists
Added Friday, March 5, 2021
For their submission video, a Young Artist Awards 2021 applicant may choose to perform with an accompanist, but in no circumstances is an accompanist required, even for musical selections in which an accompanist would be typical (such as concerto works, art song, or sonatas with piano accompaniment).
YAA 2021 applicants will not be penalized or ranked lower in the judging process because of the absence of an accompanist.
As the YAA 2021 rules state, "safety amid the ongoing COVID-19 outbreak is paramount and must take precedence." YAA 2021 applicants should make decisions regarding accompanists and recording locations/conditions in a way that prioritizes their comfort and, above all, their safety.
---
2021 YAA Judges
James Ehnes, violinist, Artistic Director, Seattle Chamber Music Society
Anton Nel, pianist, faculty at Butler School of Music at University of Texas-Austin, SCMS Festival Musician
Andrés Díaz, cellist, faculty at Meadows School of Music at SMU and the Royal Conservatory of Music in Toronto, SCMS Festival Musician
Demarre McGill, flutist, Seattle Symphony, SCMS Festival Musician
Geoffrey Larson, music director at Seattle Metropolitan Chamber Orchestra
Ben Klinger, Classic Pianos, Bellevue
David Tan, chair, Community Advisory Board, Classical KING FM 98.1
Lisa Bergman, Classical KING FM 98.1
---
2021 Application Period
The application period for the 2021 Young Artist Awards opened at 12:00 noon Pacific on Friday, February 19, 2021, and closed on Monday, March 22, 2021 at 11:59pm Pacific.
---
The 2021 Young Artist Awards are made possible through the generous support of: