Classical KING FM moved to the public broadcasting model in 2011, eliminating commercials on air and beginning a new era of increased community involvement and highly varied programming. Acting as a hub for great musical art in the Northwest, KING FM has expanded the number of organizations featured in Northwest Focus programming, and now broadcasts over 70 local performances every year. With an average weekly cume of over 300,000 radio listeners and 20,000 streaming listeners, KING FM is connecting with a larger audience than ever before. Adding in social media impressions and interactions, nearly half a million people are reached by KING FM programming and content each week.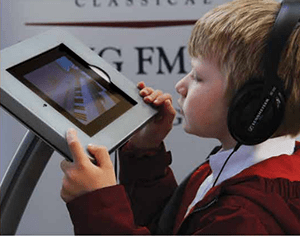 As a listener-supported public station, the core of KING FM's mission is to actively grow, diversify, and enrich the love of classical music in our community. KING FM is reaching more of the young members of this community now more than ever before, and is instilling a love of great music in a new generation of listeners with new education programs. Starting in 2015, KING partnered with the Seattle Symphony to present the Classical KING FM Family Concerts, where children participate in special craft activities and instrument petting zoos before a special Seattle Symphony performance.
Families enjoy free admission to the SoundBridge Music Discovery Center following the concert. Online, KING FM now offers expanded Family Resources, including guides for how to listen to music with young children, educational concert listings, and episodes of Lisa Bergman's Gracie Award-winning Explore Music series. This content is also presented on KING FM's new iPads in the lobby of a variety of performances, offering inspirational content to young people that augment the SSO concert experience. KING FM presents its fifth annual Young Artist Awards this year, a competition in collaboration with the Seattle Chamber Music Society that brings the work of our region's finest young classical talent to a larger stage and connects young performers with world-class SCMS artists.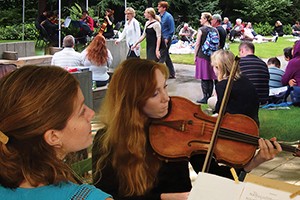 2011's transition to the listener-supporter model wasn't just about removing on-air commercials and ensuring the station's future financial viability; it was about serving the musical organizations of our Northwest community more comprehensively. By featuring local arts personalities on Musical Chairs with Mike Brooks, the Arts Channel with Marta Zekan, and in live performances directly from KING FM studios on Northwest Focus Live with Sean MacLean, KING has given the arts a voice in the Pacific Northwest. Our region's arts scene is dynamic and vibrant. KING FM has created a platform that is equally vital, enabling arts organizations to reach a much wider audience.
An especially exciting development was the launch of the first season of On Stage with KING FM in 2015, a series of concerts at Resonance at SOMA Towers in Bellevue. Featuring curation and special concert appearances by the musician members of KING FM's staff, this unique and intimate concert series is already making an impact on the Eastside, attracting nearly 2,500 listeners in its first season.
Striving to provide great listening options for every musical taste, KING FM has continued to develop its streaming channels over the past five years of public support. Second Inversion, an online channel streaming new and unusual music from all corners of the classical genre, was launched in 2012 and has flourished under significant grant support and the leadership of Maggie Stapleton, winner of Edison Research's Audio 30 Under 30 Award. Second Inversion is hosted and curated by performers, composers, and advocates of new music. Renowned cello soloist Joshua Roman became Second Inversion's Artistic Advisor in 2015. With a dedicated mobile app, Second Inversion will continue to inspire, engage, and cultivate the next generation of classical music audiences.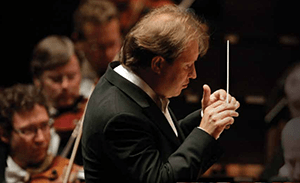 The Symphonic Favorites Channel became the KING FM Seattle Symphony Channel, HD3 in March 2015, offering listeners unprecedented access to the SSO through spotlight interviews with Dave Beck and showcases of upcoming programming with insights from Seattle Symphony musicians. The KING FM Seattle Opera Channel was also launched in 2015, offering a larger variety of curated short works and opera broadcasts hosted by Seattle Opera personalities. In 2016, KING's online streaming bitrate was increased, providing enhanced audio quality for all channels.
Without the generous contributions of KING FM's Listener Members, none of this would be possible. It is your support that enables the huge variety of concert broadcasts, weekly programs, and community outreach that places Classical KING FM at the center of our area's classical music scene. you make it happen: you affirm the value of great classical radio, and you ensure that it continues to serve our community and stream to listeners all over the world. From all of us at Classical KING FM, thank you!