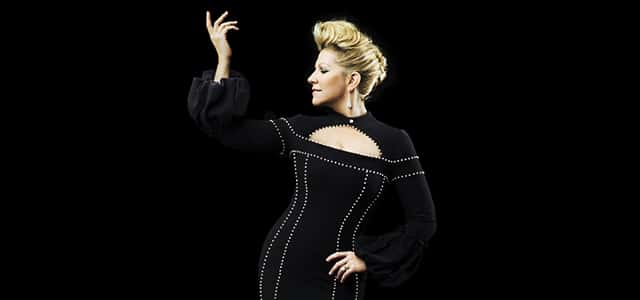 By Melinda Bargreen
There it is: a whole season of music, spread out before you like an enormous buffet. How do you decide amongst the huge array of Seattle Symphony concerts in the vast 2016-17 lineup? One thing is clear: it's time to act now, with single tickets already available and some enticing changes in the season roster.
Not to mention the fact that some of the most sought-after concerts, like Yo-Yo Ma's October 14 concerto appearance with the orchestra, are sold out. At this writing, tickets are also disappearing fast for violinists Hilary Hahn and Joshua Bell, as well as for Gustavo Dudamel and the Los Angeles Philharmonic. (Bell, by the way, has changed his concerto: he'll play the Tchaikovsky on February 17-18, and not the previously announced Barber Concerto.)
What's a music lover to do? Well, you could start with the Opening Night program at 5 p.m. on September 17, when the sparkling opera/concert star soprano Joyce DiDonato will be the featured guest. She'll tackle everything from Handel arias to "I Feel Pretty" (from West Side Story) and "Over the Rainbow" (from The Wizard of Oz), in a season-opening concert that always seems to have a festive air. Ludovic Morlot conducts; your favorite radio station, Classical KING FM 98.1, is the program's media sponsor.
Beethoven fans will want to catch the second season of the SSO's Beethoven cycle, with the Symphonies Nos. 1 and 8 both on display Sept. 22-25. (You can pick up the Symphony No. 2, and the third of the five Piano Concertos, in the October 27-29 concerts. See below for still more Beethoven.)
Hilary Hahn, one of our era's supreme violinists, arrives October 30 for a recital with pianist Robert Levin, and repertoire extending from Bach and Mozart to Hans Peter Türk (a solo piano piece composed for Levin). Hahn also will return February 9-12 to play the Bruch Violin Concerto No. 1 with the orchestra and Morlot.
Gustavo Dudamel and the Los Angelenos are scheduled for November 4, with the mighty Mahler Ninth on their program; it's likely to be a highly memorable evening.
And December offers a constellation of beloved classics: Handel's Messiah (with Stephen Layton conducting, December 16-18), and Vivaldi's The Four Seasons (with soloist Elisa Barston) paired with Piazzolla's The Four Seasons of Buenos Aires, complete with tango dancers (December 28-29).
Among the 2017 offerings: a two-night Shostakovich Concerto Festival (January 19-20) with conductor Pablo Rus Broseta, pianist Kevin Ahfat (winner of last year's SSO Piano Competition), and Edgar Moreau, cello. The great pianist Emanuel Ax gives another nod to Beethoven with his "Emperor" Concerto February 2 and 4, and Seattle favorite James Ehnes returns March 16-18 to play the U.S. premiere of Aaron Jay Kernis' Violin Concerto.
The matchless King's College Choir arrives from Cambridge, England, in Benaroya Hall on March 27, led by director Stephen Cleobury. (For a hilarious April Fool's prank featuring the choir, check out this link: https://www.youtube.com/watch?v=ukDAfF0-8q8).
Anyone who caught the SSO's earlier Sibelius cycle or the Mahler Tenth with principal guest conductor Thomas Dausgaard will want to snap up tickets to his Rachmaninoff program (featuring piano soloist Alexander Melnikov and the Cappella Romana) on March 30-April 1. Dausgaard returns, by the way, on June 8-10, along with the wildly talented violinist Pekka Kuusisto, and a program that includes a Nielsen symphony and the American premiere of a work by Helen Grime (right now it's just called "New Work"). The Danish maestro will stay on for June 15-17 concerts featuring Strauss' epic "Alpine Symphony," plus the "Four Last Songs" and "Morgen" (with soprano Erin Wall).
An exciting rarity is presented April 24, with an unusual duo piano recital by two greats: Norway's Leif Ove Andsnes and the Montreal-born Marc-André Hamelin, playing a wide-ranging program that concludes with a two-keyboard version of Stravinsky's The Rite of Spring.
Another rarity: Ravel's one-act opera, L'enfant et les sortilèges, scheduled for June 1-3 with Morlot on the podium.
Finally, there's the Mahler Fifth, presented alongside the Ligeti Requiem, in three June concerts (22-24), with Morlot conducting the orchestra, chorale, and soloists.
As the saying goes: something for everyone. But the best prospects are going fast – and we all know what happens to "He who hesitates."