Wednesday, April 5th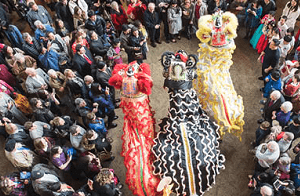 Celebrate Asia is an annual concert presented by the Seattle Symphony which is both global and local in its orientation. The concert, celebrating its 10th anniversary this year, reflects the vibrant Asian community around Seattle, and over the past decade has brought new music to the stage written by composers of Japanese, Chinese, Filipino, Indian, and Vietnamese backgrounds, among others. Celebrate Asia happens on May 12 of this year with pre-concert music and activities in the Grand Lobby of Benaroya Hall. The concert on the Benaroya main stage begins that evening at 7pm and includes music by the Indian composer A.R. Rahman, best known for his work on the 2008 film Slumdog Millionaire.
Elena Dubinets is the Vice President for Artistic Planning at the Seattle Symphony. She joins us to talk about how Celebrate Asia has played a role in launching the careers of a number of internationally-acclaimed young composers. One of them is the Iranian Alireza Motevaseli, whose concerto for the plucked string instrument called the Santoor was featured by the SSO at the 2016 Celebrate Asia concert. We'll hear some of that music in this week's podcast.