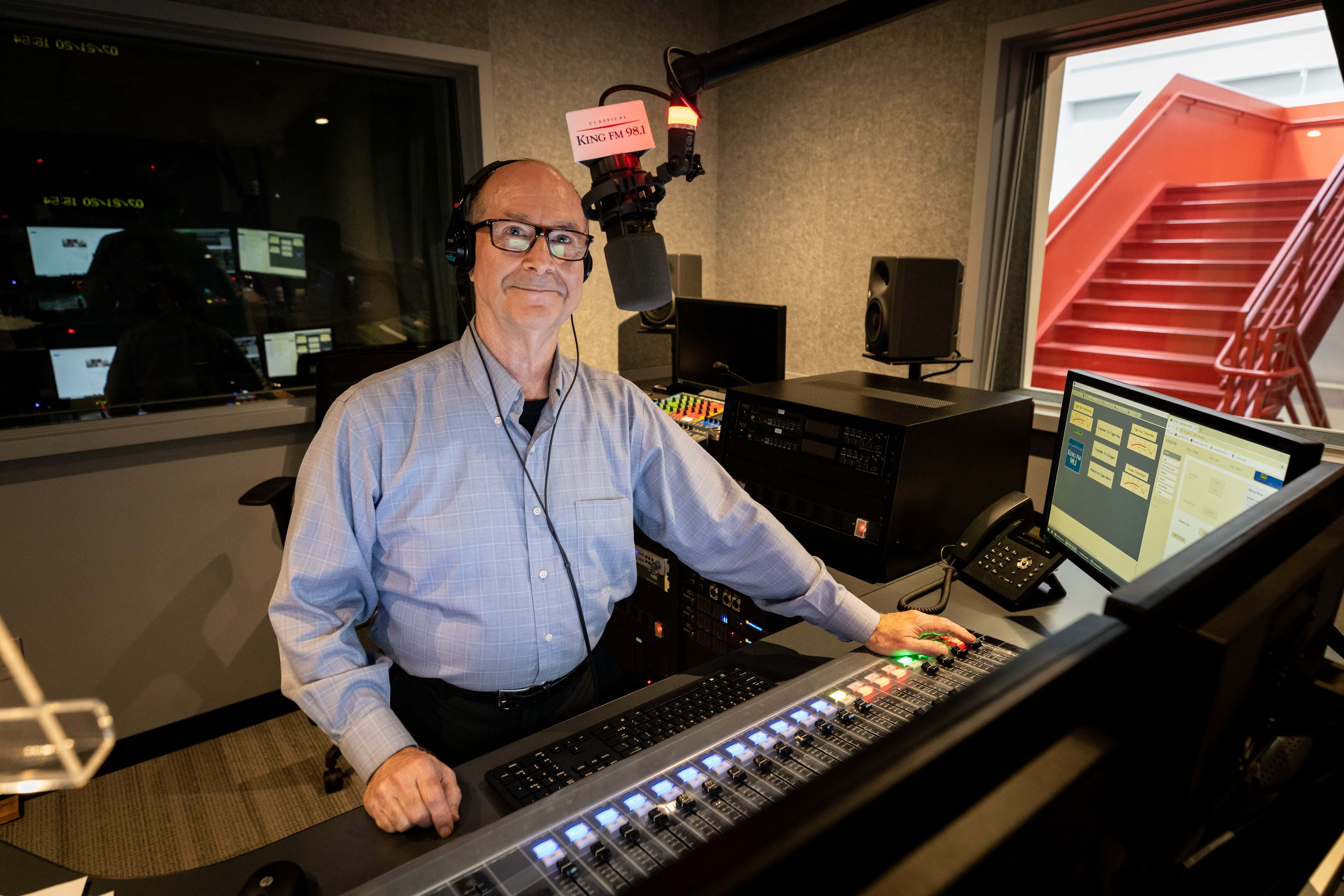 Michael Brooks (but you can call him Mike!) first came to the PNW 20+ years ago, when he moved from the East Coast to Seattle. Mike's first job at the classical station in his hometown of Baltimore led to a decades-long career in radio, recently earning him the 2020 Chapter Engineer of the Year Award.
If you've seen some of his "host posts" on our KING FM Facebook page, you're definitely going to want to read this.
We sat down (6 feet apart!) with our resident man-about-town to get a glimpse at what else makes him tick. Read the full Q&A, and join Mike for your daily commute — even if it's just to the next room these days — weekdays from 4-7pm.
---
KING FM: Let's say you have a free day to spend somewhere beautiful (and, of course, you're following all the suggested social-distancing guidelines!). Are you heading to the beach or the mountains? In the Pacific Northwest, of course, we have easy access to both.
Mike: Mountains for sure, my fave local hike: Granite Mountain. Nice rocky alpine summit with a ranger tower and view of Alpine Lakes below and, in the fall, a huckleberry field about 2/3rd of the way up!
KING FM: Favorite type of food (or favorite type of take-out, these days)?
Mike: Salmon from my BBQ, topped with butter, salt, pepper, and my secret ingredient (crushed macadamia nuts).
KING FM: It's game night (perhaps via Zoom)! Are you hoping for a board/tabletop game, a video game, or a sporting event?
Mike: Softball, playing 2nd base.
KING FM: Beatles or Rolling Stones? (Or Bach or Beethoven?)
Mike: Beatles or Bach.
KING FM: What music might people be surprised to learn you listen to — when you're not at KING FM, that is?
Mike: Blues, Muddy Waters, BB King, Howlin' Wolf, Clapton, Hendrix, Stevie Ray Vaughan.
KING FM: If your classical music collection was entirely vinyl records, which of those records would be nearly worn-out from being played dozens of times? In other words, what music do you come back to, over and over again?
Mike: E. Power Biggs playing Bach, Rachmaninoff, Stravinsky, Faure.
KING FM: What pieces of music do you turn to when you need comfort, solace, or relaxation?
Mike: Erik Satie and Philip Glass.
KING FM: Let's say you're hosting a musical dinner party or cocktail party, and you can invite three composers or performers, living or dead. Whom do you invite?
Mike: J.S. Bach, George Gershwin, and Erik Satie — serve up some cold beer and let the debate begin!
---
To learn even more about Mike Brooks, check out his host bio page. You can hear Mike on KING FM on weekday afternoons, 4–7pm (which includes the Classical Commute), as well as on Saturday mornings, 5–9am.