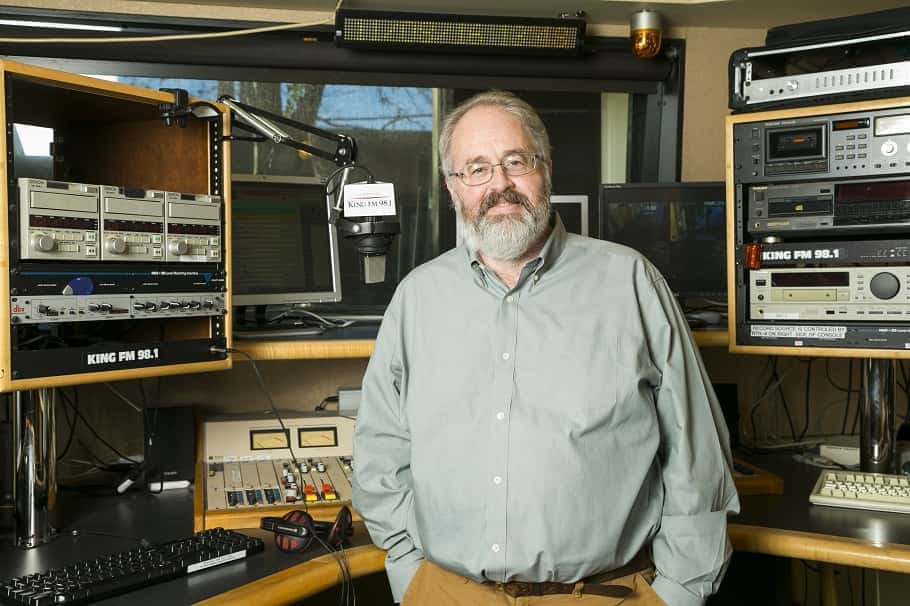 Dave Beck in KING FM's former, Harrison Street studios.
Including all of midday host Dave Beck's accomplishments in one Q&A introduction would take several pages (multiple awards for producing, interviews and journalism, a family history of building rockets and airplanes for Boeing, and a seat as president of the Seattle Youth Symphony board of directors, to name a few…), so instead, we've opted to tease the lesser-known facts about this PNW treasure.
As a skilled musician who has played principal cellist of the Bellevue and Seattle Philharmonic Orchestras, you'd be surprised to hear he's also a basketball enthusiast and has been known to appreciate an SNL sketch or two.
Treat yourself to more shockers (face-to-face with Mick Jagger, worn-out Bach Solo Cello Suite vinyls, and more) from Dave below, and join him on 98.1 FM weekdays 10am-1pm, including Bach's Lunch, 12-12:30pm.
---
KING FM: Let's say you have a free day to spend somewhere beautiful (and, of course, you're following all the suggested social-distancing guidelines!). Are you heading to the beach or the mountains? In the Pacific Northwest, of course, we have easy access to both.
Dave: To the beach. I love walks along Alki near my neighborhood in West Seattle. I have great memories of hiking and camping over the years at Shi Shi Beach on the ocean up near Neah Bay.
KING FM: Favorite type of food (or favorite type of take-out, these days)?
Dave: I love Thai and Vietnamese food. Bring on the peanut sauce when it comes to Thai dishes.
KING FM: It's game night (perhaps via Zoom)! Are you hoping for a board/tabletop game, a video game, or a sporting event?
Dave: Watching NBA hoops works for me. The theft of the Sonics years ago still stings.
KING FM: Beatles or Rolling Stones? (Or Bach or Beethoven?)
Dave: Probably Beatles for the most part. Though I saw the Rolling Stones at Key Arena in 1975. Ask me about coming face-to-face with Mick Jagger sometime. And please, I'm a classical music announcer. Don't make me choose between Bach and Beethoven.
KING FM: What music might people be surprised to learn you listen to — when you're not at KING FM, that is?
Dave: I listen to and love a lot of jazz. Oscar Peterson, Basie Big Band, Joe Williams, Chick Corea, Pat Metheny are some favorites that come to mind.
KING FM: What classical composers, living or dead, haven't gotten their fair dose of attention — which composers aren't "household names" but should be?
Dave: Reena Esmail, Franz Schreker, and Carl Nielsen.
KING FM: If your classical music collection was entirely vinyl records, which of those records would be nearly worn-out from being played dozens of times? In other words, what music do you come back to, over and over again?
Dave: Dvorak Cello Concerto, Bach Solo Cello Suites, Bartok String Quartets
KING FM: What pieces of music do you turn to when you need comfort, solace, or relaxation?
Dave: "Adagietto" from Gustav Mahler's Symphony no. 5; Joni Mitchell recordings — Court and Spark is a particularly beautiful one; French jazz pianist Jacques Loussier and his arrangements of Bach are exquisite.
KING FM: Let's say you're hosting a musical dinner party or cocktail party, and you can invite three composers or performers, living or dead. Whom do you invite?
Dave: George Gershwin, Jon Batiste, and Anne-Sophie Mutter.
---
To learn even more about Dave Beck, check out his host bio page. You can hear Dave on KING FM on weekdays, 10am–1pm, as well as overnights Monday into Tuesday, 11pm–4am.