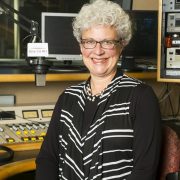 Having performed everywhere from Carnegie Hall to the Pacific Rim, local native and accomplished musician Lisa Bergman has landed back in Seattle.
Bergman took the lead of KING FM's Explore Music series, a one-minute adventure airing every weeknight at 6 pm, in 2012. Since then, she has been added as a full-time midday announcer.
A passionate promoter of classical music, Bergman is also founder and Artistic Director of the Mostly Nordic Chamber Music Series presented at the Nordic Heritage Museum in Seattle as well as Executive Director of NOISE (Northwest Opera in Schools, Etcetera). She also currently serves as Classical Music Program Advisor of the Icicle Creek Center for the Arts in Leavenworth, Washington, where she was a classical music host on KOHO FM for 10 years.
An experienced musician, Bergman is a concert pianist specializing in the fields of collaborative piano and chamber music. She is a graduate of the Juilliard School, the State University of New York at Stony Brook and the University of Washington, cum laude. For 10 years she served as an Artist in Residence and faculty member at the University of Washington School of Music (1989-1999). Bergman is a member of the Hall of Fame for the Washington State Music Teachers Association for "extraordinary service, outstanding musicianship, dedication and leadership … in the state of Washington." Known for her quick wit and warm sense of humor, Bergman hopes to bring the joy and surprise of classical music to her listeners. "If I get goosebumps from listening to a certain piece of music, I would like my listeners to get them too!" Bergman explains.
Email Lisa at lisab@king.org.
Enjoy Music That Speaks To Me
This is music that speaks to me – through the composer, the performers and the composition. How that happens is instantaneous and not a matter of negotiation between my ear, brain and soul. The result is deep, lasting and unwavering.
My Recent Blogs
Let's Talk on Twitter
Why I Support Classical KING FM
My involvement with KING FM is not a luxury – it is a privilege. In any given moment six centuries of human creation swirl under my wings, into my head and through my heart. Goosebumps are a regular occurrence. It offers a safety net for inspiration and expression for performers, composers and listeners in our region and around the world. It is a conduit of precious connection available to everyone.
Please donate now, gifts of any size make a difference.