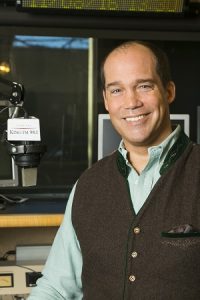 Sean MacLean
Sean always wanted to live in Seattle. He loves his hometown of San Francisco, but he wanted more ferns and moss around him, and espresso shots with legs.
Sean's a pianist and composer, whose international award-winning works have been performed by choirs and orchestras on both sides of the Atlantic, including London's BBC Symphony. He got his masters from the Yale School of Music, where he studied with Pulitzer Prize winners Lukas Foss and Jacob Druckman. Determined to understand each link in the chain of music production, from composition, through performance and recording, to listener, he formed a recording business, Standing Wave Audio, while living in Paris for five years. He followed with radio production for WGBH in Boston.
After life-altering visits to Seattle, where he had run barefoot in rainforests and paddled with otters, he made the move to King FM in 2005. In his free time, Sean plays guitar, flugelhorn, and Remora™, an electroacoustic harp-guitar of his own invention. He is a published travel photographer, but now concentrates on his Northwest surroundings, where he takes his camera on moonlight kayaking, telemark skiing, and kitesurfing adventures. While standing on top of Mt. Rainier in 2006 he screamed so loudly that he lost his radio voice for a few days.
Read Seattle PI's article on Sean MacLean
Email Sean at seanm@king.org.
Enjoy Music That Speaks To Me
This playlist represents two interests: some of my favorite interpretations drawn from my own personal collection, and also shares for which I've received the most listener email inquiries over the past decade. Each selection is both personally cherished, and popular with listeners, or at least to those who write in with "where can I buy that?!!"
Let's Talk on Twitter
Why I Support Classical KING FM
I can't imagine a city calling itself "civilized" without a classical music station. There is so much clamoring for our attention in a city, and classical music is a reminder that sound can be controlled, harnessed, and returned in a form so beautiful, so healing, so uplifting, that our stress can vaporize at the push of a radio button. My favorite Mahler song finishes "I am done with the world's tumult, and can rest in a quiet realm, alone in my heaven, my love, my song." Escape from tumult is one of only many reasons to support King FM. I support it because I believe the young talent, the performers who make Seattle an exciting city for music, deserve support, and our Young Artist Awards and Northwest Focus LIVE programs do that. So by joining our community, you're supporting the next generation of music makers in your home. And the freshness these performers bring to our ears is an antidote to canned "streaming services" that ostensibly figure out what we like.
Please donate now, gifts of any size make a difference.